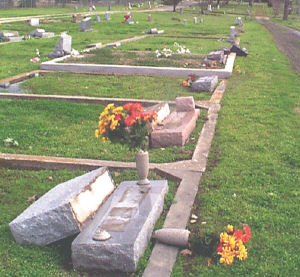 2/27 No Respect: Vandals hit Oakwood Cemetery; damages estimated more than $50,000
By JOAN SHERROUSE and JUSTIN LEWIS/Daily Sun Staff
A hand-carved marble angel more than 100 years old was just one of an estimated 300 monuments, headstones and memorials damaged or destroyed at Oakwood Cemetery during a criminal mischief rampage Friday night.
City employees and residents who have family or friends buried in Corsicana's largest cemetery looked at the destruction with a mixture of grief and horror.
"I've had 85 or so calls and there's people crying on the phone and asking what's going to be done about it," said Brad Farmer, the cemetery sexton who has maintained the grounds for several years. "All I can tell them is that it's under investigation by the police department."
According to Corsicana Police Department Detective Jason Grant, this case of criminal mischief is more serious than most other criminal mischief complaints.
"The dollar amount in this case is high enough to make it a felony criminal mischief case," Grant said. "From time to time, all the cemeteries get hit with criminal mischief, but this is by far the largest we have had in a long time."
Farmer said a large number of temporary grave markers, flower containers and foot stones were found piled in one area. Elsewhere, marble monuments were wrenched from their bases and a steeple-like monument was pulled out of the ground.
"The damage was widespread throughout the cemetery," Grant said. "Some of the older headstones just shattered when they hit the ground. They pulled some street signs up and some flags were missing off of flag poles in the cemetery."
In some cases, all the monuments in family plots were damaged or destroyed. Others were left undisturbed.
"This did not happen over a two-hour period," Farmer said. "This was a four-to six-hour chore in here Friday night, and it took six or eight people to do this."
According to Grant, an unknown caller notified CPD of the damage to the cemetery and officers contacted Farmer. Farmer pointed out what was new damage and what was damaged during earlier cases of criminal mischief.
Farmer estimated that 15 to 20 percent of the fallen monuments are beyond repair. Others will be put back together by city crews under the supervision of Ron Lynch, director of public works. Work crews are expected to start making repairs as soon as the police are through with their investigation.
Lynch said it would take quite a while to complete the repairs.
While Farmer estimated the damage at $50,000, he said it is impossible to place a monetary value on those monuments that were destroyed.
"There are stones out here that I know good and well cost $5,000 or $6,000 50 years ago," he said. "Some of them you can't get any more, and if you could, the stone might cost $50,000."
Grant said that there was no evidence that a vehicle was used to pull over any of the monuments, but there was evidence that a vehicle did get stuck in soft ground of the cemetery sometime that night.
Grant also said that there is some lighting in the cemetery, but it is not hard to find spots with little or no lighting.
"It is a big cemetery," Grant said. "It wouldn't be hard to find a dark place to hide."
The cemetery dates back to the mid 1800s and Farmer said the older section, where much of the destruction took place, is valuable to historians and genealogists. He said even young students who come into the cemetery with their teachers enjoy reading the memorials and looking at the dates on them.
"I just can't believe it," Farmer said. "Somebody needs to be held accountable for this."
Anyone with information about this case should contact Detective Jason Grant at the Corsicana Police Department at 654-4900 or the Navarro County Crimestoppers at 872-8477.
---
Originally published in the Corsicana Daily Sun
February 27, 2001
Reprinted with permission of the Corsicana Daily Sun
www.corsicanadailysun.com

** Note: article originally printed "Oaklawn" Cemetery, but damage was in the "Oakwood" Cemetery in Corsicana. I have made the correction in the above article. ..elw
---
3/12 Police respond to Oakwood Cemetery alarm
Recently installed alarms at Oakwood Cemetery sent out an all-points call for Corsicana police officers Sunday night at about 9 p.m., prompting a scramble to the historic site.
"Attention all units. Criminal mischief in progress in Oakwood Cemetery," intoned a pre-recorded announcement playing over CPD frequencies.
The alarm proved false, but served as an example of how serious the city is taking a late February incident of vandalism in Oakwood Cemetery. Damages have been estimated at near $300,000 after an extensive number of headstones and monuments were dislodged.
Sunday, three units from the department's evening shift responded to an interior road in the cemetery while other units circles surrounding streets.
One officer inside the cemetery said the midnight shift - those working the earliest morning hours of the day - have already responded to a few false alarms, but added that the alarms inside are being adjusted to minimize the problem.
The three units prowled through the cemetery, using floodlights mounted on each to sweep side lanes and illuminate areas with deeper foliage.
Sgt. Darrell Waller, Cpl. Kirby Hill and patrol officer Scott Tidwell also did some of the searching on foot, examining by flashlight the area where sensors were set off.
---
8/21/2005 Vandals' destruction of cemetery slowly being overturned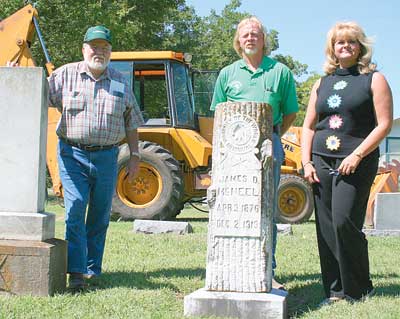 From left to right, Bill Young, Parks and Recreation Supervisor Jeff Whitehead, and Parks and Recreation Director, Sharla Allen played pivotal roles in the Oakwood Cemetery cleanup.
Daily Sun photo/STEPHEN FARRIS

By DEANNA PLEMONS

Daily Sun Staff

On Dec. 6, 2004, in the wee hours of the morning, unknown actors entered Oakwood Cemetery, damaging two cemetery gates and knocking over headstones and breaking them in senseless acts of vandalism.

It was another in a long line of incidents that date back some five years.
Those with loved ones buried in Oakwood were crushed to know their final resting places had been violated. In addition to the consternation felt by residents with recently buried loved ones, history lovers were concerned about the destruction of many very old gravestones.

Maintenance of Oakwood Cemetery had been taken over by the City of Corsicana Parks and Recreation Department in 2001, which is when the gates began to be closed at dusk and at dawn. Also in 2001, approximately 300 gravestones had been reset by the Public Works department, under the direction of Ron Lynch.

The City of Corsicana maintains Oakwood, Woodland Cemetery, Woodland Memorial Park and Modrell Cemetery, which is full to capacity.
To purchase a lot in one of these cemeteries, one must contact the cemetery sexton, Sherri Warren. She manages the lots, sales, deeds and surveying of lots.

"Repairs are paid for by the collection of burial permit fees," Warren said.

Lynch said planned improvements for cemetery roads include converting the gravel road called the Equator to asphalt. The road runs along 15th Street through 19th Street and is a major funeral route in Oakwood. The Public Works Department also plans to convert the entire length of gravel road in Woodland Memorial Park which joins the old section to the new addition to asphalt.

"The last several years we've added asphalt, and will again this year," Lynch said. "We will put $15,000 worth of asphalt in both cemeteries."
Oakwood Cemetery is one of the oldest cemeteries in Navarro County, with over 27,000 existing grave sites. The 76-acre cemetery is the third largest and fourth oldest cemetery in the state of Texas. A century-old fountain was restored in 2002 by the parks department under the
direction of Sharla Allen, and an existing pool uncovered. Once the pool was unearthed, sandblasted and painted, a pump system was installed and water began flowing from the fountain into the pool again. Vandals even thought it cute to put soap in the fountain, causing more work for the parks department crew.

The decision was made in spring of 2005 to repair and reset 1,000 headstones.

Enter Bill Young — a member of the Navarro County Historical Society, and owner of a landscape business. He is also handy with a backhoe. Young recalls being incensed by the vandalism at the end of 2004.

"I thought at the time they were knocking over the stones with vehicles," Young said. "We found when we were fixing them, some were never glued in the first place. Some ground movement contributed, along with tree growth, and some stones weren't set on concrete to begin with."

Young had a contract with the city to trim the crepe myrtles each year, which encourages more blooming. He thought his time might be better spent trying to repair the grave markers.

"Sharla and I both thought about it at the same time," Young said. "I called her about the crepes, and she said, 'Can we switch, and you do the reset of the damaged tombstones?'"

Thus began a partnership which started in February 2005. Trees were trimmed to increase visibility, which could discourage more vandalism, and nearly 1,000 small stones were glued back together, and glued back to their bases.

"Some stones were broken in eight to 10 pieces," Young said. "Wayne Owen at Owen Hardware got us the epoxy at cost, and that stuff is real expensive. Him getting us the epoxy at cost allowed us to do many more stones."

In June, Allen phoned Young and requested he trim even more trees, and put some of the big grave stones back together and upright. Some markers were multi-sectioned, and required heavy machinery to lift the large pieces and set them upright. Young knew the epoxy was good when he picked up a multi-pieced marker which had been glued back
together with a strap and a backhoe, and all the pieces held.

"Oakwood Cemetery holds veterans from every war that ever happened," Young said. "The owner of the Hampton McKinney Inn and his wife were buried there in 1849. Both their stones were broken and repaired, but are still weathered."

Young said the cemetery laws had loopholes until 1996, when they were closed to protect the history buried in cemeteries.

"Oakwood holds the whole history of Corsicana, and many historical parts of Texas are contained in that cemetery," Young said.

Two years ago, Allen contacted Young's wife, Bobbie, who is the curator of Pioneer Village and also a member of the historical society. She proposed that Bobbie put together a walking/driving tour of the cemetery, with historical points of interest. That project is still in the preparation stages, with names and markers mapped out, but not completed.

The cemetery is a landscaper's nightmare, with metal fencing in place to discourage vandals. Allen said her crew includes one man on a riding mower and one on a weedeater. In addition to maintaining the grounds, they fill in graves, replace flowers and trim trees.

Bill Young hopes the funding will be found to finish some smaller pieces still unrepaired.

"Every piece on a tombstone represents something," he said. "Some of the small urns are not fixed yet, and I hope we can get a bit more funding to finish those."

Allen said the focus of her department this year regarding the cemetery was to reset the crooked, toppled or shifted headstones and raise the limbs on the trees, which is an ongoing process.

"I never thought about any of this stuff until they said, 'Here — you do it,'" she said. "I knew it needed to be done, and wanted to get it done. I called on Bill, because I knew he would help get it done."

Young is familiar with many interesting facts regarding Oakwood Cemetery, such as the section devoted entirely to veterans of the Confederate war, and the two sections set aside for IOOF Home residents.

"It's a passion for me," Young said. "I'm not doing this for money, I'm just tickled Sharla could cover the expenses."

Allen, who celebrated her 10th anniversary as director of the parks department in July, said she loves her job every bit as much today as the day she started.

"I would like Oakwood to look like one of our parks," she said. "We are striving for that. My goal is for all our city cemeteries to look like our parks."
---