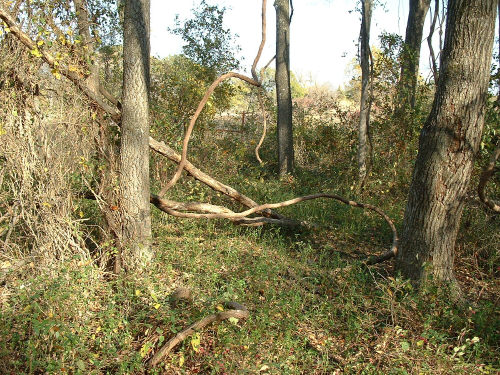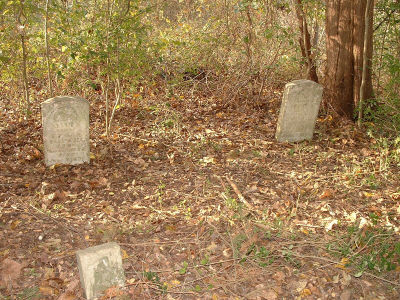 Cemetery & Marker Photographs by Danny Gillespie
Several graves (?) - perhaps just the headstones - have been moved to other cemeteries. The cemetery has recently been fenced with contributions from the family. Many, many unmarked graves are there.

There are only five legible stones are in the cemetery. There are multiple native stone marked graves.


Location:
At intersection of FM Rd 744 & FM Rd 55 at Dresden, go north on 55 approx 1/2 mile, turn left at house on gravel road go approx 1 mile to 2nd gate on left. Out in field to the rights is a stock tank. The cemetery is beyond the tank across a branch in deep woods filled with underbrush & briars.
Surveys:
All Known Burials:
Name
Source
Notes
Allen P. Blaisdell
Marker Photo
Sep 20, 1894 - Jun 9, 1896
s/o Frank B. & A. H. Blaisdell
Frank B. Blaisdell
Marker Photo
Aug 1, 1884 - Aug 26, 1884
s/o F. P. & A. G. Blaisdell

Elizabeth "Betty" (Welch) Howard
Has a marker at Dresden Cemetery, I assume she is buried there....elw
May 3, 1840 - Jun 10, 1867
w/o William Z. Howard

William Z. Howard
Has a marker at Dresden Cemetery, I assume she is buried there....elw
Aug 7, 1836 - Nov 23, 1872
h/o Elizabeth "Bettie" (Welch) Howard
James R. Meador
Marker Photo
Jan 1821 - Sep 1862
h/o Lucinda M. Meador
Ethan Melton
Biography & Marker Photo
Oct 8, 1794 - Nov 18, 1873
h/o Lucinda Hill, Mrs. (Lucinda Langston?) & Hannah B. (Welch) Melton; s/o Jonathan Melton & Tibatha (Stroud) Melton [bur in Echols Cem, Walton Co. Georgia]

Jonathan Melton Jr.
Mexican War
NO MARKER
1814 - Mar 16, 1874
h/o Mary Jane (Skiles), married Oct 2, 1851 [she is bur at Fairview Cemetery, Hubbard, TX]


Lucinda M. Meador
Marker Photo
Nov 30, 1831 - Jan 18, 1886
w/o James R. Meador
UNKNOWN
Photo of Native Stone Marker
There are several large rocks scattered around; probably markers for graves