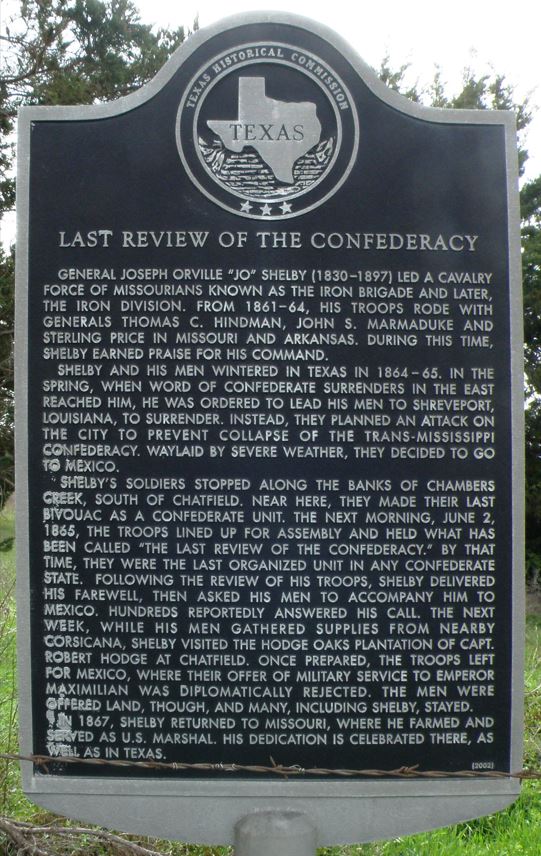 Photo by Dana Stubbs
Located off Farm-to-Market 1603 near Chatfield, Navarro Co., TX
LAST REVIEW OF THE CONFEDERACY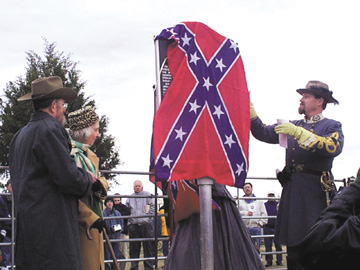 GENERAL JOSEPH ORVILLE "JO" SHELBY (1830-1897) LED A CAVALRY FORCE OF MISSOURIANS KNOWN AS THE IRON BRIGADE AND LATER, THE IRON DIVISION. FROM 1861-64, HIS TROOPS RODE WITH GENERALS THOMAS C. HINDMAN. JOHN S. MARMADUKE AND STERLING PRICE IN MISSOURI AND ARKANSAS. DURING THIS TIME, SHELBY EARNED PRAISE FOR HIS COMMAND.
SHELBY AND HIS MEN WINTERED IN TEXAS IN 1864-65. IN THE SPRING, WHEN WORD OF CONFEDERATE SURRENDERS IN THE EAST REACHED HIM, HE WAS ORDERED TO LEAD HIS MEN TO SHREVEPORT, LOUISIANA, TO SURRENDER. INSTEAD, THEY PLANNED AN ATTACK ON THE CITY TO PREVENT COLLAPSE OF THE TRANSMISSISSIPPI CONFEDERACY. WAYLAID BY SEVERE WEATHER, THEY DECIDED TO GO TO MEXICO.
SHELBY'S SOLDIERS STOPPED ALONG THE BANKS OF CHAMBERS CREEK, SOUTH OF CHATFIELD. NEAR HERE, THEY MADE THEIR LAST BIVOUAC AS A CONFEDERATE UNIT. THE NEXT MORNING, JUNE 2,1865. THE TROOPS LINED UP FOR ASSEMBLY AND HELD WHAT HAS BEEN CALLED "THE LAST REVIEW OF THE CONFEDERACY." BY THAT TIME, THEY WERE THE LAST ORGANIZED UNIT IN ANY CONFEDERATE STATE. FOLLOWING THE REVIEW OF HIS TROOPS, SHELBY DELIVERED HIS FAREWELL, THEN ASKED HIS MEN TO ACCOMPANY HIM TO MEXICO. HUNDREDS REPORTEDLY ANSWERED HIS CALL. THE NEXT WEEK, WHILE HIS MEN GATHERED SUPPLIES FROM NEARBY CORSICANA, SHELBY VISITED THE HODGE OAKS PLANTATION OF CAPT. ROBERT HODGE AT CHATFIELD. ONCE PREPARED, THE TROOPS LEFT FOR MEXICO, WHERE THEIR OFFER OF MILITARY SERVICE TO EMPEROR MAXIMILIAN WAS DIPLOMATICALLY REJECTED. THE MEN WERE OFFERED LAND, THOUGH, AND MANY, INCLUDING SHELBY, STAYED.
Notes:
Marker Location: 1 mi S. of Chatfield at 4511 FM 1603
Historical research by Hon. Rob Jones
The text of the historical markers have been posted here with the permission of the Texas Historical Commission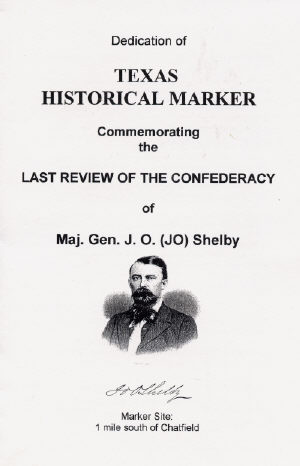 Historical Marker Dedication Program