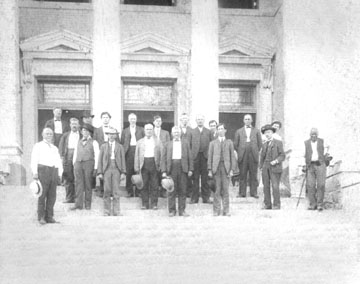 Navarro County Sheriff Les Cotten is seeking information on this photo, which he believes was taken between 1906 and the '30s. Courtesy photo
12/7/2002 Photo intrigues sheriff, who seeks history of old picture
By RAYMOND LINEX II/Daily Sun Staff
Upon the book shelves in his office, Sheriff Les Cotten has albums full of photos of which he can tell you most of the names of the people in them. They are plentiful, mainly from Corsicana and Navarro County, and they date back to the 1800s.
But there's one photo Cotten needs help with, and he's seeking it while some who may be able to recall facts about the photo are still around.
"Somebody six, seven or eight years ago gave this picture to me, and it was an old picture in poor condition," Cotten said. "I knew it was a Navarro County picture and wondered about it."
The photo was such poor condition that Cotten solicited the help of Kevin Painter at The Photo Shop to clean it up. It was very dark, very obscure, but Painter restored to it to near-perfect status, and Cotten could make some sense of it.
He knows it was taken on the courthouse's south side steps. It had to come after 1906, when the current courthouse opened. The clothing suggests to him that it was taken before the 1930s. He believes one of the men in the photo was a county judge, based on other photos he has seen.
That's about it.
"I'd like to know if anybody recognizes anybody in the picture. And I'd like to get a date, of what it was and when it was," the sheriff said.
Cotten is a Navarro County history buff, one that fought in Vietnam and made the recently unveiled Navarro County War Memorial project one close to his heart. Along the shelves where the photo albums sit are the Navarro County History volumes commissioned by the county's historical society.
It is there that Cotten found a similar photo.
"I seen one like it from a murder trial. I figured that's what it may be," Cotten said.
But in the murder trial photo, which is not dated, there are clearly 12 jurors set aside from a group of others. In the photo Cotten seeks information on, there are 19 individuals clearly identifiable, with another man sitting down in the courthouse visible between the legs of two standing men, and perhaps a child behind a man.
Is it too big to be simply a jury? Maybe it's a portrait of all county employees at that time, or a grand jury photo, Cotten reasoned.
Whatever the situation, Cotten dearly wants to know, and wants to be able to identity as many people as possible.
"I'm just doing it for my own personal curiosity," he said.
Raymond Linex II may be contacted via e-mail at [email protected]

Notes:
All rights to this story reserved. Copyright Corsicana Daily Sun and Community Newspaper Holdings, Inc,. Content may not be archived, retransmitted, saved in a database, or used for any commercial purpose without the express written permission of the Corsicana Daily Sun and CNHI.