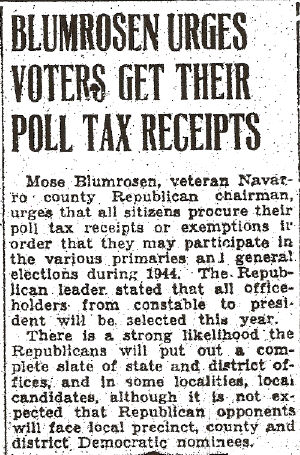 BLUMROSEN URGES VOTERS GET THEIR POLL TAX RECEIPTS
Mose Blumrosen, veteran Navarro county Republican chairman, urges that all citizens procure their poll tax receipts or exemption in order that they may participate in the various primaries and general elections during 1944. The Republican leader state that all officeholders from constable to president will be elected this year.
There is a strong likelihood the Republicans will put out a complete slate of state and district offices, and in some localities, local candidates, although it is not expected that Republican opponents will face local precinct, county, and district Democratic nominees.
Corsicana Daily Sun, Monday, January 3, 1944