The following history was taken from the Barry Baptist Church program for April 16, 1972 in celebration of their 81st year. It was submitted by Anne Walton-Wilson May 5, 2004.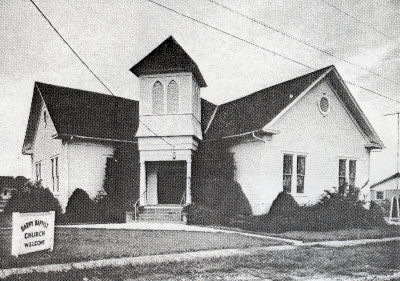 Barry Baptist Church
1891 - 1972
"81 Years of God's Blessings"
A CHURCH HISTORY
The Barry Baptist Church was organized in September, 1891. The first pastor was C. R. Roberts. The Church resolved to take up the Sunday School work March 10, 1895. The Church resolved to build a house of worship on June 9, 1895. The New Church building was completed in 1897. An organ was purchased in 1897.
The present building was erected in 1917. E. J. Speegle was ordained as minister. The baptistery was installed in 1927. The church voted to cooperate with the Southern Baptist Convention, March 3, 1935. Art glass windows were installed in our Church, 1935.
The Baptist Standard was included in the church budget, February, 1950. The parsonage was erected in 1953. Marshall J. Strother was ordained as minister, November 16, 1958. The interior of the Church building was redecorated early in 1960. In the spring of 1966 a central heating and air-conditioning unit was installed. July 2, 1967, John F. Reed and Carroll Boswell were ordained as deacons; The other deacons are N. H. Livingston, L. O. McGraw, and H. L. Reed. In the summer of 1969, organized choir practice began. The Church entered full-time ministry in October, 1970. The Church voted to support and attend the Billy Graham Crusade in Dallas, September, 1971. In 1971 the parsonage was remodeled and the Church purchased a baptistery scene in memory of Mrs. John Walton, long time church clerk. Church repair and landscaping took place in March, 1972.
View actual program: Page 1 | Page 2 | Page 3 | Page 4