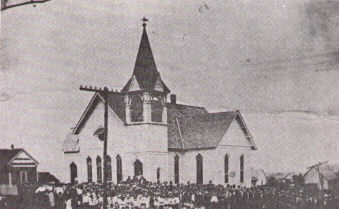 Frost Methodist Church, May 2, 1915. This church was
located where the GTE building is in 1986.
The church was established 1887 and was situated on the site where the new telephone office now stands.
A new building was completed in 1905 with a value of $2,500. On Tues May 6, 1930, the
tornado nearly wiped out Frost. "On this day the General Conference of
Southern Methodist Churches was in session in Dallas. Hearing of the plight in Frost,
these church people began contributing toward a building fund for a new church in Frost;
thus a new Methodist Church was built on a new site which is the spot where the present church now stands.
On Jan 19, 1941, with the church free of debt, a dedication service was held."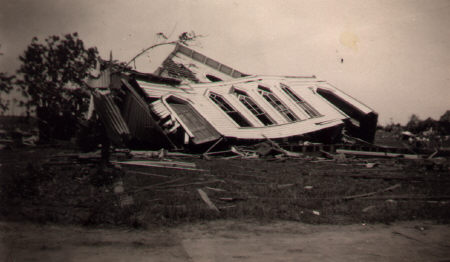 Photo from the Collection of Edward L. Williams
The church was destroyed by the vicious tornado on May 6, 1930.
---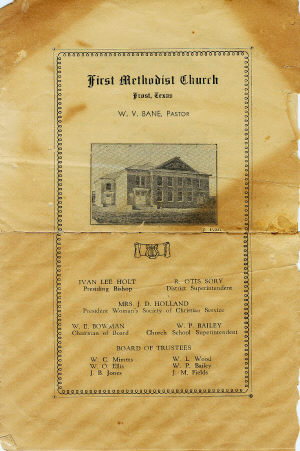 Methodist Church Dedication Program [Full Size]
Page 1 | Page 2 | Page 3

Submitted by Virginia Crilley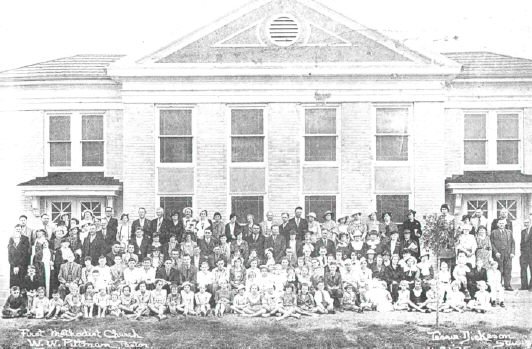 Taken 4-21-35
Present church building
W.W. Pittman, pastor
Frost Methodist Church
Donated by Virginia Crilley