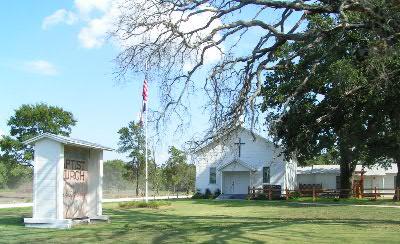 Photo by Dana Stubbs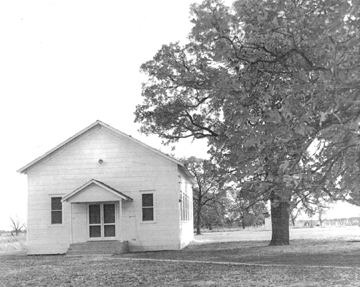 Petty's Chapel Baptist Church's roots go back to a camp meeting held in 1852. Daily Sun photo/KIRK SIDES
8/13/2003 Roots of church buried deep in area's history
By DEANNA PAWLOWSKI/Daily Sun Staff
A camp meeting on the north bank of Chambers Creek in 1852 planted the seeds which eventually sowed the community of Petty's Chapel. A Cumberland Presbyterian preacher conducted the meeting, which was said to have lasted 10 to 14 days, and had folks from all over the county in attendance.
George Valentine Petty and his family moved to Texas from Tennessee in 1849, building their home on the north side of Corsicana. Petty donated land in 1870 for the building of a school, and the community is named in his honor. Petty's Chapel is located a mile northeast of Corsicana in central Navarro County.
The schoolhouse was constructed in 1872, and a group of worshipers known as the Petty's Chapel Baptist Church met there each Saturday afternoon before the second Lord's day to have conference. Mrs. W. E. Duren deeded 1.68 acres of land in the Thomas Marrow Survey to the church. By June of 1893, $400 had been collected in the building fund, and the church building was built. In August of that year, the first revival was held and 12 people came forward for baptism.
In 1906, Petty's Chapel boasted a school with 48 white students and one teacher, as well as another school with 65 black students and one teacher. There were scattered homes, along with two churches, two businesses and two cemeteries.
Frank Wilson was elected the Sunday School Superintendent on February 22, 1920. His wife, Starley Steely Wilson, taught adult Sunday School, which was held in the front of the sanctuary, while Frank taught children's Sunday School in the back of the sanctuary. David W. Wilson, Jr., Frank's grandson, recalls a venture his grandfather had at the time.
"My grandfather owned a bus, and he would pick up kids and take them to school in Petty's Chapel, " Wilson said. "He also took kids to church. My dad said that when it was muddy at the bottom of the hill by the 'Poor Farm,' sometimes they would have to push that bus out of the mud."
"Frank Wilson had a small farm," said Evelyn Wilson, Frank's daughter-in-law. "He also worked moving heavy oilfield equipment using horses or mules."
Upon Frank Wilson's death in 1954, the family donated a piano to the church, which is still there.
Aleene Pollock moved to Petty's Chapel when she was 6 or 7 years old and attended Petty's Chapel Baptist Church.
"Sometimes my parents would send us to Sunday School early, along with my cousins, and several coins for the offering. There was a little store nearby, so we didn't always make it to Sunday School with the money," Pollock said.
The church joined the Baptist Missionary Association July 18, 1924.
Mr. Harold Blankenship, who led the music at the church, installed Delco lights for the church and school and maintained them until T.P. & L. installed electricity in 1936. Wood-burning stoves were replaced with butane gas heaters in 1939. At that time, Petty's Chapel boasted a population of 40 residents.
By 1990 Petty's Chapel had a population of 25, with no businesses. The church had dissolved, as well. But by fall of 1996, Rev. O.E. Permenter, Administrator of the Missions Ministry of Northside Baptist Church in Corsicana, was alerted there was interest in reviving the old Petty's Chapel Baptist Church. The church was re-opened as a mission of Northside, with Rev. David Hale preaching the first service of the new church on January 5, 1997.
"We just started with a very few people, and it has really grown," said Genell Permenter, wife of Rev. Permenter. "Lots of people like the 8:30 a.m. worship time."
"The church also sponsored a mission, known as the Cowboy Church of Navarro County. O.E. did the preaching, and we met at the arena at Ronnie Willis' ranch on Roane Road.
"This continued until rodeo season came, then the congregation got busy on the rodeo circuit. It just dissolved temporarily," Permenter said.
Rev. Sonny Bowie of Waco is currently serving as interim pastor of Petty's Chapel Baptist Church.
Sheriff Les Cotten is an active member, and is head of several committees. He is proud of the strides made by the little church in the country.
"This church has been here over 100 years, and been real active the last six or seven years. It's going strong now -- we've got a great congregation," Cotten said.
The church recently added a new Education Building, which contains six classrooms, two restrooms, and an office. This addition added 2500 square feet to the original building, and provided the first real Sunday School classrooms.
Paula Ivey, church member, points out that the church now has a nursery area, with space for children and youth as well.
"We're planning to have a Homecoming in October, where we will have a big lunch, sell cookbooks, and have a country store selling handcrafted items. We're trying to raise money for an historical marker," Ivey said.
"We also plan to have a horseshoe pit and barbecue pit built in time for the Homecoming."
Sheriff Cotten said the addition is welcome.
"It changed the look of the church. We added the annex, flagpole, basketball court, parking lot, and playground," Cotten said.
"We hope it continues to grow. We want to invite everyone to come out and fellowship with us."
Deanna Pawlowski may be contacted via e-mail at [email protected]
All rights to this story reserved. Copyright Corsicana Daily Sun and Community Newspaper Holdings, Inc,. Content may not be archived, retransmitted, saved in a database, or used for any commercial purpose without the express written permission of the Corsicana Daily Sun and CNHI.