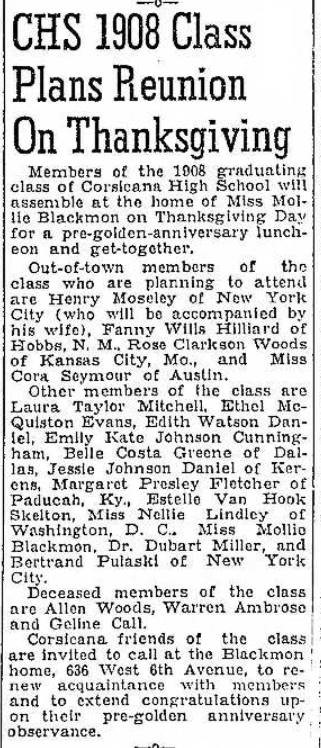 The Corsicana Daily Sun - Tues., Nov. 26, 1957
Submitted by Diane Richards
CHS 1908 Class Plans Reunion On Thanksgiving
Members of the 1908 graduating class of Corsicana High School will assemble at the home of Miss Mollie Blackmon on Thanksgiving Day for a pre-golden-anniversary luncheon and get-together.
Out-of-town members of the class who are planning to attend are Henry Moseley of New York City (who will be accompanied by his wife), Fanny Wills Hilliard of Hobbs, N.M. Rose Clarkson Woods of Kansas City, Mo., and Miss Cora Seymour of Austin.
Other members of the class are Laura Taylor Mitchell, Ethel McQuiston Evans, Edith Watson Daniel, Emily Kate Johnson Cunningham, Belle Costa Greene of Dallas, Jessie Johnson Daniel of Kerens, Margaret Presley Fletcher of Paducah, Ky., Estelle Van Hood Skelton, Miss Nellie Lindley of Washington, D.C., Miss Mollie Blackmon, Dr. Dubart Miller, and Bertrand Pulaski of New York City.
Deceased members of the class are Allen Woods, Warren Ambrose and Geline Call.
Corsicana friends of the class are invited to call at the Blackmon home, 636 West 67th Avenue, to renew acquaintance with members and to extend congratulations up on their pre-golden anniversary observance.

The Corsicana Daily Sun - Tues., Nov. 26, 1957
Submitted by Diane Richards