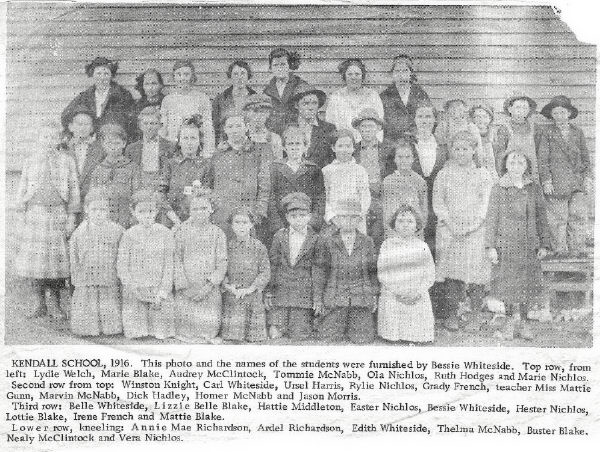 KENDALL SCHOOL 1916. this photo and the names of the students were furnished by Bessie Whiteside.
Top row, from left: Lydie Welch, Marie Blake, Audrey McClintock, Tommie McNabb, Ola Nichols, Ruth Hodges and Marie Nichols.
Second row from top: Winston Knight, Carl Whiteside, Ursel Harris, Rylie Nichols, Grady French, teacher Miss Mattie Gunn, Marvin McNabb, Dick Hadley, Homer McNabb and Jason Morris
Third Row: Bele Whiteside, Lizzie Bell Blake, Hattie Middleton, Easter Nichols, Bessie Whiteside, Hester Nichols, Lottie Blake, Irene French, and Mattie Blake.
Lower row, kneeling: Annie Mae Richardson, Edith Whiteside, Thelma McNabb, Buster Blake, Nealy McClintock and Vera Nichols.
Notes:
Submitted by Jo Ann English

Buster Blake might have been Ira Thomas (I.T.) Blake since his two older sisters (Lizzie and Lottie) are in the photo ... Jo Ann English