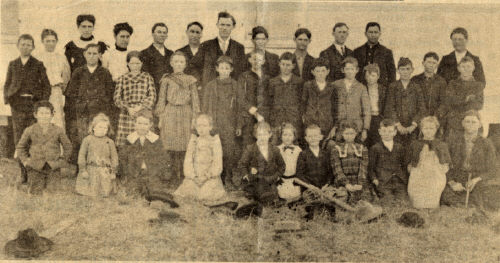 This is the Little Briar School, 3 miles east of Barry, in the year 1904.
Top row, from girl in white at left: Lyda Varnell, Mollie Watson, Alice Watson, Tommie Watson, Charley Watson, teacher R. R. Owen, Knox Melton, Arthur Woodruff, Chub Mitchell, Jim Smith, Daniel Castellaw.
Center: Homer Watson, Joe Watson, Flossie Varnell, Dora Watson, Carl Gatherite, Earl Watson, Charley Smith, Claude Melton, Edd Varnell, Elmer Watson, George Watson, Dan Garlington, J. T. Mitchell.
Bottom: Roy Varnell, Pansy Varnell, Tom Castellaw, Margaret Watson, Earl Varnell, Willie Mae Garlington, Elisha Watson, Glynn Varnell, Reginald Woodruff, Edna Bourland & Paul Watson.
Notes:
Clipping submitted by Anne Walton Wilson - June 2004

Originally submitted to the Blooming Grove Paper by Dora Reed who has passed away several years ago.