Schools Index || Photographs Index
---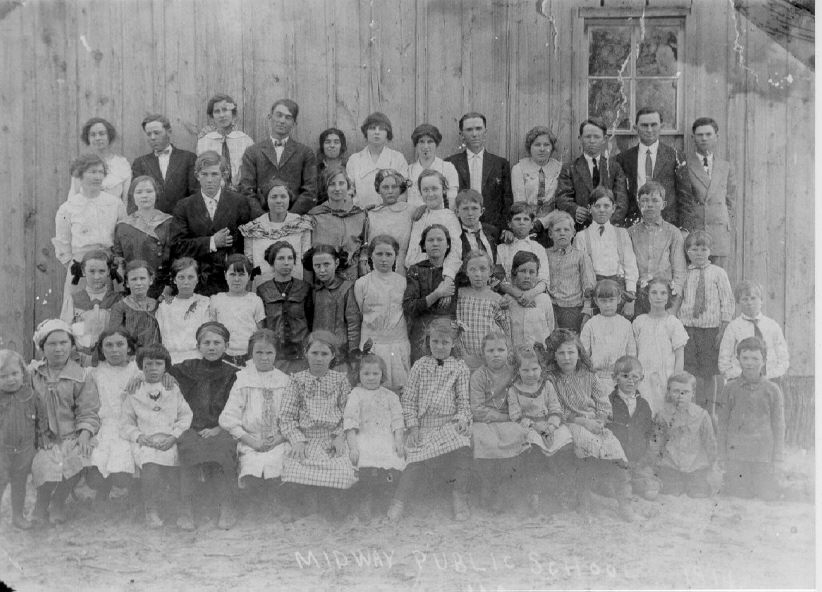 Photo of the School at Midway, Navarro County, Texas in 1914
Top Row (Left to Right)
Gladys DuBose, William L. Beauchamp, Mamie Sanders, Carson Fitch, William "Bill" Steele, Gayna Knowles, Laura Knowles, James Haywood, Ruth Fitch, Henry Dexter Beauchamp,
Mr. Justice (Teacher), and Garner Steele.
Second Row (Left to Right)
Earl Fitch, Erma Mae Beauchamp, Hubbard Fitch, Sally Myrtle Beauchamp,
Zadie Redwine, Clifton Beauchamp, Lizzie Layton Anderson, Pierce Fitch, Bill Steele ?, Emanuel Gilmore, Elia Browning, Rex Gilmore.
Third Row (Left to Right)
Fanette Anderson, ? Pilkerton, Elmo Rouse, Mattie Glass, Myrtle Steele, Faye Knowles, Bertie Alma Tisdale, Linnie Pilkerton, Ilene Leverett, Scott Leverett, Naomi Leverett, Ula Steele, William Pilkerton.
Fourth Row (Left to Right)
Marion Hamel, Ola Mae Hamel, Verna Rouse, Olive Sheffield, Sallie Fitch, Ola Fulmar, Hazel Fitch, Margaret Fitch, Catherine Fitch, Gertie Lou Fulmar, Celia Redwine, Edith Redwine, Slade Collins, Abe Steele, Tommy Tisdale.
Photo and information contributed by
Craig Glasgow