3/15/2002 ALL ABOARD! Interurban railcar back in the city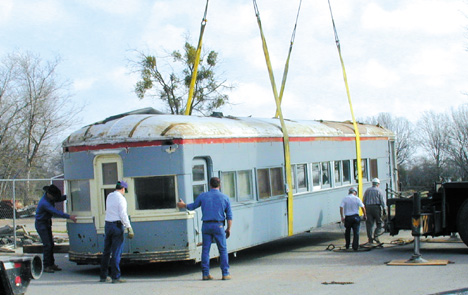 A vintage interurban trolley car is unloaded in Corsicana after a 60-year absence. Car number 305, discovered in an abandoned mobile home park near Granbury, is to be renovated and used as a visitor's center. DAILY SUN photo/JOAN SHERROUSE
By JOAN SHERROUSE/Daily Sun Staff
More than sixty years after its last run between Dallas and Corsicana, Interurban Car 305 is back home.
Eventually, it will serve as a visitor's center, permanently moored in Allyn Park where it once turned around on its commuter route.
The car dates back to the early 1900s, but the story of it's return began just a few short weeks ago.
The car was spotted in an abandoned mobile home park near Granbury by an astute historian who realized it was one of the few surviving vehicles of its kind.
He also realized it was in imminent danger of being destroyed because the new owner of the land wanted the trolley moved to make way for construction of a new home.
When word of number 305's existence reached city hall, Ron Lynch, director of public works, decided to take a look.
"I went up there and looked at this thing, we evaluated it and we felt like it was something we could do for a reasonable expense," he said.
He then presented his case to city council, complete with photos, and council members pledged up to $20,000 from the hotel-motel tax fund to buy the car, move it and get started on the restoration process.
"As you know, the hotel-motel tax revenues are highly restricted," Lynch said. "They can't be used for street repairs, water lines, salaries or anything like that. It is strictly limited for uses related to tourism, and a visitor's center certainly falls into that category."
Used as part of a residence, the car was attached to a wooden building, so city personnel freed it and prepared it for it's trip to Corsicana.
"We did that last week, and this week, Watkins Construction people went up there, loaded it and brought it home," Lynch said.
Soon, a temporary fence around the car and a metal shelter will protect it until arrangements can be made for restoration, and public works' part will be finished.
The old Corsicana Interurban Line opened Oct. 20, 1913 with 22 passenger cars, numbered 300 through 321.
The 57-foot green Pullman cars were trimmed in gold leaf with red window frames and doors. Car 305 served the Corsicana Line until it closed down in 1941, then continued running on the Waco Line until its demise in 1948.
During their heyday, 16 interurban cars ran the Dallas-Corsicana route daily with the first one leaving Corsicana at 5:40 a.m. and the last leaving Dallas at 11 p.m.
The interior of the trolley is in surprisingly good condition and once restored, the car will become a functional landmark.
"This is to be a facility that will hold brochures, material and information on the community at large that both citizens and travelers can use," said Malinda Sharpley, Main Street project facilitator.
Wendy Huffman, the promotional advertising facilitator, praised Ron Maxfield, a former Corsicana resident, for his part in the project.
"His participation and contribution to the project really precipitated the entire effort," she said. "We wouldn't have known about it if he hadn't called -- he did make that original contact -- and he aggressively pursued this."
Some day, car 305 will once again serve Corsicana's residents and visitors. For now, though, it is resting comfortably as if recovering from its long journey home.
Joan Sherrouse may be contacted via e-mail at [email protected].
All rights to this story reserved. Copyright Corsicana Daily Sun and Community Newspaper Holdings, Inc,. Content may not be archived, retransmitted, saved in a database, or used for any commercial purpose without the express written permission of the Corsicana Daily Sun and CNHI.