Elaine and Travis Lively of Pampa celebrated their 60th wedding anniversary with a luncheon Saturday, April 20, at Pampa Country Club.
Hosts for the event were Clay and Mary Lively, children of the couple, and Michael and Karen Lively and Jennifer Lively, grandchildren of the couple.
Lively married the former Elaine Tipton on April 20, 1942, in Corsicana. They have lived in Pampa for 56 years.
Lively is owner of Top of Texas Awards and Gifts.
Amarillo Globe-News, April 28, 2002
---
Johnnie Oliver Rogers and Epsie Louisa (Butler) Rogers
Corsicana Newspaper Dec. 1951
Open House Marks Sixtieth Wedding Anniversary Date.
An informal open house in observance of the sixtieth wedding anniversary of Mr. and Mrs. J. O. Rogers was held at their home on Sunday, December 2nd.
Flowers, cards, congratulatory messages and gifts came to the honorees throughout the day, and in the afternoon a social hour centered around the serving of the three-tiered wedding cake and coffee.
Mr. and Mrs. Rogers were married at Tupelo in 1891 with the Rev. Matt Beasley, Baptist minister, as officiant. Mrs. Rogers is a sister of the late Sam H. Butler of this city.
Mr. and Mrs. Rogers moved to Corsicana in 1933, and prior to that time he served as blacksmith and farmer.
Members of the Family Mr. and Mrs. Rogers are the parents of two daughters, Mrs. Joe Adams of Houston, and Mrs. Ethel Braddock of Tupelo; four sons, Oliver Rogers of Rio Vista, Calif.; Roy and Johnny Rogers of Crane, and Melton Rogers of Odessa. They also reared a niece, Miss Myrtle Butler of Ennis.
They have 25 grandchildren and 16 great-grandchildren.
Notes:
Submitted by Tanna Rogers Haynes
(clipping and pictures from Sam Melton Rogers & my mother)
This picture is not the one that appeared in the newspaper, but it was taken the same time. The picture in the clipping would not copy, it also had -Taylor-Ellis Photo under it. Their house was located at 114 E. Woodlawn in Corsicana. Epsie died shortly after their anniversary. She was the daughter of Currie Edward Butler and Susan Truss. J.O. died July 17, 1954. He was the son of John A.(either Allen or Albert) Rogers and Mary "Polly" Ann Reeves.
---
" MR. & MRS. JAMES T. WILLIAMS CELEBRATE 50TH WEDDING ANNIVERSAY "
Mr. & Mrs. James T. Williams of Athens will celebrate their 50th wedding anniversary on Sunday Dec. 24 with an open house from 2;00 to 5;00 p.m. in their home at 628 Lakeside Drive, Mr. & Mrs. Williams were married December 23, 1917 in Corsicana. They have been residents of Athens since 1932 and are members of the West Athens Baptist Church. Helping to host the celebration will be their son and daughter in- law, Mr. & Mrs. D.G Williams of Canton. All friends and relatives
are invited to attend the open house and help them celebrate the happy day.
Notes:
The Athens Daily Review Wednesday December 20, 1967
Submitted by: Tina Lauderdale
---
9/7/2003 Jordan 50th Anniversary
Jerry and Katie Jordan were honored by their children and grandchildren on the occasion of their 50th wedding anniversary. The celebration was held Sept. 6 at Blooming Grove United Methodist Church in Heritage Hall.
Katie is the former Katie Woodall of Navarro County. She married Jerry Jordan of Blooming Grove on Sept. 4, 1953. They were married in Blooming Grove at Central Baptist Church.
After graduating from Blooming Grove High School, Jerry went to work for Dallas Power & Light, now Texas Utilities, where he retired in Oct. 1992. Katie went to work at Southwestern Bell until the birth of their first daughter.
The Jordans have two daughters, and six grandchildren. Their children are Bill and Kim Dry of Navarro Mills, and D'awn Marcum of Navarro Mills. Grandchildren are Chad and Alanna Dry of Forney, Heather Dry of Corsicana, Jeremy, Jessica and Cody Bennett of Navarro Mills, and Jayme Marcum of Navarro Mills.
Jerry and Katie are active members of Blooming Grove United Methodist Church and have been for many years. Jerry is a member of the Blooming Grove Masonic Lodge.
Their celebration welcomed friends and family from all over the state
---
9/28/2003 Poteet 64th Anniversary
Mr. and Mrs. Lee Roy Poteet of Navarro celebrated their 64th wedding anniversary on September 25, 2003.
Lee Roy, the son of Roy B. and Hanna Belle (Murphy) Poteet, married the former Ruby Slater McCarter, the daughter of E. L. "Fate" and Dora (Corbin) McCarter. They were married on September 25, 1939 at the Navarro County Courthouse by Judge A. E. Foster. They are charter members of Westside Baptist Church of Corsicana.
They had three sons, Tommy LaRoy, who passed away in 1996, and his wife Wanda of Texarkana, Arkansas; Eddie Royce and wife Pat who passed away in 1997, of Sugarland; and Robbie Ray of Chandler, Texas and his wife, Janice.
They have five grandchildren and one great-grandchild; Shane and Michelle Poteet, Jennifer Ann and Lauren Taylor Poteet, and Kim Ingersoll and her son Zachary.
---
12/7 Dozier 50th Anniversary
Ralph and Margery Dozier were married Dec. 11, 1953 at Lonsdale Methodist Church in Sidney, Montana. Rev. J. Bartram performed the ceremony.
The Doziers will celebrate their 50th anniversary from 3 to 5 p.m. Dec. 13 at the United Methodist Church in Blooming Grove. Their children, Craig and Tami Dozier, Shirley and Mike Vigil, and Audrey and Sam Piazza will host the reception in their honor. Friends and family are invited to join them as they celebrate this special day.
---
Jim and Jane Jayroe celebrated their 50th wedding anniversary Nov. 22, 2003 at the Calvary Worship Center in Corsicana. Along with family and friends the number in attendance was about 120. They had attendees from Michigan, Kansas, Oklahoma and from all over the great state of Texas. A large group of old friends from Seagraves, Texas was there, much to Jim and Jane's surprise.
The theme was "Hooked for 50 years." The tables were set in beautiful fall foliage with gold accents. The centerpieces were a pair of "Goldfish" in a bowl, each pair appropriately named Jim and Jane.
A memory book was prepared for them along with a table of old and recent photos reflecting on the past fifty years.
The cake was a gorgeous two-tier white decorated with handmade candy lilies with gold accents. The punch was a tasty blend prepared by the oldest daughter of the Jayroes. Roast beef, turkey and honey ham deli style adorned the food table with all the fixings.
Jimmie Lloyd Jayroe asked Jane Jayroe for her hand in marriage again, as he proposed to her on bended knee. He also presented her with a gold and diamond anniversary ring. Pastor Gary Johnson of the Calvary Worship Center in Corsicana helped them renew their vows. After she said yes, she was quickly adorned with a veil and bouquet. At the conclusion of the renewing of the vows the group sang for their supper, ate cake and the children of the Jayroes presented them with a suitcase full of things they would need for a seven-day Caribbean cruise.
As they left the celebration they got into their car that had been decorated with signs and cans by their grandson, Little Jimmie from Kansas. They then dragged up and down Main Street as they did some 50 years ago.
Jane (Gable) Jayroe lived in Dawson as she was growing up. Jimmie Lloyd Jayroe grew up in Purdon on a farm not far from the town. Jimmie and Jane met shortly after Jimmie came back from the Korean War. They knew each other only a few weeks and were wed on Nov. 22, 1953. From this marriage came three children. First born Mary Jane (Jayroe) Fosdick of Rice is married to Charles Fosdick, Jr. and has two children and two grandchildren. Second born Rebecca Ann (Jayroe) Ferlet of Purdon is married to Richard Ferlet and has three children and two grandchildren. Brodrick Loyd Jayroe of Wichita, Kan. is married to Mary Pauline (Crawford) Jayroe and they have four children. Altogether that is six children, nine grandchildren, and four great-grandchildren of Jim and Jane Jayroe.
---
1/4/2004 Palos 73rd Anniversary
John Palos and Juanita Mora were united in marriage in a civil ceremony Jan. 1, 1931 and were married in a Roman Catholic Church ceremony Aug. 16, 1933 at St. John's Catholic Church in Ennis. Mr. and Mrs. Palos have lived their entire married life in Navarro County.
Mr. Palos retired from the City of Corsicana as a water and sewer superintendent. Mrs. Palos was a housewife, and supplemented her income as a sales representative for Studio Girl Cosmetics.
They have six children: Harry Palos, Luther Palos, Joe Palos, and Lewis Palos of Corsicana, John Palos, Jr. of Dallas, and Isabelle Guillen of Temple; 18 grandchildren, and 31 great-grandchildren.
---
---
1/18/2004 Watkins 60th Anniversary
Carmack Watkins and Norma Jean Farmer Watkins celebrate their 60th wedding anniversary on Jan. 14. They were married by Reverend Goff in 1944. The couple made their home here in Corsicana for 60 years and were blessed with three children, eight grandchildren and two great-grandchildren.
---
1/18/2004 Taylor 10th Anniversary
After a six-year tour in Okinawa, Japan and a war in Iraq, Colon and Rachael Taylor will celebrate their 10-year wedding anniversary by renewing their wedding vows on June 5, 2004 in Corsicana at New Cornerstone Baptist Church.
Rachael is the daughter of Ms. Minnie Jackson of Corsicana, and Colon Taylor III is the son of Colon and Frankie Taylor of San Antonio. Rachael is a Corsicana High School graduate currently working as a licensed cosmetologist in Virgina. She is also the mother of three children, as well as a full-time student.
Colon is a Texas A&M University graduate who holds an undergraduate degree in special education and a graduate degree in educational psychology. He is currently a captain in the United States Marine Corps who recently ended a congressional fellowship on Capitol Hill for Congressman John P. Murtha of Pennsylvania.
---
4/25/2004 Rash 50th Anniversary





Buddy and Jacquie Rash celebrated their 50th anniversary April 24.

A dinner was given in their honor at the Magnolia House with friends and family. They have two daughters and one son; Paula and Billy Jones and their family, Shelly and Shannon Dyer and grandson, Mason; Barbara and Brett Cole and their daughters, Kandis Dobbs and Linde Wilson; and Dewayne Rash and his children, McKenzie, Lane and Nate Rash.


---
4/25/2004 Darden 50th Anniversary

Wanda Lonez (Barnett) Darden and Dannie F. Darden of Mansfield, formerly of Corsicana, will observe their 50th wedding anniversary April 24, 1954 at the home of the bride's parents on Rush Creek Ranch near Kerens by Rev. Charles Woods. Three children were born to them: Lee Ann (now deceased), Steven Brian, and Gregory Allen. They now reside with Steve and his wife, Donna. A celebration will be held at noon today at Bar Cross Ranch Cowboy Church, 2632 S. 2nd (FM 917) in Mansfield. The church is located between Cisco and Alice's Restaurant and All About Boots Western Store. All relatives and friends are invited to attend

---
5/2/2004 Perkins 40th Anniversary

Dale and Edna Perkins were married May 1, 1964. They will be celebrating their anniversary with family. Their children and spouses include Melissa and Greg Brown of Ennis; Clint Perkins of Corsicana; Jeremy Perkins of Corsicana; and Derek and Kari Robinson of Rice. Their grandchildren include Caroline, Audrey and Ben Brown of Ennis and Katelyn Robinson of Rice. Dale and Edna are wished a happy 40th anniversary, and many more to come.


---
Mr. and Mrs. Huff Wedding Anniversary

Moved to: James Monroe Huff Biography Page
---
Elwood and Shirley Barnes will celebrate their 50th Wedding Anniversary today with family and friends. They were married July 17, 1954 in Corsicana. A reception, hosted by their children and grandchildren, is being held today at Northside Baptist Church Activity Center. Their children are Danny and Linda Barnes and Phil and Brenda Farmer, of Corsicana. Their grandchildren are Bill and Brandy Harrison of Corsicana, Corey Barnes of Conroe, Amber Farmer and Amy Barnes, both of Corsicana, and one great-grandson, Grant Harrison.


---
12/19/2004 Taylor Anniversary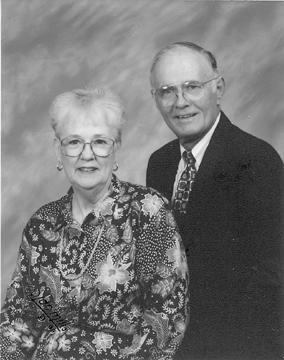 Mr. and Mrs. Don Taylor of Emhouse will celebrate their golden wedding anniversary Dec. 25. They were married by Brother Dale Leggett in 1954.

The celebration will include a reception from 2 to 4 p.m. Dec. 19 at the First Baptist Church in Corsicana.

The couple's daughter and son-in-law, LaDonna and Dale Jordan of Barry, will co-host the event with the couple's son and daughter-in-law, David and Debbie Taylor of Syracuse, Kan.

Grandchildren who will join in the celebration include Justin, Jayson and Natalie Jordon of Barry, along with Victoria Taylor of Corsicana and Sarita and Latigo Peterson of Syracuse, Kan.

Friends and family are invited to attend the reception and take part in the celebration.


---
Albert Luther Dunagan & Florence Ada (Kennedy) Dunagan
Golden Wedding Celebration Set
Mr. and Mrs. A. L. Dunagan will observe their golden wedding anniversary Sunday, April 30, from 2:30 to 5:30 p.m. at the Lyntegar Electric building, Tahoka, Texas, according to announcement received by friends. Mr. and Mrs. Dunagan resided in the Emmett community for many years before moving to Tahoka.

Notes:
---