Civil War Index
---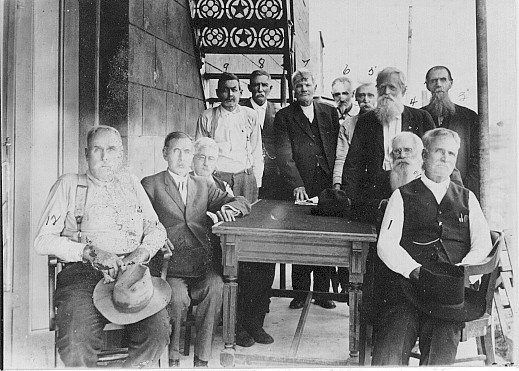 Confederate Veterans
1. C. B. Hightower
2. R. Hightower
3. Sam Hollingsworth
4. Buck French
5. Tobe Stockard
6. Dick Hyer
7. R. J. Sanders
8. Tom Rice
9. ? Bolding
10. A. Bryant
11. Jim tullos
12. R. Williams
The above is the label on the back of the photo. I believe the names came from Minnie Estelle Hightower, daughter of C B Hightower and Lauretta Eleanor Woodward. This photo was in the possession of Minnie Estelle's daughter, Alyne (Ledford) Keathley, and given to my father Ralph Lloyd Hightower (nephew of Minnie Estelle) in 1984 or 1985.
What I know about these men:
1. C B Hightower is Charnell Berrian Hightower (3 NOV 1841 – 24 MAR 1917). Served in Company I, 19th Texas Cavalry, 1861 – 1865
2. R. Hightower is Raleigh Hightower.
He and Thomas P. Hightower were brothers -- both sons of Charnell and Elon Watts Hightower. So Charnell Berrian was Rollie's nephew not his brother. C.B. was born Nov 3, 1841.

Raleigh's birth year is stated so many different dates in so many different places, I honestly don't know for sure. His tombstone read 1822, but I think it is probably more like 1830.

I'm guessing the photo might have been taken around 1910 --- what do you think? Raleigh lived until April 1920, but he was quite feeble and in a wheelchair by that time. .... Virginia Crilly
3. Sam Hollingsworth is Samuel Strain Hollingsworth
4. Buck French - I have no other info on him
5. Tobe Stockard – no other info
6. Dick Hyer – this may be Richard W. Hyer
7. R. J. Sanders is Richard Joseph (or Joshua) Sanders, a son of Tillitha Hightower and Steven Sanders. Tillitha is a sister of Thomas Preston Hightower
8. Tom Rice - I have not verified this – but this may be Thomas Butler Rice
9. ______ Bolding - no other info
10. A Bryant – no other info
11. Jim Tullos – James Alexander Tullos
12. R Williams – no other info
Of the above listed, CB Hightower, R Hightower, Sam Hollingsworth, Dick Hyer, R J Sanders, and Jim Tullos are connected with the Hightower family either through birth or by marriage.
Donated by:
Betty Hightower Cardenas
Email – [email protected]
- I hope that the more people who get a chance to look at it, the more likely it is that I get some help in making the connections and finding out more about these folks! ..Betty
---