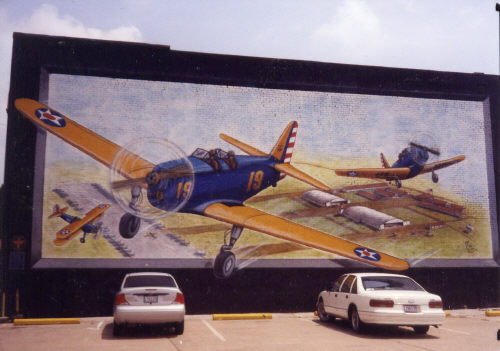 Corsicana, TX
Photo by Ed Williams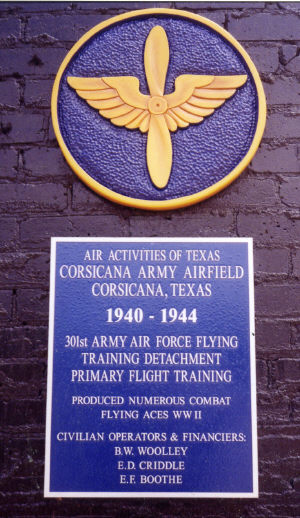 Corsicana, TX
Photo by Ed Williams
---
5/7/2002 Artist to paint war mural downtown
By JOAN SHERROUSE/Daily Sun Staff
Artist Whit Fink, left, and J. Waterman study a scale drawing of the mural which will appear on the side of Rob's Battery and Electric in honor of 301st Army Air Force Flying Training Detachment which operated out of the Corsicana Municipal Airport from 1940 to 1944.Courtesy photo
The sound was deafening and the sky was dotted with PT-19s as Army Air Force cadets rushed to learn combat skills.
Now, more than half a century has passed since the colorful blue and yellow planes buzzed above Corsicana Municipal Airport, and the memories of those young pilots who flew them are a part of history.
Soon, artist Whit Fink will transform a faded wall at Rob's Battery and Electric into a permanent record of the military training conducted here from 1940 to 1944.
The mural will join the street scene at the library and a tiger on Seventh Avenue, thanks to a cooperative effort between the Corsicana/Navarro County Chamber of Commerce and the city.
"The mural committee has always had this in mind -- of doing one for the airfield," said J. Waterman, Precinct 1 city councilman. "It's a commemorative-type mural for our pilots who trained here in the PT program during World War II."
Fink had already scouted Dean Montgomery's brick wall as a promising mural site. After discovering the owner's passion for aviation, he began doing preliminary sketches for a 30-foot by 60-foot design.
"Technically, this has been in the works for three to four years," he said.
Waterman got the idea for using murals to enhance tourism at an international convention several years ago, then reinforced the commitment by studying the positive impact of 33 murals in an Ohio town decimated by the closing of three steel mills.
"Their chamber and the citizens went together and made the murals as a tourist attraction to bring people in, and this is what we had in mind," he said. "Corsicana doesn't need the tourism as much as some of the others did, but we're going with the murals anyway which will enhance any tourism we have."
When he contacted Fink, he was surprised to find the design completed. Then, with pledges for about 75 percent of the funding secured, the project moved into high gear.
Fink spent time gathering an historic perspective from men who had lived the combat training experience, and decisions were made about a plaque that will be mounted below the mural.
Similar to historical markers, but sporting a blue background, the embossed plaque will read: "Air Activities of Texas Corsicana Army Airfield Corsicana, Texas 1940-1944. 301st Army Air Force Flying Training Detachment Primary Flight Training produced numerous combat flying aces WW II."
The plaque will go on to list civilian operators and financiers, and nearby, a likeness of the training detachment's sleeve patch will appear.
Wendy Huffman, promotional advertising facilitator for the Main Street Project, praised the idea as an appealing addition to Corsicana's downtown area.
"It will be a beautiful addition to the many attractions that make Corsicana a tourist destination, while also serving as a beautification effort for the downtown historical district," she said.
The work will get underway as soon as weather conditions settle down and take about four weeks to complete.
Joan Sherrouse may be contacted via e-mail at [email protected].
---
May 27, 2002
The mural being painted downtown by local artist Whit Fink is
coming along on the wall of Rob's Battery and Electric. The mural will depict
training done in Corsicana during World War II. Daily
Sun photo/SCOTT HONEA
---
7/11/2002 Downtown mural to be dedicated Friday
By JOAN SHERROUSE/Daily Sun Staff
The city's newest mural, immortalizing the military training held at Corsicana Municipal Airport from 1940 to 1944, will be dedicated during a ceremony at 4 p.m. Friday.
Artist Whit Fink selected a faded brick wall at Rob's Battery and Electric, 211 W. Collin St., as an ideal location to display the activity of Army Air Force cadets preparing for combat duty in PT-19s, the training planes of the day.
"We plan to have the color guard present the colors, we'll have somebody lead us in the 'Star Spangled Banner,' and immediately following that, we'll have the fly over of one, two or three PT-19s," said J. Waterman, the Precinct 1 city councilman and member of the mural committee.
Mayor April Sikes, local officials, some of the pilots who still live in the area and members of the mural committee will be on hand along with the artist.
About 8,000 would-be pilots entered the training program with 5,000 completing the requirements and going on to fly P-40s, P-38s and bombers during World War II.
"I think this is an excellent way to emphasize what we had," Waterman said. "Now, we have a mural and people can say, 'There are the planes they trained in out here at the Army Air Force base.' "
He said the committee has received many positive comments about the new mural, and the timing made it possible to present a preliminary sketch during a May 11 celebration at the air field.
Fink has been working on the mural for about two months, with several inclement weather breaks, and the final touch -- a commemorative plaque -- will be mounted before the dedication ceremony.
"Then, the emblem they had on their sleeves, Whit has one he's done in a 28-inch circle that will go right under the plaque or above it," Waterman said. "Whenever they trained here and were fully qualified, they maintained that patch with their other patches as they went on with their other flying."
A subtle touch that some viewers may either miss or misunderstand is the biplane in the lower left corner of the painting, but it represents a bit of history connected with the training experience.
"They had trouble with the wing struts, and they had one that broke," Waterman said of the PT-19s. "They put them all out of commission for a while to inspect them, and that's when they brought in about six or eight of the Stearman biplanes, so there was about 2 1/2 weeks when they did use the Stearmans for training."
He expressed appreciation to Sharla Nelson, director of Parks and Recreation, for making arrangements to set up chairs and provide a public address system for the dedication.
The public is invited to attend, and refreshments will be served after the ceremony.
Joan Sherrouse may be contacted via e-mail at [email protected]
All rights to this story reserved. Copyright Corsicana Daily Sun and Community Newspaper Holdings, Inc,. Content may not be archived, retransmitted, saved in a database, or used for any commercial purpose without the express written permission of the Corsicana Daily Sun and CNHI.
Link to: Corsicana Daily Sun || Corsicana Daily Sun Extracts