From the Collection of Edward L. Williams
Issued to Blanche Bryan Jordan (bottom is reverse side of book issued to Thomas Paul Jordan).
Route I, Corsicana Texas. Age 59. Issued by Local Board No. 175, Navarro County. Issued by Adelaide Robinson.
I love the last line on the back
"If you don't need it, DON'T BUY IT"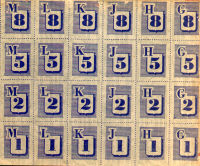 Page from the Rations Book. Stamps are Blue or Red