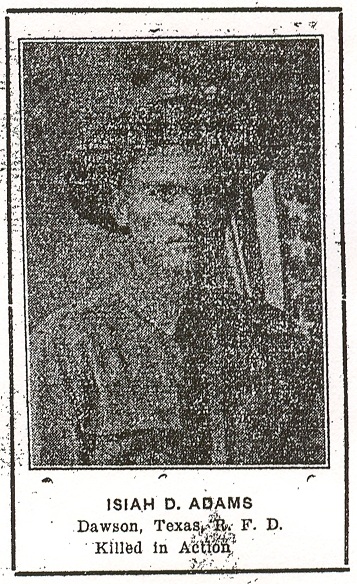 Isaiah D. Adams
He was born 17 Dec 1895 in Houston Co TX. He was the son of John Hugh Adams and Emma F Allbright Adams of Crockett, Texas U. F. D. No. 2 Box 46.
He signed up on the Civilian Draft Registrations and World War I Registration Card with the description of medium height, stout build with brown hair and brown eyes.
He enlisted in the service September 20, 1917 when his address was Hubbard, Texas, K. K. D. No. 5. He trained at Camp Travis, Texas.
Isaiah belonged to 23rd Infantry Regiment, 2nd Infantry Division.
On 04 Oct 1918 at the age of 21 years 10 months and 14 days he was killed in action on a battlefield in France.
He was single, leaving a father, mother, brothers and sisters.
He is buried at Plot F Row 36 Grave 38 Meuse-Argonne American Cemetery, Romagne, France