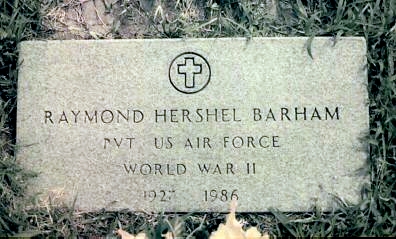 Rose Hill Cemetery, Blooming Grove, Navarro Co., TX

Photo by Dana Stubbs
Raymond Hershel Barham
Pvt US Air Force
World War II
1927 - 1986

OBITUARY
Hershel Barham
Hershel Barham, 59, of Blooming Grove, died Saturday at Navarro Regional Hospital
Services are 10 a.m. Monday at the First Christian Church in Blooming Grove, with Buster Jordan officiating. Burial will be at Rose Hill Cemetery in Blooming Grove; arrangements are with Griffin-Roughton Funeral Home in Blooming Grove.
Survivors include his wife, Lois Barham of Blooming Grove; Two sons, Michael Joe Barham and Charles Barham, both of Blooming Grove; three daughters, Patsy McGraw and Donna Vaughan of Blooming Grove, and Patti Hernandez of Ferris; two brothers, Don Barham of Frost, and Earl Barham of Mansfield; a sister, Jane Oliphant of Blooming Grove; nine grandchildren; a great-grandchild.
Pallbearers will be Allen Barham, Ronnie Jordan, Ray Barham, Don McGraw, Doug Clifton, and Wendell Warren.
Notes:
Submitted by Verna Bonner

Corsicana Daily Sun-Jul 28, 1986

Hershell married first 17 Mar 1946 to Katie Magdeline McClure. He married second Darlene Riley.
Submitted by Norman Stubbs, Commander of J. L. Halbert Camp 359, SCV
Social Security Death Index:

| Name | Birth | Death | Last Residence | Last Benefit | SSN | Issued |
| --- | --- | --- | --- | --- | --- | --- |
| RAYMOND BARHAM | 15 Sep 1927 | Jul 1986 | (not specified) | 76626 (Blooming Grove, Navarro, TX) | 466-34-5632 | Texas |

Texas Death Index:

| Last_Name | First_Name | Middle_Name | Name_Suffix | Date_of_Death | County_of_Death | Sex |
| --- | --- | --- | --- | --- | --- | --- |
| Barham | Raymond | Hershel | | 19860726 | NAVARRO | m |