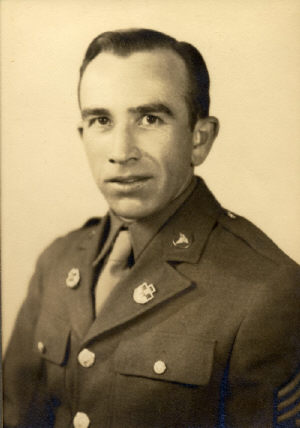 Sgt. Gregory Bell, U.S. Army
Gregory Bell, son of D. Fisher and Nora Gregory Bell, served in the United States Army from the early 1940's until after WWII ended in 1945. He was with the famous 36th "Texas" Division of the Seventh Army. Before going overseas, he was in Camp Edwards, Camp Blanding, Florida and Massachusetts. In September of 1943, he was part of the distinguished 111th Medical Battalion serving as a medical technician in Solerno, Italy.
Gregory was awarded a Bronze Arrowhead for participation in the Salerno and Riviera invasions from September 1943 to September 1944. By March of 1945, he serving in France before returning home to Rice, Texas.
See his biographical sketch in The Men and Women in World War II From Navarro County, Texas
OBITUARY
Dec 8, 1909 – Apr 13, 2001
ENNIS – Funeral services for Gregory F. Bell, 91 of Ennis, were held at 11 a.m. Tuesday, April 17, 2001 in the Keever Chapel with Rev. Brad Ryder officiating.
Born on Dec. 8, 1909 in Rice, the son of D.F. and Nora Gregory Bell, he passed away April 13, 2001 at Ennis Care Center.
Preceded in death by his wife Mary B. Wright Bell; he is survived by five sisters-in-law Dorothy (Aaron) Phelps of Burleson, Elsie Cheyne of Ft. Worth, Fannie Kouba of Ennis, Elizabeth (Wendell) Elliott of Alma and Katy (Dave) Leinbach of Mabank; and Kathy Enslin.
Pallbearers were Mike Elliott, James Lewis, Johnny Phelps, Tom Bill Wright, Donny Phelps and Jeremy Elliott.
Interment followed in the Myrtle Cemetery under the direction of J. E. Keever Mortuary in Ennis.
Notes: