Pietro Bisso
Pietro (Peter) Bisso was born in Genoa, Italy in 1840 and came to the United States when in his 30's, settling in Corsicana in the mid 1870's. He was an early bottler in Corsicana and had a reputation among the aristocratic old women of the time for being a nasty individual. He spoke seven languages and cursed fluently in all of them. Living not far from him on "Bois D'Arc Street"-- I think that later became Main Street--was a family named Eisinger. Jacob Eisinger had come to Corsicana from Prussia about 1874 and his house sat on what is now the corner of W. 7th Avenue and Main--where the K. Wolens Warehouse was.
Jacob Eisinger and his wife Wilhelmina (nee Grsha) had three children, Elizabeth, Wilhelmina, and Jacob, Jr.
Although probably harmless enough, Mr. Eisinger used to sit on his front porch with his wife and the children of 1880's Corsicana were much afraid to pass by as the couple always seemed to be glaring at them.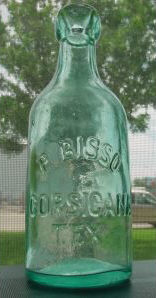 Elizabeth Eisinger married George Blume and moved to Dallas where she had two daughters, Mathilde (Tillie) and Rose prior to George's early death in 1878. Elizabeth did not remarry and died in Dallas in 1899.

Although the Eisinger home wasn't large, old Jacob kept a big wine cellar. In the mid-1880's the wine started to disappear at intervals and he became convinced that some animal was getting in the cellar and drinking the wine. In 1886 he decided to add some poison to some of the contents and tragically, was to find Jacob, Jr. dead beside it the next morning. Apparently the teenager had been slipping into the wine cellar at night and sampling his father's stash.

It was quite a scandal in 1879 when 39 year old Peter Bisso married 13 year old Wilhelmina (Minna) Eisinger. Rumors abounded in Corsicana that old Mr. and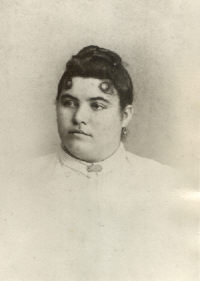 Minna Bisso

Mrs. Eisinger had been paid a nice amount of money to *sell* Minna to the nasty Italian who was wanting a wife and couldn't find anyone willing to fill that role. Even as late as the 1970's, older residents of Corsicana that remembered the couple would shudder
when talking about the marriage and make comments like "God that was horrible!"
Peter and Minna Bisso did not have children though the marriage endured and seems to have been a happy one. Peter continued with his bottling company for years and they lived in a home on the site of what was later to be the Twilight Home (when it was located near the Cotton Mill). Old Jacob Eisinger died in 1905 and his wife became mentally unbalanced. The next year Minna Bisso found her mother dead in a cistern and it was
believed Mrs. Eisinger had jumped into the cistern and drowned herself. Within a year
Peter and Minna left Corsicana and moved to Corpus Christi and lived there the rest of their lives. Peter died in 1912 and Minna died of Grave's Disease in 1916. They are buried in Rose Hill Cemetery in Corpus Christi.

Elizabeth Blume's two girls left Texas after their mother's death in Dallas. Mathilde "Tillie" had married Stephen Moeller in Dallas and lived briefly in Corsicana around the turn of the century. In Corsicana, she gave birth to twins that were stillborn. She and Stephen moved to St. Louis, Missouri where they had other children and lived out their lives. Tillie's sister Rose married Frank Saylor and lived in Kansas City, Kansas but they divorced after a few years of marriage.

Attached is a scan of what I think is the only existing photo of Peter Bisso. I have one of Minna Bisso as well but can't seem to put my hand on it. She was a dark-haired, plump little woman.
Notes:
---