Isaac Newton Brown was the fifth child and third son born to Samuel and Susan Miller Brown. Born May 27, 1817 in rural western Kentucky (most likely Livingston County), Isaac lived in Tipton County, TN, Carroll County, MS, Coahoma County, MS, and Navarro County, TX. Brown died September 1, 1889 while living in Corsicana, TX.
After his father died, young Isaac joined the United States navy while residing in western Tennessee. His service began in 1834. Twelve years later, in 1846, he was commissioned a lieutenant. Only months before his commission, he married Eliza Ann Read Denison in Portsmouth VA.
Living in the Mississippi delta, the couple had three sons. Only one, Henry Denison Brown, lived to have children. In the years before the Civil War, Isaac Newton Brown spent much time at sea. He participated in the Mexican War, sailed around the world several times, and recorded many of his nautical experiences. When hostilities erupted in 1861, Lieutenant Brown resigned his commission in the United States navy and joined the fledgling Confederate States navy as a lieutenant.
Brown saw a great deal of action during the war. His most famous and best documented experiences center around the completion and successful battle run of the C.S.S. Arkansas. This ironclad frigate remains one of the most talked and written about vessels in the confederate navy.
Brown was also stationed on the Mississippi River at Columbus, KY and Fort Pillow, TN. For a brief time he was in Nashville, TN on the Cumberland River. New Orleans, the Yazoo River basin in Mississippi, and finally Charleston, SC were also in his assignment skein.
After the war, Brown returned to Coahoma County and attempted to live a quiet life as a farmer. Eliza died in 1872. Three years later, Isaac married the widow Jeanie Valliant Autry in Como, MS. They had two children, a son and a daughter, both of whom died childless. Times were very hard in the Mississippi delta following the Civil War, and finally in 1883, the Brown family moved to Navarro County, TX and the town of Corsicana. Jeanie's son by her first marriage, Judge James Autry, Jr. was living there when the rest of the family arrived. Isaac Newton Brown is buried in Corsicana. His wife died a few years later and is buried at his side.
Upon hearing of Isaac Brown's death, former President Jefferson Davis wrote his widow, "Your telegram has been received, and I am sincerely grieved to learn that Isaac Newton Brown the true patriot the thorough gentleman and gallant commander in one of the most glorious actions in naval history, has passed from eath, leaving behind him a stainless, reputation and a character to be emulated by his young countrymen. I honored him living and mourn him dead."
Bibliography:
Getchell, Charles M., Jr. Defender of Inland Waters:
The Military Career of Isaac Newton Brown, Commander, Confederate States Navy, 1861-1865.
M.A. Thesis (The University of Mississippi), 1978.
Brown, Isaac Newton. The Autobiography of Isaac Newton Brown.
Original manuscript obtained from the Brown family;
copy in the Barker Texas History Center, The University of Texas at Austin.
Various documents from the Brown family.
Charles M. Getchell, Jr.
[email protected]

Burial: Oakwood Cemetery
Corsicana
Navarro County
Texas, USA
Plot: Section K Row 5
GPS (lat/lon): 32.05883, -96.28567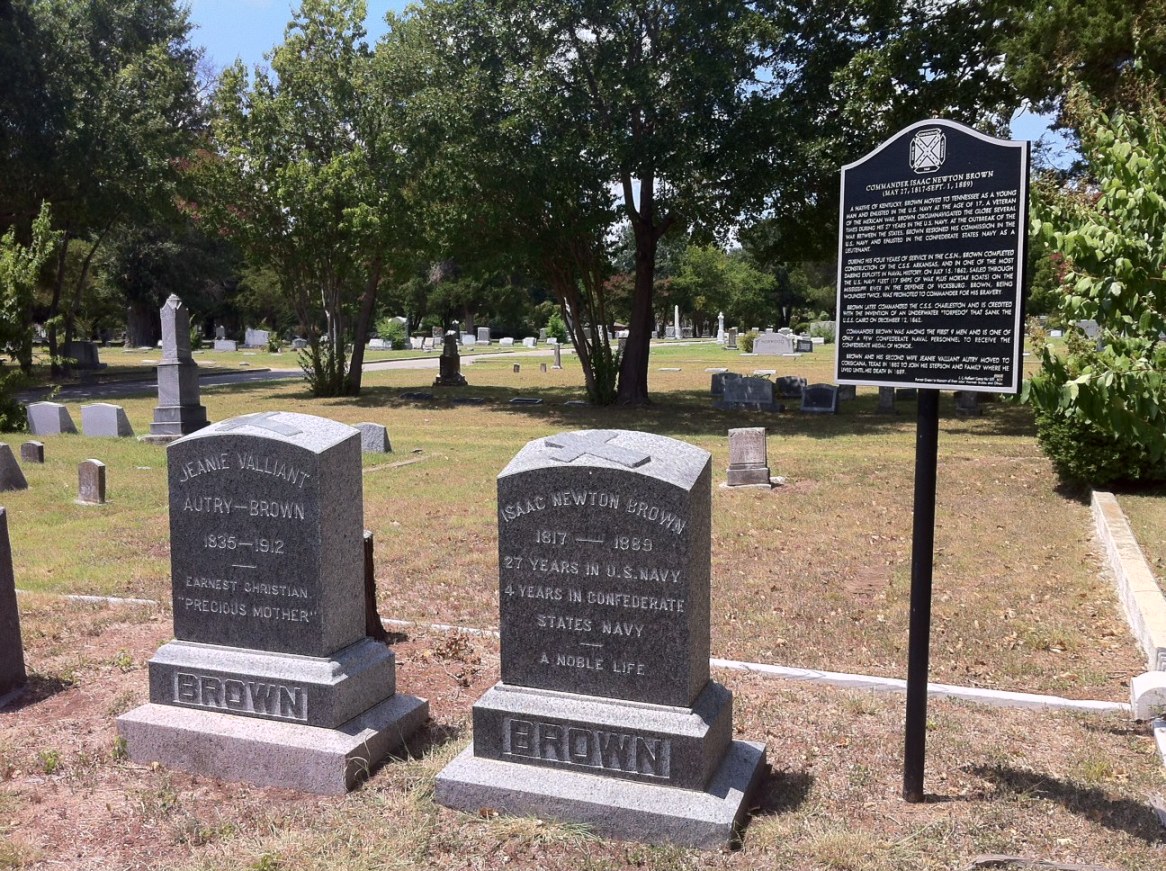 Notes: