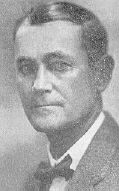 The sanitarium of Corsicana as well as the streets are under the supervision of H. W. Carson, Street and Sanitary Commissioner, who is charged with the care of about 22 miles of paving in addition to keeping the city clean. Perhaps no other commissioner has more responsibility than does Mr. Carson, in that the health of the entire populace depends upon the City's sanitary condition.
Mr. Carson was born in Dallas, Texas, in1872, and when only two years old moved with his parents to Corsicana. He began his life's work as a contractor of brick buildings. He has held practically every office in the local Bricklayer's Union and is now president of this body. He also was vice-president of the State Conference of Bricklayers for four years.
Among other things Mr. Carson has served 10 years as an officer in Corsicana's Volunteer Fire Department and is foreman of the Chemical Company.
He was elected to his present position on the Board of City Commissioners in April of 1922.