Frank Trimble
Memphis (TN) Commercial Appeal, June 1, 2000:
Trimble Place, a Midtown street, was named for Frank Trimble, who was a prominent real estate man in Memphis in the late 1800s and early 1900s.
Born in Hazel Green, Ky., 60 miles east of Lexington, in 1840, Trimble was educated in Kentucky.
When he was 23 three years old, he went to Illinois, and about two years later moved to Memphis. His first business venture here was in the dry goods field. He operated a store in the old Jackson Block. A Goldsmith's store was later located there. A few years later, Trimble moved to Somerville,
Tenn., where he was in the mercantile business for 20 years. From there he went for a short while to Corsicana, Texas, before returning to Memphis and entering the real estate business. He established a firm called Frank Trimble and Co. and was later associated with a man well known throughout the South in real estate, S.R. Corbitt. They formed the firm of Trimble & Corbitt, real estate dealers and promoters of immigration. They specialized in the rich farm lands of the Yazoo Delta, selling plantations, farms and large tracts of timberland.
Through extensive advertising in the North, the firm attracted many families to the area surrounding Memphis. In addition to his real estate dealings, Trimble was also a director in the Griffith Casket Co. He was a Royal Arch Mason, a Knight of Pythias and a member of the Episcopal Church. He and his wife, Lilly Shelton Trimble, lived at 23 S. Diana in Memphis, though they had no children of their own, the Trimbles adopted a nephew, Dr. W.F. Trimble, and a niece, Estha Wilson, also lived with them.
Lilly Trimble died in 1899 and Frank Trimble died in 1915. They are buried in Forest Hill Cemetery, where an imposing monument of a life-size angel kneeling beside a stone coffin marks their graves.
Trimble Place in Midtown runs east from Diana Street to Cooper. It is between Madison and Union.
Sources: The Commercial Appeal, Oct. 13, 1915. Notable Men of Tennessee, Vol. 2, edited by Judge John Allison (Southern Historical Association, Atlanta, Ga., 1905). Who's Who in Tennessee (Paul & Douglass Co. Publishers, Memphis, 1911). Memphis Magazine, March 2000
Notes:
---
Story ran on August 24, 1995 - Columbia Tribune - Missouri
Patience has paid off for country-western songwriter Russ Brown. Ten years
ago, he wrote `Don't Gamble.' This month, his father's rendition of the tune
is riding a wave of popularity in Europe, cresting at No. 1 in the
Netherlands.

Music has always played a part in Brown's life. His grandfather, Charlie
Brown, wrote and recorded music in the 1940s. On a 1961 juke box in his living
room, Russ keeps his grandfather's music alive in a recording of ``Mean Mean
Mama.'' In the 1980s, a rockabilly group from Scotland bought rights to the
song and recorded it, Brown says. ``He was collecting royalties from it till
the day he died.''

Brown's earliest memories of life as a child in Corsicana, Texas, are of his
father, Harold Dean, singing and playing with country-western bands. ``There's
always been a guitar around the house,'' Brown says, his accent stressing the
first syllable of guitar. ``I grew up around honky-tonks and dance halls. I'd
dance with mom while dad was playin'.''

Brown, now 27, wasn't playing guitar when he wrote ``Don't Gamble.'' He taught
the ballad to his father by singing it over and over until his father got the
hang of it. Brown likens the song to a ballad of regret. ``It's about doing
the right gal the wrong thing too many times,'' he says with an easy grin.

Brown usually starts his compositions with lyrics, developing them around a
catchy phrase. Then, with the guitar, he builds a melody around the words.
Brown admits that the mood to write music can be fleeting. At times he goes
months without writing any songs. ``It's a random thing. Sometimes they come
from midair.''

Besides looking to his father for inspiration, Brown listens to Elvis Presley
and Billy Joel. ``If Elvis were a god,'' he says, the soft timbre of his tone
belying a rich singing voice, ``Billy Joel would be a demigod. He's very much
a wordsmith. His words have always talked to me.''

The full impact of having a No. 1 hit finally hit Brown when he received
playlists from radio DJs in Europe, some with compliments scribbled in broken
English. It was only then, he says, that he realized people were listening to
his song and enjoying it. The ballad has never been released in the United
States.

Despite the song's success in Europe, Brown has no ambition to perform it
himself. He prefers the creative aspects of writing to the rigors of
performing. He also likes spending time with his wife, Elizabeth, and their
2-year-old son, Grant.

``I've seen the hours my dad puts in on the road,'' he says. ``I'm too much of
a homebody.''

By RICK TRUAX

---
1/18/2002 Frost's Hill family in need after accident leaves wife paralyzed
By BARBARA FORMAN/Daily Sun Staff
No matter how prepared a person tries to be, life can bring the unexpected and at times the unthinkable.
Since Dec. 11 Mark and Linda Hill, a family in Frost, have been trying to put their lives back together after experiencing the results of the unexpected and unthinkable.
Linda was on her way to work at Grand Prairie Ford about 7:30 a.m. As she headed north on Interstate 35 an accident occurred in front of her. Although she only tapped the car before completely stopping, an equipment van coming from behind never slowed down and hit her.
What had started out as an ordinary workday left Linda with injuries that resulted in her becoming a quadriplegic. The impact severed her spinal cord.
"I'm just scared to death, and I don't know where to turn" Mark said. "Me and Linda worked hard all our lives and tried to do the right things. I'm not used to needing help."
Since the wreck the only movement Linda has left is in a shoulder.
"She can turn her right arm and hand a little bit," Mark said. "The doctors (at Baylor Rehabilitation Center in Dallas) are trying to teach her to drive a wheelchair."
Friends and neighbors in Frost are trying to help the Hills and their 7-year-old daughter Makayla in their time of need.
Mark said his daughter has done well since the accident. He said the toughest times were the night after they got home and her mother was not there.
Helen Dixon, who lives next door to the Hills, said several people were trying to do what they could to help during this difficult period. She said it has been really hard because no one in the area had ever dealt with anything like this before.
"I didn't even know where to start," Dixon said.
After she talked to Mark and several others a special account was set up at Citizens National Bank in Frost for the Mark Hill Family. Another account at Citizens National Bank in Waxahachie has also been set up by Mark's place of employment, The Cabinet Specialists.
Mark said his company has been exceptionally understanding and helpful since the accident occurred.
"They have been wonderful," he said.
Rick West and Robert Reeves, owners of Cabinet Specialists, are providing the labor to build an additional room onto the house for Linda. There are also benefit dinners and fund-raisers being planned to help with some the astronomical expenses.
Once Linda is home, all of her activities and regular daily routines will be from a wheelchair. Specially constructed wheelchairs for quadriplegics cost around $20,000.
There is also a need for a van. Mark is trying to trade his truck for a wheelchair-accessory equipped van.
Even though medical insurance will assist with part of the hospital expenses, there are daily living expenses and the additional expenses of trying to redesign an older house to be wheelchair accessible.
The extra room for Linda will help, but other changes in the house will be needed for the doors, shower and bathroom. Ramps and other features will also have to be added.
Although Linda will eventually get disability, it will not start for six months and it will not include Medicare. There will be around-the-clock care once Linda is released from rehabilitation.
Because there was no long-term insurance and the Hills do not qualify for any state assistance, Mark will have to become the full-time caretaker.
Mark said he has gone to bed every night wondering what he is going to do and how he can manage to keep the family going.
"This is a lifetime thing," he said. "We made a big mistake by not taking out long-term disability insurance."
If there are no new discoveries of any movement, Linda will be released from rehabilitation on Feb. 18. Mark is concerned about the length of time he has before the maximum amount of coverage runs out, and about the 24-hour care his wife will require.
"It's hard, really hard," he said. "You never think about something like this happening."
Barbara Forman may be contacted via e-mail at [email protected]
---
Rick Murray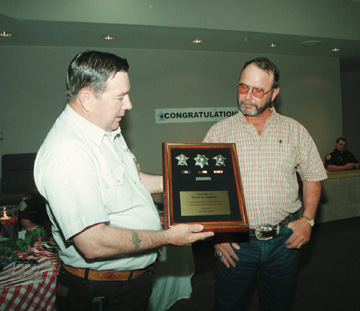 Navarro County Sheriff Les Cotten, left, hands a plaque to Ricky Murray at a retirement ceremony in his honor held Friday at the Navarro County Justice Center. Murray was with the NCSO for 19 years. Daily Sun photo/SCOTT HONEA
---
4/16/2002 GELENE SIMPSON: Twins are remarkable in their own right
Twins have always intrigued me. My daddy was a twin, but his twin sister, our Aunt Mable, was tiny and didn't look a bit like him. My real impression about twins came from my twin cousins belonging to my mother's brother, our Uncle Oscar. They were and are identical twins, in my opinion, and were almost indistinguishable when they were youngsters.
There is a special aura about twins when they are together. They seem to share some special knowledge hidden from us single personalities. The air is somewhat charged with excitement when they are present, especially when they both come up with the same remark simultaneously. It is as if we ordinary folks are asking mentally, "What happened just now?" How creative and imaginative they have always been, speaking of Uncle Oscar's twins.
People say that there is one twin in each set who takes the lead. I don't know about any of the studies. I just enjoy being around twins. Growing up in Corsicana, I had the privilege to know the Hayes twins -- Dortha and Martha. They have always held a special place in my heart. Through the years, they have worked together on many fronts and have been a wonderful complement to one another so that, although their personalities seem very different, I can hardly think of one of them without thinking of the other.
There used to be a sort of tradition about giving twins rhyming names. It was very much in force when our daddy and his twin sister were born in 1903. Granny named them Tommie Able Riggs and Pearly Mable Diggs. When their surname "Duncan" was added, that made quite a mouthful. I think it is interesting that they were called Tom and Mable, not Riggs and Diggs.
Another thing that used to be the custom with twins was that they would be dressed exactly alike, as if it wasn't difficult enough to tell them apart anyway, especially the identical ones. In recent times, though, this trend has lost favor it seems. Parents may be afraid that the individual personalities may be thwarted by too much emphasis on "twinness."
Nevertheless, I like to see twins dressed alike. In fact, I like to see mothers and daughters, sisters and sisters, etc., dressed alike. I guess this preference dates me as part of the old school. Well, so be it. Maybe it comes to me from my Scottish ancestors who had a special tartan worn by all members of the family.
I find it interesting also that many times twins who were separated at birth or when very young, still find they have much in common when they meet as adults. Often they have chosen the same or similar jobs or professions, have married at about the same time, and have many similar tastes, although they have not had any contact over the years.
Also twins who lost their twin at birth and never got to have the full twin experience seem to know they are missing something and always wish for their twin with a special longing not to be satisfied in this world.
Well, what got me on the subject of twins was the fact that Twin Days are coming up on the calendar tomorrow and Thursday. My mother set a great store by planting on Twin Days. If I let Twin Days go by without doing something constructive in the garden or flower bed, I have a guilty conscience for sure. But this time, as in most of the previous year, I will have to let these special days pass without any input.
If the rest of you go-getters will get outside and take my place in the effort to replenish the earth with flowers, shrubs, trees, and all manner of growing things, I would greatly appreciate it.
And all you twins out there, enjoy your special days and always stay close companions to one another. You are truly remarkable.
Gelene Simpson is a Daily Sun columnist. Her column appears Tuesdays.
Corsicana Daily Sun Extracts Index || Corsicana Daily Sun Website
---
5/20/2002 Davis named new principal of Carroll Elementary
From Staff Reports
King Davis has been named new principal of Carroll Elementary. Davis will replace Euradella Yarbough, who is retiring May 31 after 39 years as a teacher and principal in Corsicana Independent School District.
The CISD approved Davis' hiring at Thursday's regular board meeting. Davis is currently the vocational adjustment coordinator at Dallas Kimball High School after three years as a content mastery/contact teacher and varsity assistant football coach at Lufkin High School. Davis, who holds a certification in special education, also worked for five years as an eighth and ninth grade resource math teacher at Lufkin Middle School.
Davis received a bachelor's degree from Stephen F. Austin State University in 1993. He recently completed his master's degree at SFA.
Davis was an adviser of Pan-Hellenic Council at SFA from 1996-1999 and sponsor of the Boys To Men Mentoring Program from 1997-1999.
"(Davis) met with the site base (decision making committee) at Carroll and he fits all of our criteria for what we were looking for in a principal," said superintendent Dr. Jim Dickson. "We're looking forward to him working with the staff and students at Carroll. He has a very diverse education background working with young people. We are very pleased he is joining our district."
In other district administrative moves, Corsicana High School assistant principal Robert Martinez will assume the assistant principal duties at Josˇ Antonio Navarro Elementary this summer. Martinez is stepping into the position vacated by Debbie Cottar when she was elevated to principal at the in December. (sic)
---
Glenn Cooley & Kevin W. Fisher
2 Texas performers have ties to city

FROM STAFF REPORTS

Two company members with family ties in the Corsicana area, brighten the Pioneer Amphitheatre in the spirit of Texas with 140 other professional company members. They will contribute their talents to the 1999 season of Texas , an outdoor musical set in the aesthetic Palo Duro Canyon near Amarillo. Texas has dazzled an international audience since 1966.

Glenn Cooley recently was resident stage manager at The Performing Arts Center at Purchase College, the largest presenting arts organization in the New York metropolitan area. There he worked with companies and artists such as the New York City Ballet, Meryl Tankard Australian Dance Theatre, Alvin Alley American Dance Theatre, Penn and Teller, Itzak Perlman, and Laurie Andersons electronic theatre company.

Along with the 1997 Season of Texas , Glenn has been the stage manager for numerous productions at The University of Texas Performing Arts Center, was the assistant to the production manager, and worked on productions including the National Broadway tour of The Phantom of the Opera.

Now based in New York, Glenn is a graduate of The University of Texas at Austin and has been associated with the Texas production staff since 1995, and this year he holds the position of production stage manager. Glenn is the son of Gary and Mary Cooley of Corsicana.

Kevin W. Fisher is returning to Texas for his second summer. He is the son of Mr. and Mrs. Albert W. Fisher of Corsicana.

Kevin started his technical work at Corsicana High School in 1992 and has continued since. He has been involved with numerous shows on the technical side for many years. Kevin is currently a senior at Baylor University and will graduate in December with a Bachelor in Business Administration with an emphasis in Finance and Management.

In his spare time, Kevin enjoys the life of politics and lobbying in Washington. He is a member of the Baylor chapter of the Young Conservatives of Texas and is involved with the Republican Party of Texas.

Texas , a drama written by the Pulitzer Prize winning author Paul Green, is a tale of the early settlers of Texas who contributed to the wonderment for the future of the land. Texas invites audiences into an exciting world of discovery. Pioneers battle for its possession, but ultimately friendships and teamwork unite the land and set in motion its imminent growth.

The stage of Texas is enhanced by the beautiful landscape of the Palo Duro Canyon with its stratified rock and verdant vegetation, native to the Texas Panhandle. This attractive setting creates the perfect backdrop for the tale, as it is a reminder of the land for which the cattle ranchers and farmers struggled for survival.

Not only does Texas excite visitors with the mystique of the Canyon; this delightful production also offers exciting song and dance, titillating dialogue and colorful costumes and special effects to provide an electrifying spectacle.

As Texas enters its 34th season, nearly 3 million people have been fascinated by this spectacular production.

Texas plays from June 9 to August 21, 1999. The cost of tickets for children under the age of 12 range from $4 to $19 and adult prices range from $8 to $19. Texas plays all nights of the week except for Sundays, and all performances begin at 8:30 p.m
---
6/13/2002 Navarro County's Cade lives and breathes oil paintings
By RUTH THOMPSON/Daily Sun Staff
Witness a coyote howling at the moon, a cheetah balancing on a log or a swan take off in flight at the Warehouse Gallery. Local artist June Cade's work is being featured this month until June 27.
Cade was born in Madill, Okla. and has lived in Navarro County for 20 years. Mostly self-taught, Cade started drawing when she was about 4 years old by trying to draw her grandfather's portrait. She did attend the Dallas Art Institute the 1940s, and took enough lessons in oil painting, about 38 years ago, to learn how to mix colors.
"I prefers oils because it's easier to show light and shadows and details; acrylic paintings usually have too many details," Cade said.
Though Cade now only paints in oils, she has also used pencils, pens, charcoal, and pastels. The Warehouse has one sephtone sketch (a kind of charcoal) of an old woman she did in her earlier days. While she has never painted in watercolors, she likes many water color paintings. Still her favorite paintings are oils done by old master painters, Remebrandt and Michelangelo. She also greatly admires Howard Terpning of Tucson, Ariz., who mostly paints Native Americans.
"I've never been completely satisfied with my paintings, and that's why I keep painting. I know I'm not perfect, but with each painting I hope to improve," she said. "Art is the third most important subject in my life. It comes right after God and my family. So I try to improve as much as I can."
An oil painter for 35 years, Cade has sold over 50 paintings to a European businessman, and many more to private and corporate collections throughout the United States and parts of Europe. She has taught private art lessons for 25 years (she used to teach in the back of the Warehouse for the Corsicana Art League), but currently does not teach because she no longer has time.
While most of her paintings shown at the Warehouse feature wildlife, she does have some landscapes and portraits displayed as well.
"I've painted portraits forever and I liked it," Cade said. "But now I'm more interested in painting animals. I like animals, especially big ones, because I can use more colors and detail to show the contrast of light and shadows easier."
For her animal pictures she usually takes pictures (or someone else takes pictures for her) then sits down in her studio to paint them, though sometimes she paints on sight.
"I really approve of the paint on sight method, but I just don't really like the outside. I prefer my studio to bugs and wind," she said. "When I paint, I tune everything out. Nothing else goes through my mind. When I'm painting, I paint what I feel. And when I'm irritated by bugs I can't paint as well."
Since she has lived on ranches almost all her life, she has always been fascinated with horses. For that reason she has painted many horses over the years, especially Arabians. "White Lighting" is the only one featured in Corsicana.
Cade is also a member of the American Society of Portrait Artists (ASOPA) since 1990 and has traveled all over the world to art galleries and museums with her sisters and husband. She has won Best of Shows, People's Choice Awards and Blue Ribbon Awards. Her paintings have been displayed in galleries across the country; her most Recant shows include Mountain Oyster Club Art Show in Tucson, Ariz., Salon International 2002 Art Show in San Antonio and Sohyun Gallery Show & Sale in New York City.
On the net: www.junecadeart.com or email June Cade at: [email protected]
Ruth Thompson may be contacted via e-mail at [email protected]