Donna Murray
2/18/2002 JP Pct. 3, Democrats: Donna Murray
From Staff Reports
Incumbent Pct. 3 Justice of the Peace Donna Murray is seeking re-election for the office she has held for the last five years. She is the daughter of Jean Forbus and the late Don Burleson of Corsicana.
Murray attended the Corsicana schools and has taken several criminal justice and computer science courses at Navarro College.
"Since taking office, the Pct. 3 JP office has come a long way," she said. "We have an efficient office with highly trained personnel who are eager to assist the citizens of Navarro County.
"I take great personal pleasure in the knowledge that we are able to assist the citizens of Navarro County in a courteous and professional manner."
Murray has attended numerous seminars sponsored by the Texas Justice Court Training Center, a division of Southwest Texas State University, fulfilling her judicial education.
"The seminars addressed topics such as judicial ethics, judicial decision making, traffic laws, inquests, magistrate duties and consulate issues, contempt of court, small claims vs. justice court, miscellaneous hearings, trial procedure, and mass fatalities incident response course provided by the Federal Emergency Management Agency," Murray said. "Since taking office, I have been to three legislative updates and the laws change every two years."
Murray said she is the only candidate with experience.
"The most gratifying portion of my job is working with the young people," she said. "There is nothing that compares with the knowledge you have made a difference in someone's life.
"I will continue to work with any and all organizations whose aim it is to make this community a safer environment to raise our children."
Murray is a member of Shady Grove Baptist Church, and is involved in several civic organizations. She is president of Dawson Crime Watch Association, second vice president of Dawson Lions Club, Eastern Star, Justice of the Peace and Constables Association, Richland Ladies Club, Navarro County Peace Officer Association and Union High Volunteer Fire Department.
She is married to Ricky Murray, a Navarro County Sheriff's Office deputy. They have two sons, Ricky Lynn and Jordan.
"I work closely with the law enforcement agencies of the county, upholding the law and displaying fairness," she said. "I've always been available for assistance with arrest warrants, search warrants, inquests and anything else that they might need.
"When I'm re-elected, I pledge that I will continue to operate your JP court with honesty, fairness and integrity and to treat each individual with respect and dignity. You will know when you walk out of my courtroom you were treated fairly.
"There's no substitute for experience."
Editor's Note: This article was submitted by the candidate but was subject to editing by the Daily Sun.
See Also:
---
2/18/2002 JP Pct. 3, Democrats: Dorthy Jackson
From Staff Reports
Dorthy Jackson is one of the democratic candidates for Justice of the Peace Precinct 3.
Jackson's credentials make her the best candidate for the position of judge, she said.
Jackson attended her first two years of higher education at Navarro Junior College and then transferred to Stephen F. Austin State University. Jackson graduated in 1991 from SFA with a bachelor's of applied arts and science degree in criminal justice with a minor in psychology.
Jackson's career started at Dallas County Sheriff's Department, in which she received her jailer certification. When the Jackson family decided to move to Navarro Mills Lake, she put in her application to the McLennan County Sheriff's Department and worked there four years. Jackson was then offered a position for the State of Texas as a parole officer. She worked the Limestone and McLennan county area for two years.
Jackson believes that her position as the municipal judge for the cities of Hubbard and Malone is the instigation of God. Jackson was looking for a position closer to home because of the late hours she was putting in to supervise 80-plus parolees scattered across two large counties. She enjoyed the job, but felt her family needed her more, she said.
The city of Hubbard offered her a position that was a great reduction in salary, but the time was more important than money. After two months of part-time employment the city of Hubbard offered her a full-time judge's position. Jackson was then contacted by the City of Malone for a part-time judge's position. Jackson said that God was responsible for the opportunities granted to her.
Jackson has changed the court structure in both cities. The large docket books have been replaced with electronic dockets, which save both time and money. Jackson makes sure that all required reports to the state are processed and turned in on time.
Jackson has a large working knowledge of the court system, all the way from taking money at the front desk to the jury trials. Jackson wants to bring this knowledge to Navarro County as Justice of the Peace for Precinct 3. Jackson wants to give the people a professional, nonpartisan, justice court that all of Navarro County can be proud of, she said.
"The founders of the constitution of the United States believed in making a justice system more perfect than any other country," she said.
Jackson said her court is not perfect, but she works diligently every day to make it a more perfect court than ever before. She said she hopes and prays that the people of Precinct 3 will give her the opportunity to serve them.
Editor's Note: This article was submitted by the candidate but was subject to editing by the Daily Sun.
---
Jacky Coker
2/18/2002 JP Pct. 3, Democrats: Jacky Coker
From Staff Reports
Jacky Coker is pursuing the Precinct 3 Justice of the Peace position.
He has been happily married to wife, Ruby, for 20 years. They have four daughters and four grandchildren. For the last nine years, the couple has lived in Eureka.
Coker was born and raised in Corsicana, graduating from Corsicana High School. Also, he has completed the management development program at the Governor's Center in Austin, the attorney general's course in safety management for officers and 32 hours of firearms school.
Currently, Coker works as a mechanic in the maintenance department for Kohl's Distribution Center. Out of the last 19 years, 16 of those he has spent in a supervisor's or manager's position. Eleven years were spent with the Texas Department of Criminal Justice where he served as a sergeant, lieutenant and as a captain for five years.
While with TDCJ, he served as a disciplinary captain and observed parole boards.
"The dog sergeant and I went on numerous chases tracking escapees from TDCJ or other county jails and searching for individuals that were missing," he said. "I have worked with several different law enforcement offices while at TDCJ. Many times, I was sent to extradite inmates back to Texas. While at TDCJ, I worked on death row for nine months."
Coker enjoys fishing, hunting and all kinds of sports. He's been a softball coach or assistant coach off and on for the last 20 years. He has juggled work to actively support all his daughters' activities from cheerleading, basketball, to softball.
The last six years, Coker has been the assistant coach for a select traveling softball squad with girls from all over the county. He has also coached league ball at the Corsicana softball complex for the last seven years. He attends Mildred Baptist Church.
When asked what his goals in life are, Coker said, "During the course of my life, I've missed out on family time by working jobs with rotating shifts. In the last few years, I see how important family life is to an individual. My goal now is to protect and provide for my family while raising my children to be honest, responsible, Christian adults. Also, I want to serve my community in a matter that will be satisfactory to the citizens of Navarro County."
Throughout most of his life, Coker has been interested in politics. From the stories his grandfather told him about the police department to the time he spent working for TDCJ, he's never lost interest in the process.
There are no specific statutory provisions for the justice of the peace position. The position has limited judicial powers. The office hears small claims cases, sets fines for minor traffic violations, performs inquests and establishes bonds, among other responsibilities based on the laws provided by the state.
"I pledge to serve the citizens of Navarro County, especially Precinct 3, to the best of my ability and knowledge," he said. "I will be straightforward and honest with each individual while considering the situation. Each person will be regarded with self-respect and sincerity. I will strive for proficiency and satisfaction while in office."
Editor's Note: This article was submitted by the candidate but was subject to editing by the Daily Sun.
See Also:
---
2/24/2002 NAVARRO COUNTY PEOPLE
Guidry named on all-state team
Morgan Guidry of Alto earned a spot on the first team offensive line on the 2001 2A All-State Team, voted on by the Associate Press Sports Editors, based on regular season performance. Guidry, a senior lineman for the Alto Yellow jackets, was named to the first team offensive line and named top lineman for an offense that rushed for 3,000 yards. Guidry was also selected first team offensive lineman by the Texas Sports Writers Association poll.
Guidry is a member of the Alto High School student council, active at First Baptist Church of Alto, works with his church's younger children on Wednesday nights, and is a member of the Fellowship of Christian Athletes.
He is the son of coaches Tom and Kathy Guidry of Alto, and the grandson of Brown Jones and the late Mary Lou Jones of Mildred, and Lucille Guidry and the late Wilson Guidry of Grapeland.
---
Bill O'Neal
Bill O'Neal has been a baseball fan since the late 1940s when he began attending Dallas Eagle games. Since 19970, he has taught in the history department at Panola Junior College in Cartage Texas. For 16 he has been the play-by-play announcer for PJC Pony baseball over KGAS radio in Carthage and has coached in three Texas High Schools. Bill's writing includes three books and more than 100 articles, mostly in the fields of sports history and Western Americana. Bill is a native of Corsicana, Texas, and he and his wife Faye have four daughters. He spent an entire summer traveling around the western states and Canada researching for this history of the Pacific Coast League. He is also the author of "History of the Texas League."
---
---
8/21/2001 Former Corsicana resident named to historical commission by Gov. Perry
By BARBARA FORMAN/Daily Sun Staff
The Texas Historical Commission is a state agency which educates and provides enjoyment and economic benefits for present and future generations through historic preservation. Recently, David A. Gravelle, a former resident of Corsicana, was one of the three new members appointed to the commission by Gov. Rick Perry.
Gravelle moved to Corsicana with his family during his childhood. He graduated from Corsicana High School in 1965 and later graduated from Southern Methodist University. Since that time, he has lived in the Dallas area.
His mother, Virginia Gravelle Ray, still resides in Corsicana.
Gravelle is a managing partner of Richards/Gravelle, an advertising agency and public relations firm. He is also a trustee and past-president of the Dallas Museum of Natural History.
He said his interest in history began as a child. He was an avid reader and was drawn to historical or biography type books.
When it comes to Texas, he believes its early formation had a strong impact on much of what the state stands for today.
"One of the things that makes us the state we are is our history," Gravelle said. "To a large degree it defines our personality, it defines what makes Texas different and I think helps to define what makes it the kind of state that it is. A lot of states don't have the pride in their history that Texans do."
One of the historical facts in Texas that set us apart is that it was a republic at one point, Gravelle said.
"We were literally a country for a period of time before we joined the United States," Gravelle said. "I think that influenced (the beginning) of the pride Texans have about their state."
He said other influences included fighting a war and winning it. Fighting in the landmark battles in San Jacinto, the Alamo and Goliad helped to build a mystique about Texas and the way it was formed ultimately as a state.
"To a large degree it has defined the character of the state and probably the way we are governed," Gravelle said. "The way we operate today as a state in part is based on the way we got here in the first place."
He said he would like to see students taking a bigger interest in historical issues. One of the best ways to keep students interested is through "passionate teaching," he said.
One of his most vivid memories of being a student at Robert E. Lee Elementary was singing "Texas Our Texas" almost everyday.
"There are probably only a handful of states, and maybe even none, where people actually know what the state song is and can sing it," Gravelle said. "To me those are important ideas because they reflect the history of the state and a pride in the sense of how we got to this place."
One of the main ways the commission strives to help keep the interest in the state is through preservation.
Gravelle said Corsicana has taken several steps to preserve its history. He said preserving the courthouse and some of the downtown buildings was really important.
The commission has special programs which provide many counties with the ability to restore their courthouses.
"(Preservation) gives people a sense of continuity and that is comfortable and helpful as you live your life in our contemporary society," Gravelle said. "I think it helps people to believe and to know they have continuity and that they came from some former time where they had parents and grandparents who made contributions to the community and were a part of the fabric of the community as it stands right now."
The appointment to commission is a special honor. It is composed of 18 citizen members who are all selected by the governor to staggered six-year terms.
"I am amazed that I would end up (at Texas Historical Commission) with an opportunity to help, particularly with the opportunity to help the state," Gravelle said. "I just wonder how these things happen and I am amazed that it did. My goal is to make the biggest contribution that I can make."
-----
Barbara Forman may be contacted via e-mail at [email protected]
All rights to this story reserved. Copyright Corsicana Daily Sun and Community Newspaper Holdings, Inc,. Content may not be archived, retransmitted, saved in a database, or used for any commercial purpose without the express written permission of the Corsicana Daily Sun and CNHI.
See Also:
---
3/20/2002 Guinn coming home to perform at Palace Theatre
By BARBARA FORMAN/Daily Sun Staff
A special appearance from one of Navarro County's very own talents is coming to the Palace Theatre.
Toby Scott Guinn, baritone, a Corsicana native, and John Keene, a concert pianist, will present "Love and Tears ... an Evening of Song." Sponsored by the Navarro Council of the Arts, the benefit concert for the Palace Theater will be at 7:30 p.m. Thursday.
The selections to be featured range from Brahms to American Musical Theater and Guinn said the concert will be "jam-packed with gorgeous, beautiful music."
Guinn graduated from Corsicana High School in 1996. He said there were many from Navarro County who had contributed to his career and success.
"There are many people who showed me it was really possible to do what I'm doing and to have a profession at it," he said.
Although he is one of the first in his family to choose music as a professional field, he said his musical roots started here. He is a member of the Knoxville Opera Studio and in the last six to seven years has been in numerous productions. His repertoire includes the standard roles of Papageno, Belcore, Guglielmo, and Mozart's Count Almaviva. He has also had appearances in the South Carolina Opera Theater, Columbia College Opera, Lyric Opera Cleveland and the Knoxville Opera Company.
Guinn said one of the reasons he was drawn to opera was because all of the elements in the theater.
"It is a combination of all the fine arts together," he said. "It is singing, acting, music and the orchestra. It is everything in this one art form."
Guinn has been a semi-finalist at the Houston Grand Opera's Eleanor McCollum Competition for young singers twice and he also had two regional award wins for the Metropolitan Opera National Council Auditions.
John Keene, founder and artistic director of the Elysian Opera Group in New York City, has also served as a faculty member for the prestigious Merola Opera Program in San Francisco.
While in New York he conducted works from "Don Giovanni," "Le nozze di Figaro" and Gluck's "Orfeo ed Euridice " and "La clemenza di Tito" in Merkin Concert Hall.
He is a highly respected vocal coach and teacher as well. In addition to the private studio he maintains in New York City, he also presents master classes in vocal repertoire, opera, and accompanying nationwide. He is currently a lecturer in opera and vocal coaching at the University of South Carolina and serves as the music director of opera.
Some of his performances as an accompanist and chamber musician include appearances at Carnegie Hall, Weill Recital Hall, the Kennedy Center, Lincoln Center, Ambassador Auditorium in Los Angeles and many performances for radio and television. He has recordings of accompaniments to G. Schirmer's anthology "Twenty-four Italian Songs" and "Arias" which has remained one of their best-selling publications.
Leah Blackard, executive director Navarro Council of the Arts, said the evening promised to be full of good entertainment and would also help with restoration expenses for the Palace Theater.
Barbara Forman may be contacted via e-mail at [email protected]
All rights to this story reserved. Copyright Corsicana Daily Sun and Community Newspaper Holdings, Inc,. Content may not be archived, retransmitted, saved in a database, or used for any commercial purpose without the express written permission of the Corsicana Daily Sun and CNHI.
See Also:
---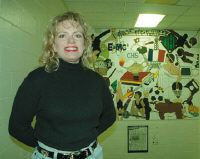 Tanya Thornton
2/21/2002 CHS teacher honored by former student
By JOAN SHERROUSE/Daily Sun Staff
West Texas A&M University students got a chance to thank an influential teacher from their past by nominating them for special honors in the Success Together Program.
Ryan Franklin chose his Corsicana High School English teacher, Tanya Thornton, to attend a special brunch in Canyon Saturday and receive a meaningful token of appreciation.
Franklin remembers his 1996-1997 freshman advance-placement English class under Thornton's guidance as an uncompromising challenge.
"While other teachers would accept my work without giving any tips for improvement, Ms. Thornton never spared her red ink," he said. "Her constructive criticism drove me to improve my writing and has helped propel me to success throughout my academic career."
Thornton recalled the year as a time when students learned how to go about making changes, but she especially remembered a common bond with Franklin through their mutual love for the English language.
"He was definitely an unusual student," she said. "He thinks in great depth about things and he's a big fan of the written word like I am."
Thornton said her former student first leaned toward his musical talent in college but eventually decided on linguistics.
The two have stayed in touch through e-mail and Franklin still asks for his former teacher's critique.
"His essays are wonderful," Thornton said, adding that she pictures him as being a professor with a stem pipe one day. "They are really above and beyond."
Franklin said Thornton constantly pushed him to reach for more in every subject and every pursuit, a concept that has stayed with him.
"Ms. Thornton never lowered her vocabulary or standards to our level, but instead, insisted that we rise to her level which was a little daunting for a freshman," he said.
Both student and teacher continue to pursue their goals, and they are looking forward to the opportunity of reminiscing about the year that had a positive impact on both of them.
"He's one of those students who makes all those years of teaching worthwhile," she said.
Joan Sherrouse may be contacted via e-mail at [email protected].
All rights to this story reserved. Copyright Corsicana Daily Sun and Community Newspaper Holdings, Inc,. Content may not be archived, retransmitted, saved in a database, or used for any commercial purpose without the express written permission of the Corsicana Daily Sun and CNHI.
See Also: