John Barton Davis, in the photo at left, was my great-great-grandfather, the son of Elijah Davis and Elizabeth (Davis) Shoopman.

He was born August 31, 1847 in Cass Co, Illinois and died Nov 24, 1920 in Navarro County, Texas at 73 years of age. He was buried in the Old Pursley Cemetery with his second wife Milirda. Jane Kimbrell.

He married Christina A. Liming September 29 1868 in Jacksonville; Morgan County, Illinois. Christina Liming was born Sep 29 1853, the daughter of Samual Liming and Mary Augustine. The year of her birth on her grave stone reads 1855 but is probably wrong, her younger sister Elizabeth E Liming was born in 1855. Christina (Liming) Davis along with two of their children are buried in Dresden Cemetery. There was an epidemic in Navarro County that year and she died in 1879 the year they moved to Texas. The epidemic also took two of their children, Burti and Lona Leon Davis.

John Barton Davis and Christina Liming had six children. They were:
Charles Edward Davis b June 28, 1870 in Illinois; d October 31, 1937 in Lockney, Texas. (Link to Biography)
Married Sarah Annie Roberts December 27, 1892. Navarro County, Texas.
Lonna Leon Davis b July 29, 1871 in Illinois; d November 1, 1879 in Dresden, Texas.
Thomas Eugene Davis b February 19, 1873 in Illinois; d June 23, 1890 in Purdon, Texas.
Cyrus Augustine Davis b August 22, 1875 in Illinois; d September 23, 1898 in Purdon, Texas.
Married Lucy Hosier.
Lottie Ellen Davis b November 19, 1876 in Illinois; d June 18, 1948.
Married Lewis Herman Tantzen on December 29, 1892. (Link to Biography)
Burti Davis, d August 20, 1879, Dresden, Texas.
John Barton Davis and Kimbrell had two children. They were:
Carrie O Davis b December 1, 1881 in Dresden, Texas; d December 19, 1882 in Dresden, Texas.
Ira Allen Davis b May 31, 1885 in Navarro County, Texas; d January 23, 1966 in Corsicana, Texas.
Married Leona Boyd Cope February 10, 1907
and married Viletta Lane October 6, 1910 in Navarro County, Texas.
John's father Elijah Davis had moved from Cass County, IL to Cass County, MO but when is unknown. He died in Cass Co, MO in 1883 and I wonder if Elijah Davis traveled to Missouri in the Winter of 1878 to 1879 with two of his son's James P and John Barton. He may have stayed on in Missouri while they went on to Texas, but James P and John B Davis and families did stop over in Peculiar, Missiouri along the 90 day trip from Cass County, Illinois to Navarro County, Texas. Carol Orwig who provided the information indicated that it was a monumental undertaking to find out what had happened to Elijah Davis and Elizabeth Shoopman. They are buried in Wills Cemetery near Old Peculiar, Cass County, Missouri. I suspect that James P and John B Davis their sons separated in Missouri and continued on to Texas in time for spring planting. Fannie Clementine Kimbrell's parents also made the trip to Texas with her and James P Davis and their family. Fannie C Kimbrell's sister M. Jane Kimbrell also was probably on the trip.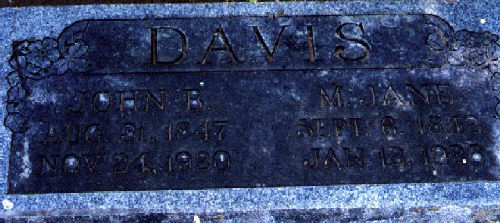 Note: