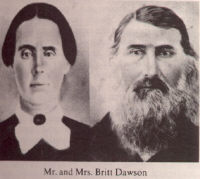 Britt Dawson was born July 15, 1817 in Alabama. He married Elizabeth Walker, a native of Mississippi. Britt and Elizabeth had three children, Sarah, Henry, and Bettie Dawson.
In 1846 Elizabeth died and Britt left his children with his parents and drove his cattle west, looking for a new start and settled in the western part of Navarro County, Texas near the present day town of Dawson, Texas.
Britton Dawson was joined on his spread by a Mr. and Mrs. Ritchie and a daughter of Mrs. Ritchie's by a former marriage. The daughter was named Susanna Cannon. She was a beautiful girl, full of life, excellent with a horse, and was a good help to her step-father who was a country doctor.
In those days, Britt was Six-foot three, weighed two-hundred-fourty points, had dark, curly hair. It was not long before Birtt and Susanna was married on November 2, 1848. Their wedding trip was a 40 mile ride horseback to Robertson County. That same year they built a three-room log house. In these same three rooms, six of their children were born. In 1859 he sent ox carts to Houston, a distance of 150 miles, for lumber to build the big house that stands today. After moving into the house, four more children were born to the Dawsons. He was the father of a total of 13 children.
Susanna died on June 7, 1903 and Britt died on Sept 4, 1905. They are buried at the Britt Dawson Family Cemetery, 1 mi east of Dawson, Navarro Co., TX
See Also: