---
---
JOHN THOMAS GODLEY
"Uncle John was born March 28th 1843 in Macon, Georgia. Was 5th child of John M. and Martha Brown Godley. They moved to Union County, Arkansas when he was 2 years old. They lived there 9 years, then to Union Parish, Louisiana. From here at age of 17, he joined Confederate Army. Lost a foot in Battle of Wilderness May 3, 1864. Served in Second Louisiana Regiment—Hays Brigade and Stonewall Jackson Corps Army of Northern Virginia to June 1865. On Christmas Day 1869 came to Texas. Settled at Honey Grove, Fannin Co., Texas. Remained there 1 year. On Feb. 8, 1871 came to Navarro County. 1886 was elected Treasurer and moved to Corsicana where he lived until his death Jan. 8, 1930.
He wrote down most of the above on Mar. 28, 1928, his 85h birthday. He joined the Missionary Baptist Church of Springhill, Louisiana. July 1865. Made a Mason in Alabama 1864"
The original of the above is in the possession of Erma Woodson's niece Pat Lipscomb.
Notes:
---

John T. Godley
Mar. 28, 1843 - Jan. 8, 1930

FUNERAL SERVICES HELD THURSDAY FOR JOHN T. GODLEY

PIONEER RESIDENT CORSICANA DIED SUDDENLY WEDNESDAY AFTERNOON

Funeral services for John T. Godley, aged 86 years, 1504 West Fifth avenue, who died suddenly with a heart attack about 2 o'clock Wednesday afternoon in the Navarro county courthouse, were held from the First Baptist church Thursday afternoon at 3 o'clock with interment in Oakwood cemetery. Mr. Godley was a native of Macon, Ga., and was born March 28, 1843. He served in the Confederate army under General Stonewall Jackson, and has always taken a keen interest in the Confederate Veterans work and organizations, being an active member of Camp Winkler Confederate Veterans at the time of his death. He served four years in the Confederate army, and was wounded thirteen times.

Mr. Godley came to Navarro county in 1871, and had resided in Corsicana for almost a half century. He had resided at his home at 1504 West Fifth avenue, for 44 years.

The funeral services were conducted by Rev. J. Howard Williams, pastor of the First Baptist church of which Mr. Godley was a member, Mr. Godley had been a member of the Baptist church for 69 years, and was one of the oldest Masons in Texas

Had Care of Family
Mr. Godley never married, but had had the care of a family since early manhood. At the time of his death, Miss Erma McConnico, a great-niece was residing with him.

He was serving as door bailiff for the grand jury Wednesday afternoon and arose from his chair walked across the ante room of the grand jury room on the third floor of the courthouse and fell to the floor dying within a few seconds. The grand jury had just begun its afternoon session and Mr. Godley had the tablet on which were written the names of witnesses to be used in the grand jury investigations clutched in his hand. A negro witness in the ante room summoned the members of the grand jury when Mr. Godley was stricken and by the time that a nephew, Sam B. Jordan, whose office is in the basement arrived Mr. Godley was dead.

He had been in the cotton business practically all of the time since he came to Corsicana. He was in the firm of Mitchell and Godley and Moores and Godley for a number of years later being connected with the Corsicana warehouse. A. S. Mitchell of Tupelo, E. K. Moores of Corsicana, and other cotton men of the county had been associated with him in former years.

Numerous survivors.
Surviving are Mrs. Joe Sands, niece, who resided with him until marriage; Miss Emma McConnico, great-niece, who had lived with Mr. Godley practically all of her life; Carl B. Calloway, Dallas, Great nephew; Dr. L. O. Godley, Fort Worth, nephew; Tom Godley, of Drane, nephew; Mr. and Mrs. A. B. Calloway, Corsicana, nephew and neice; Miss Mamie Godley, Corsicana, niece; Rock Calloway, nephew, California; S. B. Jordan, Corsicana, nephew; J. W. R. Jordan, Texas City, nephew; Mrs. Mary Etta Hopkinson, Anderson county, neice; Mrs. Tom Harris, Corsicana, neice; Paul Jordan, Drane, nephew; and numerous other relatives.

Active pallbearers were Will Clayton, J. E. Davant, Julian (Dude) Ransom, J. S. Mitchell, Bob Smith and John Sloan.

Honorary pallbearers were all members of Camp Winkler, Confederate veterans; B. Kenner, Rod Kenner, William McPherson, R. D. Fleming, Judge H. B. Daviss, Zeb Furke, Dr. I. N. Suttle, F. J. Lindsey, J. L. Cox, J. L. Marshall, W. D. Robinson, Ben Boltz, R. B. Munsey, E. F. (Mose) Wells, Judge Hawkins Scarborough, Rufus Pevehouse, W. A. Babb, Mack Roughton, Drane; Mr. Horton, Drane; Bud Bryan, Drane; Donald Smith, Drane; Capt. C. A. Davis, Judge Rufus Hardy, J. B. Bryson, Wilber Allen, Frank Johnson of Purdon, and all friends and friends of the family.

Sutherland Funeral home directed the funeral.
Notes:
---

PIONEER NAVARRO COUNTY RESIDENT DIED SUDDENLY

JOHN T. GODLEY PASSED AT COURT HOUSE HERE WEDNESDAY AFTERNOON

John T. Godley, 1504 West Fifth avenue, aged 86 years, Confederate veteran, door bailiff of the January grand jury now in session, died suddenly at the Navarro county courthouse Wednesday afternoon about 2:20 o'clock with a heart attack. The body was taken to the Sutherland Funeral Home but funeral arrangements had not been announced at press hour.

Mr. Godley was sitting at his chair at the door of the grand jury room when he was stricken. He arose, it was reported, walked across the ante room and dropped to the floor, dying within a few seconds. He was appointed door bailiff Monday by the grand jury.

For a number of years he was in the cotton business here.

He was wounded 13 or 14 times during the Civil War and took an active part in the affairs of the local Confederate camp.

He was born in Macon, Ga. In 1843 and came to Corsicana in 1886.

Mr. Godley never married.

Surviving are a number of relatives including Dr. Godley, Fort Worth; John and Lewis Carpenter, Dallas; Tom Godley, Drane; S. B. Jordan, Corsicana, nephews.

Notes:
----

Adopt Resolutions On Death J. T. Godley

The following resolution was passed and adopted by the January term grand jury Thursday morning on the death of John T. Godley, door bailiff, who died Wednesday afternoon with a heart attack while at his work with the grand jury.

WHEREAS, Mr. J. T. Godley, door bailiff of the Navarro county grand jury for the January, 1930, term of the district court, departed this life while on duty about 2:30 o'clock, Wednesday afternoon, January 8, 1930: and

WHEREAS. Each member of said grand jury is deeply shocked and grieved because of the death of Mr. Godley; therefore be it

RESOLVED, By the Navarro County grand Jury for the January, 1930 term of the district court in regular session assembled on this 9th day of January A. D. 1930, that we regard Mr. Godley's life as an outstanding example of unselfishness all the way from the battlefields of the Confederacy, where in his early manhood he offered himself without reserve to the scene of his sudden death in the reception room of these chambers; that the state and county have lost a noble citizen, and his family a tried and true companion.

Be it further
RESOLVED. That we contemplate his passing with genuine sadness, and each of us feels a distinct personal loss, and the family have our sincere sympathy in their bereavement. Be it still further

RESOLVED. That this resolution be spread upon the minutes of this body, and that the secretary deliver a copy hereof to Mr. Godley's family, and that a copy be tendered to the press with the request that it be published.

J. N. EDENS, JR. Secretary
C. S. STROUD, Foreman,
W. A. SIMMS,
WAYNE MILLIGAN,
J. A. ANDERSON,
R. E. MONTFORT,
W. J. LUNN,
T. M. SEWELL,,
R. H. STOKES,
A. P. YOUNG,
S. Z. BURKE,
F. M. COPELAND,
H. B. DAVISS, County Attorney
W. W. HARRIS, Asst. County Attorney

Notes:
---

Associate Praises J. T. Godley as One Of Best of Men

Corsicana, Tex., Jan. 15, 1930
Editor Sun:
I desire a small space to offer a word of condolence to the relatives and friends of J. T. Godley. I regret very much that I could not be with you in the last sad rite of consigning his dear body to its last earthly resting place and his spirit to God who gave it.

My long association with him in a business in social capacity, causes me to declare he was almost a perfect man. Honest, kind, and charitable. He helped to carry the burden of many who were less fortunate than he. He has left an example that we all should emulate.

He often expressed to me that he was ready to pass to the beyond and that when he was called to pass as he did so as to not be any burden to any one.

Yes, it is lovely, for you who have had his association, but we should rather rejoice that it is with him as it is.

By one who knew him,
J. P. BYRSON.

Notes:
----
January 8, 1930
Confederate Veteran At Corsicana Is Dead
CORSICANA, Texas, Jan. 8. - John Godley, 81, Confederate veteran, died suddenly with a heart attack at the Navarro County courthouse Wednesday afternoon. Funeral arrangements have not been made.
Mr. Godley was wounded thirteen times during the Civil war. Surviving are a number of nephews including John and Louis Carpenter of Dallas; Dr. Godley, Fort Worth; Judge S. B. Jordan, Corsicana; Tom Godley, Drane.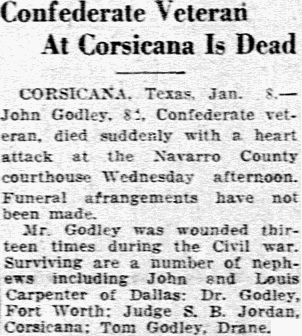 Notes:
---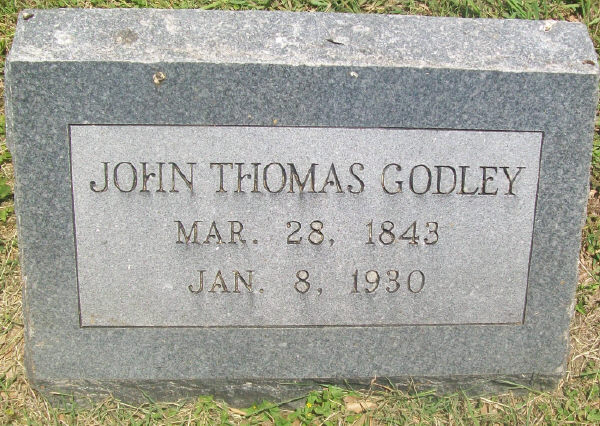 JOHN THOMAS GODLEY
MAR 28, 1843 - JAN 8, 1930
Oakwood Cemetery, Corsicana, Navarro County, Texas

---