George Issac "Ike" Green was born on May 29, 1881 in Raleigh in Navarro County Texas. He was the son of Caleb Pinkney "Cale" Green, Jr. & Mollie Othella (Williams) Green. He was a farmer. Ike married Ruth Searcy Slater in 1910. Ruth was born Feb 19, 1878. They had no children. Ruth died on April 17, 1947 in the Navarro Clinic in Navarro County, TX. George died on June 5, 1961 en route to the P & S Hospital in Corsicana.
OBITUARY
George Ike Green Fatally Stricken
George Ike Green, 70, died with a heart attack en route to Corsicana shortly after midnight Tuesday morning. He was pronounced dead on arrival at the P. and S. Hospital.
Funeral services will be held at the Brushie Prairie Methodist church Tuesday at 5 p.m. with burial in the Brushie Prairie cemetery. Rev. Mr. McCollum will conduct the rites.
Born at Raleigh, Green was reared at Emmett and had resided near Frost for many years.
Surviving are four brothers, B. W., Sam and Joe Green, all of Frost, and Tom Green, Richland; five sisters, Mrs. Martha Young, Frost; Mrs. Clara Toten, Dawson; Mrs. Alice Strickland, Dallas; Mrs. Annie Holloway and Mrs. Sue Dell Webb, both of Corsicana, and a number of nieces, nephews and other relatives.
Pallbearers will be A. W. Green, Jr., Laverne Green, Collin Green, Jack Slater, Harvey Slater and Leonard French.
Corley will direct.
Notes:
Corsicana Daily Sun - June 5, 1951
TXDI: George Ike Green; Navarro Co.; June 5, 1951; #31339
CENSUS
1900 (In Caleb Green Household)
1920 Navarro ED 162, sheet 5a (head of house)
---
Mrs. Ruth Green Rites Held Friday Afternoon
FROST, Texas, April 18 - (Spl) Mrs. Ruth Searcy Green, aged 69 years, of this community died in the Navarro Clinic in Corsicana Thursday. Funeral services were held Friday afternoon at 2 o'clock from the Brushie Prairie church. The rites were conducted by Rev. Herring of Dawson and Rev. F. T. Fisher of Mertens. Burial was in the Brushie Prairie cemetery.
Surviving are her husband, G. I. (Ike) Green, Frost; a brother, C. R. Slater, Frost, and a number of nieces, nephews and other relatives.
Nephews were pallbearers.
McCormick's Funeral Service directed.
Notes: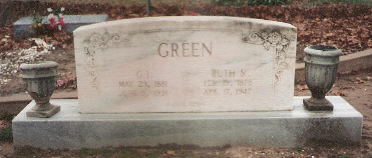 Brushie Prarie Cemetery, Navarro Co., TX
GREEN
G. I. May 29, 1881 - June 5, 1951
Ruth S. Feb 19, 1878 - Apr. 17, 1947
In Loving Memory
Notes: