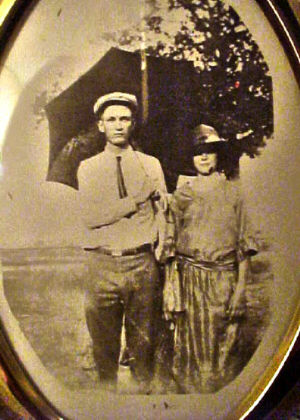 Andrew Rowe & Velma Holiman

OBITUARY

Velma Holiman
Velma Holiman, 95, of San Marcos passed away Saturday, July 6, 2002 in San Marcos.
Visitation will be 5 to 7 p.m. Tuesday at Paschal Funeral Home in Kerens.
Services will be 2 p.m. Wednesday at Paschal Funeral Home with Rev. Wes Johnson officiating. Interment will follow at Kerens Cemetery.
Mrs. Holiman was born May 11, 1907 in Kerens.
She was preceded in death by husband Andrew Rowe Holiman; son Billy Gene Holiman; grandson Billy Charles Holiman; and five brothers and sisters.
Mrs. Holiman is survived by daughter Mary Frances Mitchell and husband Harris of San Marcos; son William Clayton Holiman of Longview; grandchildren Mary Kay Taylor, Butch Logan, Shari Ave, Mike Holiman, Gail Elmore and Crystal Payne; step-grandchildren Dennis Rambo and Linda Sue Moreland; sisters Bertie May Ellis, Jesmine Moore and Quanita Day; brother Ervin Duncan; a number of great-grandchildren, nieces and nephews.
Arrangements by Paschal Funeral Home.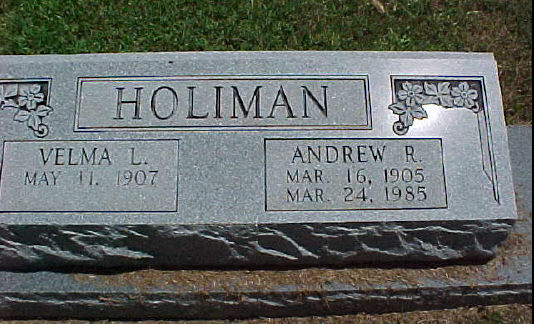 Velma L. Holiman
May 11, 1907 - (Blank)
Andrew R. Holiman
Mar. 16, 1905 - Mar. 24, 1985
Kerens Cemetery, Kerens, Navarro Co., TX
Notes:
Andrew Rowe Holiman was the son-in-law of Samuel L. Duncan and Mary Ann Courtney. He was married to their daughter, Velma Leona Duncan. They married on 12/23/1925.

Obituary of Velma Leona (Duncan) Holiman

Submitted by Pam Caldwell June 2002