---
---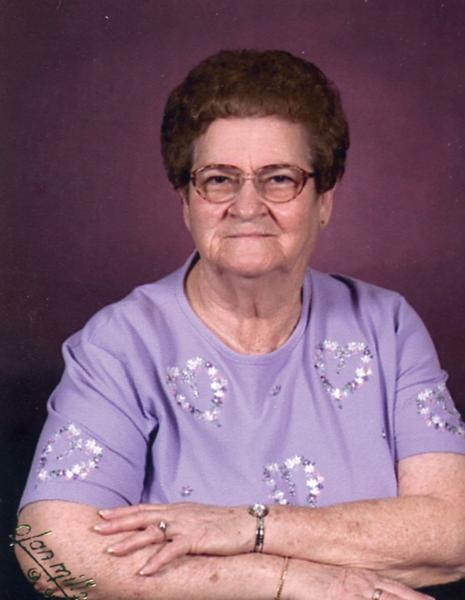 Wanda Lynn Mesker-Boone Jordan 75th Birthday
Wanda Lynn Mesker-Boone Jordan 75th Birthday
Corsicana Daily Sun - August 11, 2011
Wanda Lynn Mesker-Boone Jordan was born in Emmett, Texas Aug. 13, 1936 to Ossie Ellis and Leta Marie (McKeefer) Mesker. She was the first of 12 children. The family moved to Navarro where her parents both went to work when she was 2 years old. Wanda went to stay with a very kind couple, named Ratcliff and Minnie Marie (Jergins) Boone. They had no children of their own, and became very attached to Wanda, and she to them. She always cried to stay when it was time to leave, so eventually she just lived with them. This was when she became a member of her second family.

Wanda started to school in Navarro, and when the family moved to Pickett, she attended second through fifth grades there. She then took the bus to Corsicana where she completed sixth and seventh grades at William B. Travis School. Eighth and ninth grades were done at Corsicana Junior High, then Wanda attended Corsicana High school, graduating in 1954. Her class ring cost $15, so she worked at M'Evans Jewelry Store three Saturdays to pay for it.

She started working at Texas Telephone, and enrolled at Navarro College to take business courses. She received several awards for her shorthand. After she finished college, she went out to Blooming Grove to stay the weekend with a friend, Mary Easterling, and her family. That is where she met up with Airman 1st Class Charles Ronald (Ronny) Jordan. They dated a while, then Dec. 29, 1955, went to Rockwall with friends Dewayan Easterling and Joyce Gatheright to get married.

The Jordans had three children: Michael Elmo Jordan, who is married to Twylah, and have Kortnee and Keith; Peggy Elaine Jordan, who has Jennifer and Kyle Wilburn and Ryan Lee, Matthew and Kristen Vaughan and Jordan Marie, Emily Nicole and Allison Brooke; and Dale Jordan, married to LaDona, and their children Justin, Jayson and Natalie.

Wanda is a terrific craft woman, and makes the most beautiful hand-made quilts. She has won many ribbons, even Tri-County ribbons at different fairs. She created her own quilt which was featured in America's Favorite Quilting Magazine. Another afghan pattern she made garnered a magazine cover, as well.

An avid bowler, Wanda went to many state tournaments and won many trophies, even bowled over 200 several times.

She lost Ronny to cancer, which she has battled twice herself. She is a fighter. Wanda now makes her home in Blooming Grove, and is a member of Frost Baptist Church. She has many good friends, including special friend Jackie McDaniels, who has been so good to Wanda, as well as the whole family.

The family has planned a special surprise for Wanda on the occasion of her 75th birthday. The children and grandchildren thank Wanda for being such a beautiful, wonderful, loving Mother and Granny, and they love her dearly. "For she is more profitable than silver and yields better returns than gold. She is more precious than rubies; nothing you desire can compare with her." Proverbs 3:14-15
OBITUARY
Wanda Lynn (Mesker-Boone) Jordan
Aug 13, 1936 - Apr 20, 2021
Wanda Lynn (Mesker) Jordan, 84, of Blooming Grove, Texas went to be with her Lord and Savior Jesus Christ Tuesday morning, April 20, 2021 at her residence. Wanda was a 1954 graduate of Corsicana High School and attended Navarro College. She married Charles Ronald Jordan on December 29, 1955.

Wanda is preceded in death by the love of her life Ronny Jordan and by her parents O.E. Mesker and Marie (McKeffer) Mesker. She is also preceded by the people who raised her Ratcliff and Minnie (Jergens) Boone, brothers Oliver Mesker, Harvey Mesker, James Mesker, Jimmy Don Mesker and a sister Ersie Lea (Mesker) Jewitt and one great great grandson Derrik Rodger Patenaude.

She is survived by her children Mike Jordan and Twylah of Frost, Kathy Gillen Campbell of Whitney, Peggy Jordan of Blooming Grove and Dale Jordan and LaDona of Barry. Grandchildren; Jennifer (Trull) Wilburn and Kyle of Ben Wheeler, Matthew Vaughan and Kristen of Eustace, Kortnee Jordan and Kevin of Purdon, Justin Jordan of Barry, Jay Jordan and Sabrina of San Angelo, Natalie Patenaube and Josh of New York, Keith Jordan and Fallon. Great grandchildren; Ryan Lee Wilburn of Canton, Jordan Marie Vaughan of Mississippi and Emily Vaughan and Allison Vaughan of Eustace, Taylor and Zanna Jordan and Jensen and Koa McCabe.. Great great grandchildren; Jaxon Tyler Patenaude, Melanie Le'Ann Patenaude and Easton Wyatt Patenaude all of New York and Annelesie Marie Vaughan of Mississippi. Sisters Carolyn Mesker of Corsicana, Mary Ellen Walz of Dallas, Brenda Kay Mesker of Corsicana. Brothers Jessie Mesker of Mexia, Charles Mesker of Corsicana, David Mesker of Mexia, Gary Wayne Willingham of San Angelo and Toby Baines of Mexia. Bother-in-law and sister-in-law Jerry and Katie Jordan and Lynda (Jordan) Tribble.

Visitation will be Saturday, April 24, 2021 at the Frost Baptist Church from 12-2pm followed by a celebration of life service beginning at 2pm with Matt Stroder officiating. Burial will follow at Dresden Cemetery. Pallbearers will be Larry Hugh Gillen, Loren Gullatt, Jackie McDaniel, Keith Jordan, Jay Jordan and Kyle Wilburn. Honorary pallbearers are Keith Jordan, Ryan Wilburn, Matt Vaughan, Justin Jordan and Jay Jordan.

The family would like to thank Bristol Hospice and her caregivers Stormie Upton, Kori Dixon and Shelly Davis for the care she received.
Notes:
---