Curtis Asbury Keen born Sept 8, 1893 to Andrew Abner Bernice & Cora (Stockton) Keen. He served in both World War I and World War II. He was the brother of Avis (Keen) Coates who married John Beverly Coates, and Lowell Stockton "Tiny" Keen who married Lucile Donohoo. He married Margaret Stephens of Minnesota. They have two children, Stephen Keen, b. 1944, and James Keen b. 1946. Curtis died on Feb 12, 1969 and is buried in the Kerens City Cemetery, Kerens, Navarro Co., TX
Man and Women of Navarro County In WWII
KEEN, CURTIS A.
Col. Curtis A. Keen, son of Mr. and Mrs. A. B. Keen, Kerens, wife the former Margaret Stephens. Graduate of South Western Univ. Entered the Air Corps Aug., 1941. Reserve Officer from World War One. Served in Africa. Now on duty as CO at Fairfield, Suisun AAB, Calif. Awarded Legion of Merit.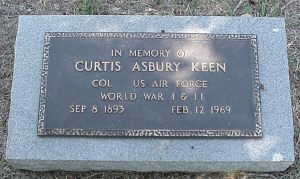 Kerens City Cemetery, Kerens, Navarro Co., TX