WILLIAM W. LOOP, a successful business man of Navarro county, is a son of John Loop, who was born in Virginia in 1811. He afterward moved to Indiana, thence to Missouri, in 1844 to Fannin county, Texas, and then to Henderson county, where he died in 1855. He was a farmer and mechanic by occupation, and was a Democrat in his political views. His father, Christian Loop, was born in Germany, but came to America when young, locating in Virginia. His father, the great-grandfather of our subject, was the first of the Loop family in this country. The mother of our subject, neeMargaret R. Spohr, was a native of Pennsylvania. Mr. and Mrs. Loop were married in 1829, and were the parents of eight children, viz.: Christann, wife of John Naudain, of Chatfield; the second and third died in infancy; Josiah Marion died in the Confederate army in Arkansas, and was buried at Van Buren; David was killed at Corinth, Mississippi; George R. died at Chatfield; and Malinda, deceased when young.
William W. Loop was born in Indiana, in 1836, but removed with his parents to Missouri, and in 1844 came to Texas. He remained at home until after the death of his mother, which occurred in 1853, then bought and improved a farm of 319 acres; in 1865 rented land near Chatfield one year, and then bought 100 acres of his present farm. In 1879 he bought a gin, and the following year engaged in the mercantile business, which he still follows in connection with his farming and stock raising. Mr. Loop began life for himself at the age of seventeen years, with comparatively nothing, and after arriving in Navarro county he was worth about $500. He now owns 1,300 acres of land in this county, with 200 acres under cultivation, has 640 acres in Jones county, with 50 acres cultivated, owning in all about 1,940 acres, and has 125 head of cattle and about 50 horses. He is also a stockholder in the Corsicana National Bank, owns three-fourths interest in a stock of goods worth $3,000, and inherited about $1,100 from his grandfather. Mr. Loop is independent in his political views, and has served as County Commissioner from 1878 to 1882. Socially, he is a Master Mason, and is Junior Warden of Quitman Lodge, No. 122.
He was married in 1853, to Miss Sarah C. Naudain, a native of Delaware, and a daughter of James N. and Ellen Naudain, natives also of that State. She removed with her parents first to Ohio, then to Indiana, and later to Texas. Mr. and Mrs. Loop have had eight children, namely: John N., a farmer of Jones county; Ellen R., wife of W. C. Garner; Malissa Ann, wife of W. L. Olephant [Oliphant], of Hale county, Texas; David N. [M.], engaged in business with his father; W. R. [William Riley], deceased at the age of twenty-eight years; Sarah Elizabeth, attending Hill's Business College at Dallas; Mattie and Addie, at home. Both our subject and wife are members of the Christian Church, in which the former is an Elder.
A Memorial and Biographical History of Navarro, Henderson, Anderson, Limestone, Freestone and Leon Counties, Texas (Chicago: The Lewis Publishing Company, 1893), page 630.


W. W. Loop's signature from July 1863 receipt
for $50 bounty for enlisting in the Confederate Army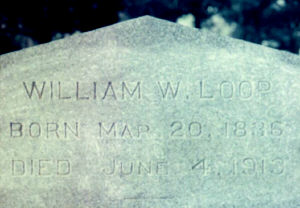 Old Chatfield Cemetery
Photo by Norman & Dana Stubbs
William W. Loop
Born Mar 20, 1836 - Died June 4, 1913
Notes:
Biography & Photographs submitted by Roger A. Bartlett, Austin, TX - July 2002 (Great Grandson)

Cemetery Marker Photo Submitted by Norman Stubbs, Commander of J. L. Halbert Camp 359, SCV, picture taken by Dana Stubbs

See also: Navarro Co. History Vol 2, pg 389 (W.W. & Sarah Loop Biography)