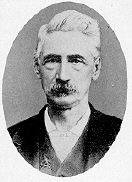 Lieutenant Governor Francis Marion Martin was born in Livingston County, Kentucky on April 1, 1830. He was the son of James and Elizabeth (Cofield) Martin. His mother died before he was a year old, and his father died in 1838. William Northern Hodge reared young Martin, who married Hodge's daughter Mary on April 11, 1849. Martin received only one year of formal schooling and served as a boat-hand on the Ohio and Mississippi rivers, a store clerk, and a trader before moving to Texas in 1853. He first settled in Jefferson but moved to Navarro county later the same year. He made his home near Wadeville where he took up farming and stock raising. He eventually accumulated 1,500 acres. The Martins had seven children. Mary died in 1866, and Martin married Angie Harle in 1877; this couple had three children.
He was elected to the State Senate in 1859 and took a conspicuous part in the political discussions of the era. Senator Martin, a supporter of Sam Houston who was elected governor as an independent the same year. He was opposed to secession, declaring that the grievances of the South should be settled by a more peaceable method. Although he was opposed to secession, when the Civil War broke out Senator Martin enlisted in the Bass Regiment, Company C, Twentieth Texas Cavalry, C.S.A. as a captain and served until 1862. He returned to public life in 1875, when he was elected to the state constitutional convention. He served on the education, finance, and improvements committees. He won election to the 16th Texas Senate in 1878 and the 17th Texas Senate in 1880 on the Democratic ticket. He was elected Lieutenant Governor in 1882. Despite his meager schooling, he was a good debater and renowned for his opposition to monopolies and class legislation. With support from the Knights of Labor, the Farmers' Alliance, and prohibitionists, Martin made a strong but unsuccessful bid for the Democratic nomination for governor in 1886 loosing to Lawrence Sullivan Ross. His campaign centered around the demand for the sale of public lands to actual settlers rather than to speculators and large ranchers. He also favored the regulation of railroads. Martin campaigned against liquor in the 1887 statewide prohibition campaign. The Prohibition party nominated him for governor in 1888. The Union Labor party and Non-Partisan executive committees endorsed the Prohibitionists' choice, as did the Republicans. Martin received 98,447 votes or 28 percent of the ballot. The Populists or People's party nominated Martin for lieutenant governor in 1892 and 1894. Martin eventually moved to Cleburne Texas where he was the 5th mayor of that city. His failing health caused him to retire from public life afterward. He died on June 11, 1903, and was buried in the Oakwood Cemetery in Corsicana, Navarro County, TX.
Bibliography: Love, Annie Carpenter, History of Navarro County; The New Texas Handbook, Texas State Historical Association; Hindrickerson, Kenneth, The Chief Executives of Texas.
Notes:
---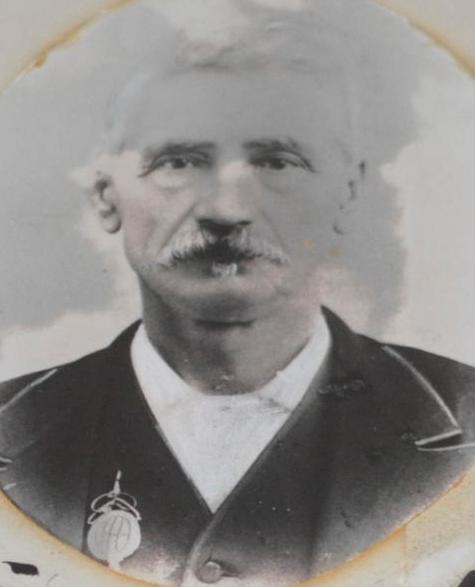 Portrait from a larger collage hanging in the State Capitol outside the House Chamber
---
OBITUARY OF FRANCES MARION MARTIN
Marion Martin
Died Jun. 1903

June 11, 1903
Hon. Marion Martin Dead
Was at One Time Lieutenant Governor of Texas
Corsicana, Tex, June 11. - Hon. Marion Martin, aged 78 years, died at an early hour this morning and will be buried tomorrow afternoon. The deceased was at one time prominent in Texas politics, having been Lieutenant Governor of the State, and also serving as State Senator. He was also a member of the constitutional convention of 1878.
Mr. Martin was a large land owner in Navarro County. He leaves a widow and two sons.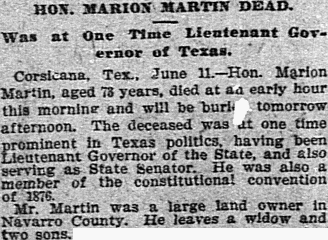 Notes:
---
Angelina J. "Angie" (Harle) Martin
April 26, 1855 - Feb 1947
Funeral Rites For Mrs. F. M. Martin, Pioneer, Thursday
Funeral services for Mrs. F. M. Martin, 91, native Texas and pioneer Corsiccanan, who died at the family home, 1427 West Collin street late Tuesday, were held Thursday morning at 10:30 o'clock from the McCammon Funeral Chapel. Burial was in Oakwood Cemetery. The rites were conducted by Rev. W. R. Beaird, pastor of the Eleventh Avenue Methodist church. Mrs. Martin had been a Methodist since childhood.
Widow of the late Capt. Marion Martin, Confederate veteran who led a company of soldiers from Navarro county, lieutenant governor of Texas 1882-1886, and member of the Constitutional Convention that framed the present Texas constitution. Mrs. Martin was born April 26, 1855 at Mt. Enterprise, Rusk county, Texas and came to Navarro county with her parents as a child. Her brother, the late J. (...) ney Harle, both of San Antonio, and will Harle, Cuero, nephews; Mrs. Sidney K. Brietz and Mrs. Aline Mccain, both of Corsicana, step-great-granddaughters, and other relatives.
Pallbearers will be W. Perry McCammon, W. C. Stroube, Walter Hayes, Tom Pinkston, Scott Lowry, M. P. Hedrick, C. W. Taylor and Tom Hickey.
Friends of the family will be honorary pallbearers.
---------
Mrs. Marion Martin
Died Feb. 1947

February 18, 1947
CORSICANA, Texas, Feb. 18. - Mrs. Marion Martin, 91, Passes at Corsicana Mrs. Marion Martin, 91, wife of the late Capt. Marion Martin, Confederate veteran and Lieutenant Governor of Texas, 1882-1886, died at her home here.
She had resided in Corsicana since early in life.
Surviving are a son, Marion Martin; a granddaughter, Mrs. L. B. Hayes, and a granddaughter, Marion Elizabeth Hayes, all of Corsicana.
PIONEER CORSICANA RESIDENT IS DEAD; SERVICES THURSDAY

MRS. F. M. MARTIN SUCCUMBS FOLLOWING ILLNESS OF SEVERAL YEARS

Mrs. F. M. Martin, aged 92 years, pioneer resident of Corsicana, died at the family home, 1427 West Collin street, late Tuesday following an Illness of almost seven years. Funeral services will be held from the McCammon Funeral Chapel Thursday morning at 10:30 o'clock. Burial will be in Oakwood cemetery.

The rites will be conducted by the Rev. Erwin F. Bohmfalk, pastor of the First Methodist
church, of which she had been a member since early life.

Native of Texas

The widow of the late Marion Martin, Sr., member of the Constitutional convention that framed the present Texas Constitution after Reconstruction Days, lieutenant governor of Texas 1882-1886, and a captain in the Confederate Army, Mrs. Martin was born, April 26, 1855, Angie Harle, Mt. Enterprise, Rusk county, Texas, the daughter of the late Dr. William
and Mrs. Harriett Harle who came to Corsicana when Mrs. Martin was 10 or 11 years of age.

Mrs. Martin was a sister to the late Judge J. L. Harle who was county judge of Navarro county when the courthouse preceding the present structure was erected In the early 1880s. The cornerstone of that old courthouse was given to Marion Martin, son of Mrs. Martin, and is now at the family plot in the cemetery. Judge Harle also served as mayor of Corsicana.

Confederate Veteran Capt. Martin, a native of Kentucky, came to old Wadeville, south of the present site of Kerens, in 1853 and was a well-known breeder of fine race horses and other livestock. He organized a company of Confederate troops at Wadevllle, and led them during that four-year period of hostilities between the States. Capt. and Mrs. Martin were married In Corsicana, in 1877. The former lieutenant governor died in Corsicana June
10, 1903.

Until declining health caused her retirement, Mrs. Martin was an active worker and member of the Methodist church.
Surviving are a son, Marion Martin; granddaughter, Mrs. L. R. Hayes, and a great-granddaughter, Marion Elizabeth Hayes, all of Corsicana.

Other relatives include Mrs. M.P. Hedrick, Corsicana, niece: Earl Harle, Dallas; Leonard and Sidney Harle, both of San Antonio, and Will Harle, Cuero, nephews; Mrs. Sidney K. Brietz and Mrs. Aline McCain, both of Corsicana, step-great-granddauphters, and other relatives.

Pallbearers will be W. Perry McCammon, W. C. Stroube, Walter Hayes, Tom Pinkston, Scott Lowry, M. P. Hedrick, C. W. Taylor and Tom Hickey. Friends of the family will be honorary pallbearers.

Notes: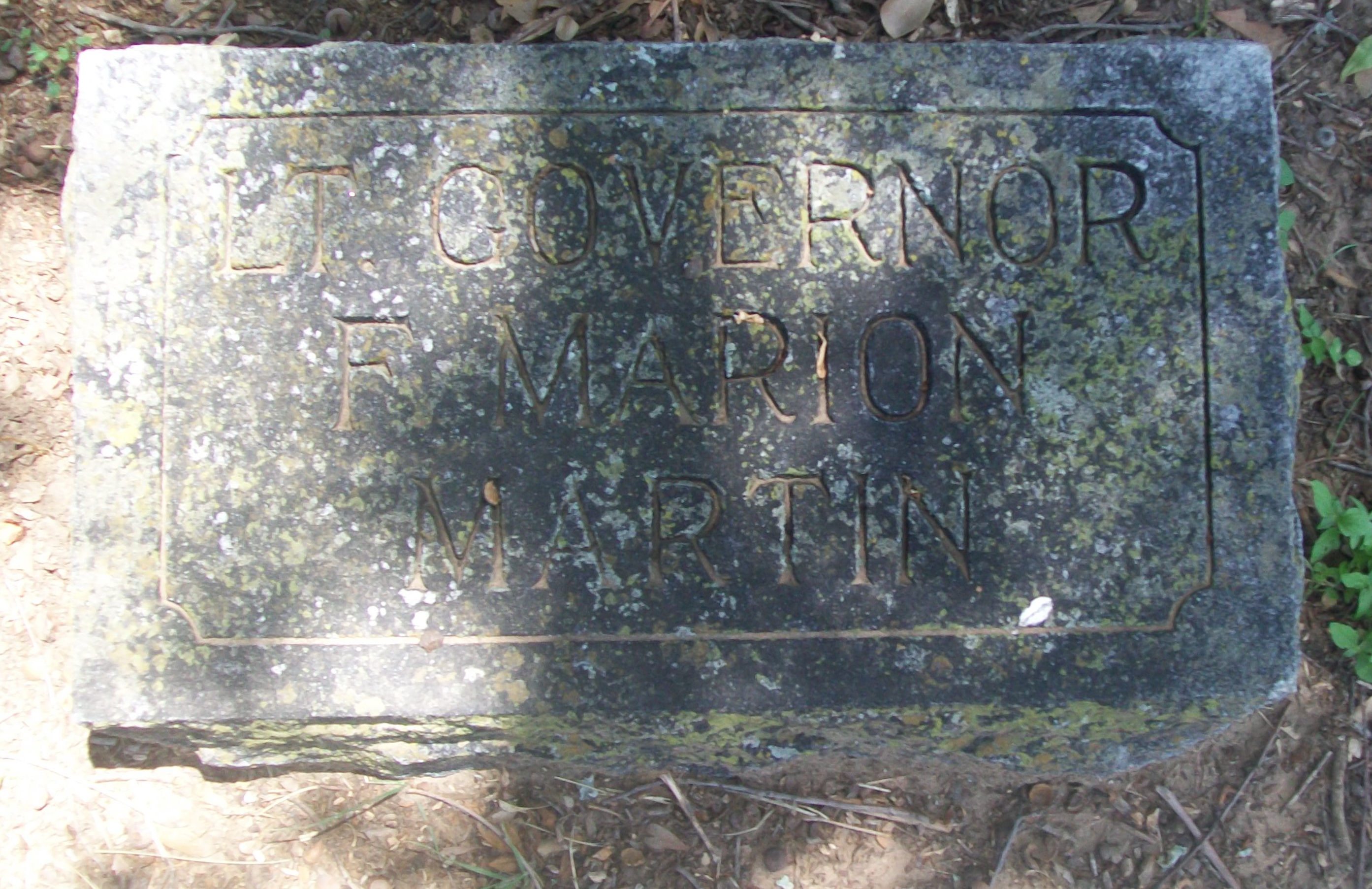 Oakwood Cemetery, Corsicana, Navarro Co., TX