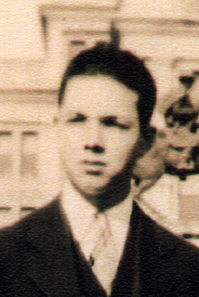 Hester Herbert McAfee
Hester Herbert was born on Oct 6, 1909 in Graham, Young Co., TX to Ira Decherd McAfee & Nancy Caroline "Nannie" (Ballew) McAfee. He died in Austin, Travis Co., TX on March 2, 1928. He was buried at the Prairie Grove Cemetery at Emmett, Navarro County, Texas
OBITUARY
Funeral Notice
The friends and acquaintances of the family are notified of the death of --
HESTER McAFEE
Son of Mr. and Mrs. I. D. McAfee of Corsicana, Texas, Who died in a sanitarium, in Austin, Texas, Friday, March 2, 2:00 o'clock P.M. Born in Graham, Texas, October 6, 1909; age 18 years, 4 months and 26 days.
The body will arrive over the Cotton Belt this, (Saturday) evening at 10:15 o'clock and will be taken to the home of Mr. and Mrs. C. C. McLain, of this city.
Funeral services will be conducted at Emmett Sunday afternoon at 2:30 o'clock. Interment in Emmett Cemetery. Funeral procession will leave Hubbard at 1:00 P.M.
Hubbard, Texas, March 3, 1928
---
FUNERAL SERVICES HESTER M'AFEE AT EMMETT SUNDAY
Funeral services for Hester McAfee, aged 19 years, freshman of the University of Texas, Austin, son of Mr. and Mrs. J. D. McAfee of Corsicana, who died in an Austin hospital Friday afternoon at 2 o'clock following a several days illness with pneumonia, were held Sunday afternoon at 3 o'clock at Emmett with interment in the Emmett cemetery. The funeral services were conducted by Rev. W. E. Hawkins, Jr., Methodist evangelist of Fort Worth, and Rev. D. A. Chisholm, pastor of the First Methodist church, formerly pastor of the Eleventh Avenue Methodist church here.
The young man was a graduate of Corsicana high school of the 1927 class.
Surviving are his parents, four sisters, three brothers and a number of other relatives.
Notes:

Prairie Grove Cemetery, Emmett, Navarro Co., TX
Notes: