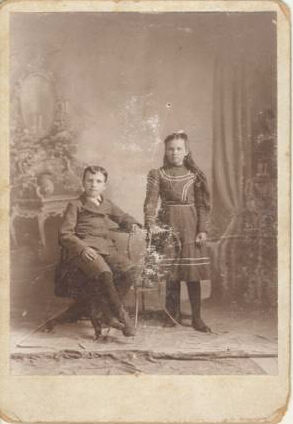 Byrdie Jane Campbell at the age of 13.
Her brother Joe is sitting in the chair
Byrdie Jane was born November 12, 1886 in Drane, Navarro County, Texas. She died at Meridian, Bosque County, Texas October 28, 1982 and both are buried at Waco Memorial Park, Waco, McLennan County, Texas. She married Ernest B. McDowell on May 3, 1907, in Navarro, County.
Her father was Joseph Patterson Campbell. He was born August 28,1839 in Robertson, County and her mother Lutitia Louise Willis was born March 18, 1851 in Navarro County. They were married on September 15, 1869. He died September 14, 1895, and she died October 23, 1928. They are both buried at the Campbell-Elrod Cemetery close to Drane, Texas.
Joseph's father, David Wilson Campbell was born May 12, 1813. He died April 18, 1879 and is also buried in the Campbell Cemetery.
Notes: