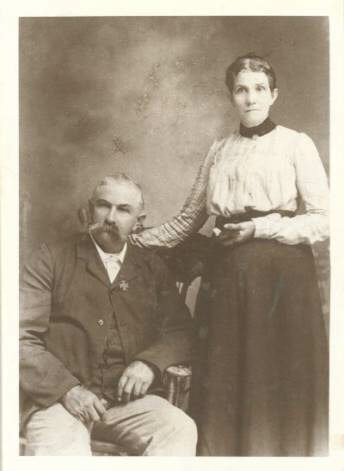 John G. and Sarah Jane Caroline (Jackson) McDowell
My Great Grand-father and Great Grand-mother
John Gideon McDowell born: Chester County, S.C. January 20,
1848. He married Sarah Jane Caroline Jackson Born: Chester County, S. C. December 11, 1845. After all 12 children were born, the family left Blackstock, S.C., probably in the fall of 1889, as Uncle Gid, the baby was born there in January 1889. They were to leave on a train from Blackstock, after it had been devastated by a great earthquake. They rode the train to Alvin, Texas and went by wagon to a farm 20 miles south of there near present day Angleton, which was only a coastal prairie. They spent the winter preparing to farm, but in Spring, the mosquitoes were so bad the cattle were suffocated and they went to Navarro County, where I believe that relatives of Sarah were already there. The family later moved back to the coastal area and made a crop the next year, then later moved back permanently to Navarro County. John was intermittently a farmer and carpenter. He did serve in the Civil War, and John earned the Southern Cross of Honor.
John G. and Sarah Jane Caroline Jackson are both buried in the Bazette Cemetery in Navarro County north of Kerens. John died at Bazette on June 20, 1914 (influenza?) and Sarah died at Caddo, Oklahoma June 27, 1919.
Notes:
--
OBITUARY
Sara Jane Carolina (Jackson) McDowell
Dec 11, 1845 - Sep 28, 1919

DIED IN OKLAHOMA SATURDAY.

Former Resident of Navarro County Buried at Bazette.

Mrs. McDowell, widow of the late J. G. McDowell, for many years a resident of this county, died at Frederick, Okla., Saturday night and the remains reached here today and were taken to Bazette for interment. The deceased is survived by these grown children: R. B. and E. B. McDowell of Drane; Mrs. Will Eady and Mrs. F. F. Humphrey of Frederick, Okla. and Warren McDowell of Colorado.

Notes: