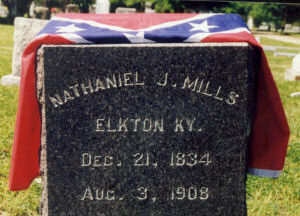 Oakwood Cemetery, Corsicana, Navarro Co., TX
Photo by Dana Stubbs
Nathaniel J. Mills, born Dec 21, 1834, served the Confederacy as a Private in Winkler's Company I, 4th Texas Volunteer Infantry - The Navarro Rifles. He was promtoed to 1st lieutenant. Mills Enlisted in the 4th Texas Regiment. He joined Hood's Brigade in Virginia. He was wounded in the Battle of Sharpsburg on Sept. 16, 1862. (The record shows Sept. 16, but the date of the battle was actually the 17th) Part of the time Mills was commanding the company; he was signing his name as its commanding officer from Jan to Aug 1864. Was also in the Battle of Gettysburg. First Lt. of Co I, 4th Texas when surrendered at Appomattox After the war he continued in medical practice in Navarro Co. TX. He died in Corsicana, Texas 4 Aug 1908 and was buried in the Oakwood Cemetery.
Notes: