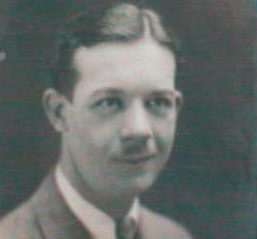 Kenneth Parker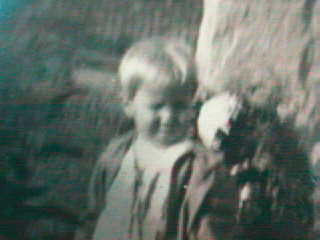 Virginia Parker at Kenneth Parker's Grave Site
---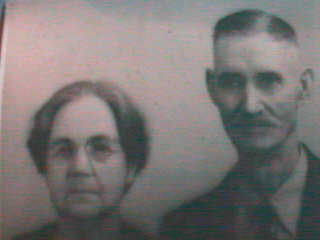 Parents of Kenneth Parker - Mary Ella Dyer Stephenson & James Solomon Parker
My mother, Virginia Parker Keen lived in Corsicana, TX. Her father, William "Willie" Kenneth Parker died there in October 1932. The attached article was published in the local paper shortly after his death. I am not sure of the exact date it was published but I know it was near the end of October. His parents were Mary Ella Stephenson Parker and James Solomon Parker. James Parker was a blacksmith and also owned a sheet metal shop there or in Rice, TX.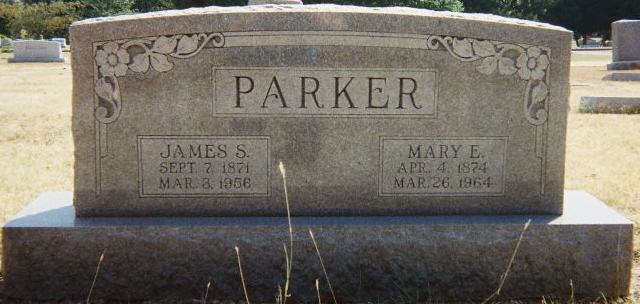 Picture of the tombstone of James Solomon Parker, born 9-7-1871 in Taylor Co., GA and died 3-3-1956 in Navarro County, TX and his wife, Mary Ella Stephenson, born 4-4-1874 in Giles County, TN, and died 3-27-1964 in California at her son's home. They married 11-11-1893 in Navarro County, TX. James was a blacksmith and also owned a sheet metal shop during the 30's and sometime into the 1940's. Mary Ella was known for her generosity, and during the depression her house had been marked as someone that would feed any one in need. The folks traveling on the trains looking for work could stop by and do a little work on the farm and get a good meal in return. My mother remembers her saying she couldn't turn anyone away in case it might be Jesus standing there. Thought you might have a spot for the tombstone pic, they are buried in the Oakwood Cemetery in Corsicana, TX.
Note:
Kenneth's parents, James Solomon Parker (b. 9-7-1871 and d. 3-3-1956) and Ella (Stephenson) Parker (4-4-1874 and d. 3-26-1964), are buried at Oakwood Cemetery at Corsicana, Navarro Co., TX
Kenneth's grand parents, John Forsythe Parker (5-5-1847 and d. 5-1-1919) & Sarah Jane (Ruffin) Parker (b. 10-30-1849 and d. 5-27-1918) are buried at the Oakwood Cemetery at Corsicana, Navarro Co., TX
Information submitted by Marilyn "Annette" Keen
James Solomon Parker
Rice Resident Dies Saturday

James Solomon Parker, 84, native of Butler, GA, long-time Navarro County resident, died at his home in Rice Saturday night. He was a retired sheet metal worker and had resided at Rice 15 years.
Parker had resided at Emhouse, Tupero, and Rice since 1887.
Funeral services were held Monday at 2:00 p.m. from the Corley Chapel with burial in Oakwood Cemetery. The rites were conducted by the Rev. Kenneth Bassand Rev. Tom Griffin.
Surviving are his wife, the former Mary Ella Stephenson to whom he was married Nov. 11, 1893, of Rice; three sons, J. L. Parker, Dallas, L. L. Parker, Bearie, OH, D. E. Parker, Ft. Worth, a daughter, Mrs. A. M. Neale, Alhambria, CA, five granddaughters, two grandsons, seven great-grandsons, three brothers, Frank Leonard Parker, Santa Maria, CA, Gary Lee Parker, Minnesota, and Samuel Stephen Parker, Corsicana; two sisters, Mrs. Fannie Delona Rawson, Corsicana, and Eunice Lavada Waggoner, Truth or Consequences, NM, and a number of nieces and nephews and other relatives Pall bearers were Roy Gowan, R. T. Gowan, Clarence Mahaley, John R. Bowden, Milton Douglas, Orin Gilbert.
Corley directed.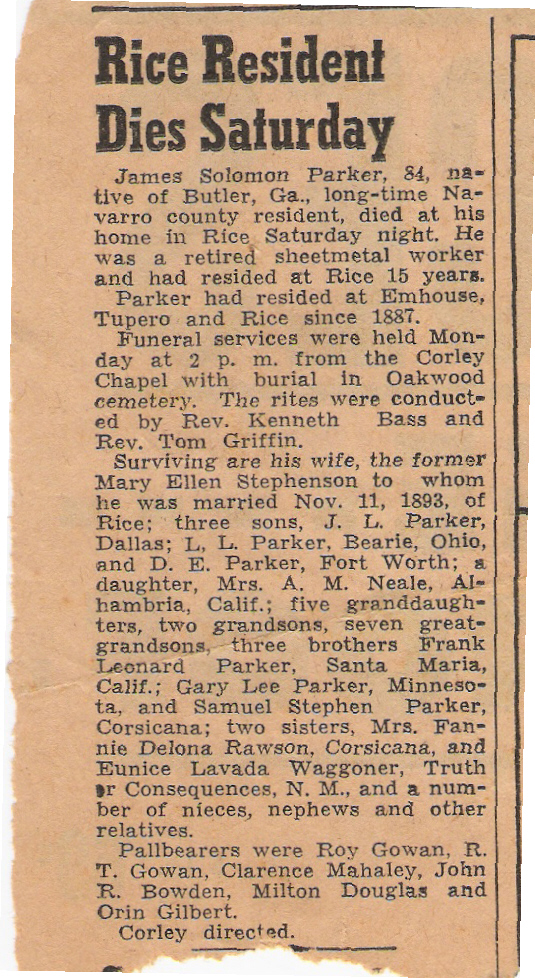 March 28, 1964
Mrs. J. S. Parker
Rites Saturday
Mrs. J. S. Parker, 89, native of Navarro county, died Thursday in Fontana, Calif.
Funeral services will be held Saturday at 11 a.m. from the Corley Chapel with burial in Oakwood cemetery. The rites will be conducted by Rev. B. C. Dugger.
Surviving are three sons, J.L. Parker, Dallas; L.L. Parker, Fontana, Calif., and D.E. Parker, Fort Worth; two daughters, Mrs. A.M. Neal, West Covina, Calif., and Mrs. Virginia Kean*, Pasadena; a number of grandchildren and greatgrandchildren; three sisters, Mrs John Bowden, Rice; Mrs. Ida Banks, Savoy, and Mrs. Vera McGinnis, Amarillo; and other relatives.
Pallbearers will be J.R. Bowden, Jack Bowden, Bobby Bowden, R.M. Bowden, Oren Gilbert, Jess Dyer and Bobby Parker.
Notes:

Mary Ella was born 4-4-1874 and died 3-26-1964.
*Virginia Keen was actually her granddaughter but she raised her since she was about 2 years old. Virginia's last name is spelled Keen.
---
William Kenneth Parker
May 24, 1908 - Oct 22, 1931
Oakwood Cemetery, Corsicana, Navarro Co., TX
---
PLANE CRASH VICTIM IS BURIED THIS AFTERNOON; WESTBROOK TO RECOVER
Funeral services for Kenneth Parker, 23, whose charred body was pulled from a flaming airplane late Thursday afternoon near his home after the plane had crashed, were held Friday afternoon at 3 o'clock at Oakwood Cemetery where interment was made. The services were conducted by Rev. J. U. McAfee, pastor of the Kerens Methodist church. Pall bearers were Charles Medley, William Stewart, Frank Lemon, Jack McNutt, and Ed Richenbacher* and Gus Neale. Singers were Mrs. Harry Williams, Mrs. Harry Balding, Edgar Metcalfe and Lloyd Kerr.

Parker and T. H. Westbrook, local insurance man, were in the biplane and had been flying for some time before the crash occurred, according to eye witnesses who were near where the crash happened. Westbrook received a broken nose, a broken ankle, and many abrasions, severe bruises, and lacerations. It was feared for a time Thursday night that Westbrook was in a critical condition with internal injuries, but attending physicians stated Friday afternoon no internal injuries had been sustained. Mr. Westbrook was still unable Friday to talk to reporters relative to the details leading up to the fatal crash. It was reported that Parker was piloting the ship. The ship was a Travel-Air two-place biplane powered with a 90 horsepower Curtis Ox-5 motor. It is thought the safety belt of Westbrook broke, allowing him to be hurled to safety from the plane. Parker is thought to have been stunned by the impact. The plane was destroyed.
Vivid Account of Accident
A vivid account of the fatal accident was given Friday by W. H. (Bill) Stewart, manager of the Corsicana Municipal airport, and Mickey McGuire, former instructor in the S. A. T. flying school and veteran pilot. Both asserted that the ship, a Travel-Air two place biplane, was in good condition. It was equipped with dual controls.
Neither Stewart nor McGuire would say which of the men, Parker or Westbrook, took the ship off the field, but both asserted that Parker was handling the controls when the crash occurred, basing their statements on the maneuvers which the ship executed before its fall.
According to the joint description of the accident, the ship was flying along at about 600 feet, after several practice landings had been made, and seemed to go into a stall and began losing altitude, falling off into a left spin after a flat turn in the air, with the motor at about idling speed.
The plane was pulled out of the spin about 100 feet from the ground, but the pilots were so shaken by the spin that their senses of equilibrium were distorted and the ship seemed to them to be on an even keel even though the left wing canted sharply toward the ground, finally sliding off into a power slip.
In Front Cockpit
Parker was riding in the front cockpit and was forced into the space beneath the gasoline tank by the force of the impact with the ground, which also snapped the safety belt which held Westbrook into the rear cockpit and allowed him to be flung to safety.
Both Stewart and McGuire declared that Westbrook could not have been handling the controls when the ship came out of its spin, because he had only about eight hours and 40 minutes flying time, and had not had sufficient training to handle the ship under such circumstances.
McGuire, veteran instructor, stated that the distorted sense of balance was the usual result of an unexpected and unattempted spin.
The offices of the department of commerce at Dallas were notified of the crash Thursday night and an inspector was expected in Corsicana Friday to investigate the tragedy.
W. E. DuBose who resides near the municipal airport and on a farm adjoining the Parker home, said he was feeding his hogs when he saw the plane flying north, about 200 feet high. He said the plane banked and popped, turning toward the ground. He was of the opinion the motor was "cutting out".
Landing on Wing
Mr. DuBose stated to a Sun representative the ship landed on one wing, skidding about
50 feet, and then diving on its nose. "As soon as the plane stopped, it burst into flames," continued Mr. DuBose. Mr. DuBose rushed to the site and when he arrived, Mr. Westbrook was out of the plane, limping about and trying to rescue Parker from the blazing mass of wreckage. Westbrook received a number of burns in his attempts to aid his companion, Mr. DuBose said he (DuBose) was one of the first persons to reach the wrecked and burning plane. He was about 500 to 600 feet away at the time.
The youth's parents, Mr. And Mrs. J. S. Parker, who also reside near the airport, were reported watching the plane as their son and Westbrook flew over the family home. It was stated the youth waved at his parents as he passed over, and they were watching him when he crashed. Mr. DuBose reported the parents of Parker arrived a short time later.
Considerable difficulty was reported to have been experienced by ambulance drivers and others in getting Parker's body from the blazing inferno.
Coroner's Verdict
Judge W. W. Clopton, justice of the peace, precinct one, place 2, viewed the body and returned a coroner's verdict as follows:
"Burned to death in airplane crash."
Surviving are a daughter, Virginia Ann Parker, aged two years, Corsicana; parents, Mr. And Mrs. J. S. Parker, Corsicana; three brothers, J. L. Parker and Doyle Parker both of Dallas, and L. L. Parker, Corsicana; and one sister, Mrs. Gus Neale, Corsicana.
The funeral was directed by the Sutherland funeral home.
*Ed Richenbacher was spelled incorrectly in the original article. I corrected it when I re-typed for the web site. Mr. Richenbacher was a WWI Flying Ace-War hero.
---
Parker Was Wing Walker One Time
Kenneth Parker, killed in the airplane crash late yesterday, played the role of Santa Claus several years ago for the Daily Sun.
With Charles Pedley at the controls, Parker dressed to represent the patron saint of the children rode the wings of the plane throwing candy to the hundreds of youngsters that crowded the streets and shouted their joy as the plane swooped low over the business section.
Pedley, now a pilot with the American Airways, flying from Dallas to Atlanta, was pall bearer at the funeral of his former wing walker this afternoon
---
Parker Family Reunion November, 1947 taken in front of James Solomon (Pa Jim) and Mary Ella's (Granny Parker) front yard.
Left to right: Doyle Parker, James Solomon Parker, Mary Ella Stephenson Parker, Vera Lee Parker Neal, Lester Parker, and Lonnie Parker.
Submitted by Annette Keen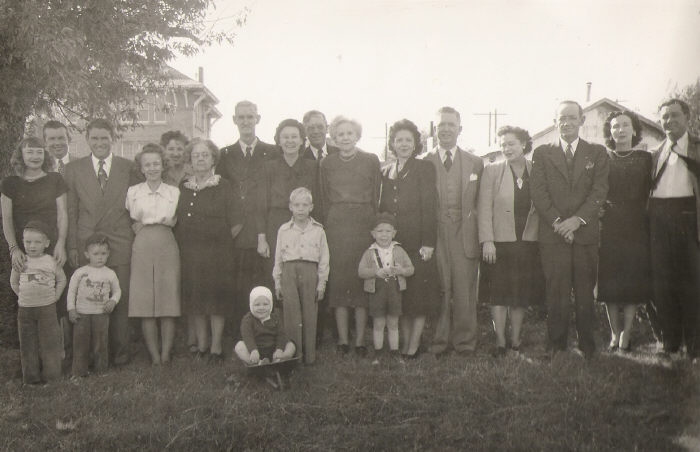 Taken same time as the above picture (1947) in Rice, TX according to the back of the photo. Left to right: Joyce Parker Hagle and
husband C.M. Hagle, Edwin Keen, Virginia Parker Keen, Frances Crockett(best friend),
Mary Ella Parker, James Solomon Parker, Vera Lee Neale, Lester Parker and wife, Marguerite, Helen Parker Alexander,
husband Doyel Alexander, Berniece and Lonnie Parker,
Eva and Doyel Parker. Bottom Row: David and Donald Hagle, James Alexander (sitting), Ronald Neale, Donald Alexander

Submitted by Annette Keen
This picture is of my great grandfather and some of his siblings. James Solomon was a blacksmith and also had a sheet metal shop somewhere in either Corsicana, or Rice, they also lived at Emhouse so I am not sure where the businesses were located. He also played fiddle and was a caller for square dances. That is how he spotted his future wife, Mary Ella Stephenson dancing with another. What caught his eye was not only her beauty, but how she tossed her dance partner when he held her too close! He knew right then that was the woman for him! My mother said he always told her that story growing up. They had a very loving and long marriage. They were married 11-11-1893 most likely in Navarro County.
This photo is of siblings as follows:
Left to Right: Fannie Delona Parker Holmes, Samuel Stephen Parker, Lokey Luvenia Parker Douglas & James Solomon Parker
born. 8-1-1878 b. 10-30-1887 b. April 29, 1876 b. 9-7-1871
Submitted by Annette Keen