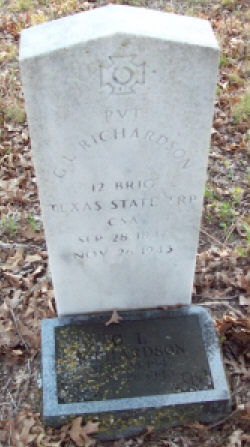 Photo from Roy B. Rhodes
Zion's Rest Cemetery
Navarro Co., TX
PVT G. L. Richardson
12 BRIG
Texas State Trp
CSA
Sept 28, 1847 - Nov 26, 1943
---

General Lafeyette Richardson is great-great-grand father His CSA service history is given in his application for Confederate Pension which was rejected. He stated he was a soldier of the militia of the State of Texas and he was honorably discharged at "Orange, Texas, about 1864" - because he "had finished with my service." He stated he had been a resident of this State continuously since the 28th day of September A. D. 1847 - "Was born in the State and lived here all my life." He was eighty-five, past, when application was made. He lived in Navarro County, at this time and had lived here for nineteen years. His address was Emhouse. His command was organized in Texas and he was living at Caro, Texas at the time of enlistment. He served about six months in the infantry. ..
Dana Subbs Jan 2002
---

G. L. Richards Family
submitted by Dana Subbs
---
Funeral Notice: General LaFayette Richardson Passed Away November 26, 1943, Ennis, Texas, Services held at Corley Funeral Chapel, Sunday, November 28, 1943 at 3:00 P. M., Minister Rev. J. M. Fannin, Interment Zion's Rest Cemetery, Pall Bearers: Thelbert Dixon, Earl Thornton, Robert Richardson, Grady Fincher, Frankie Fincher, Royal Fincher.
---
OBITUARY
General Lafayette Richardson
Sep 28, 1847 - Nov 26, 1943

FUNERAL SERVICES SCHEDULED HERE SUNDAY AFTERNOON

Funeral services for Lafayette Richardson, age 96 years, who died Friday night in Ennis, will be held Sunday afternoon at 3 o'clock from the Corley Chapel. Rev. J. M. Fannin will conduct the rites and interment will be in Zions Rest cemetery.

Surviving are a son, Norman Richardson, Corsicana; three daughters, Mrs. A. J. Cook, Corsicana; Mrs. F. W. Lyne, Corsicana; Mrs. J. J. Fincher, Ennis; 26 grandchildren, 48 grandchildren and other relatives.
Pallbearers will be Thelbert Dixon, Earl Thornton, Robert Richardson, Grady Fincher and Frankin Rogal.

Notes:
----

Aged Ennis Man Is Buried Zion's Rest Cemetery Sunday

Funeral services for Lafayette Richardson, age 96 years, who died at the home of his daughter, Mrs. J. J. Fincher, Ennis, Friday night, were held Sunday afternoon at 3 o'clock from the Corley Chapel. Rev. J. M. Fannin conducted the rites and retirement was in Zions Rest Cemetery.

Surviving are a son, three daughters and other relatives.

Notes: