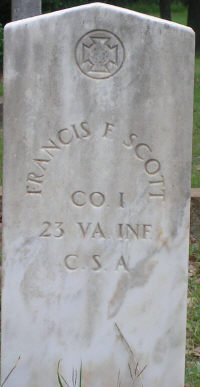 Photograph by Dana Stubbs - Jul 2007
Francis Freeman Scott, Company I, 23rd VA Infantry, C.S.A.
Grange Hall Cemetery, Navarro Co., TX
Received Pension # 25056
Francis Freeman Scott was born in Pittsburg, Virginia and wrote his own Reminiscences of the Boys in Gray telling how he enlisted as a private in Company I, 23 VA.

"I was going to school in Prince Edward County, VA and when the State seceded I quit school and joined the Central Guards. We were sent to Richmond where we remained about two months. After a skirmish at Laurel Hill we retreated back to Monteray and McClennan followed us as far as Cheat River. This river did not look like it was over knee deep but it was up to our arms and very cold, but we waded it seven times.
The last time when we were across we formed a line of battle and held McClellan in check for a long time.
In my first battle, my comrade next to me, Foster, fell across my lap with a bullet in his head and dying while Collins fell on the other side saying, "Scott I am shot." I told him to be still and soon the poor fellow knew no more. The enemy was picking them off so close to me that I got up and moved nearer them, getting behind a big oak tree. No sooner had I done so that a cannon ball cut the top off and I ran from under to keep it from falling on me and to my surprise I found that my whole regiment was gone. How I ran to overtake my comrades and was glad to catch up with them. We retreated to Monteray which took three days and nights and that without food.
We went to the farm house and as the house was crowded went to the dairy and for the first time took, without invitation, what did not belong to me. I found a churn of cream and did not wait for a spoon but used my hands and it was good. Just as I began an old lady came in and threw up her hands and said: "Oh, don't eat up all my cream." "I won't,"
said I. There was a five gallon churn full. We went on to Monteray and camped a few days and then fell back to McDowel where I was taken sick of fever and knew nothing for some days. Was taken from here to Staunton hospital and was furloughed home. After spending a month at home I was anxious to join my comrades and went to Petersburg, from there to Staunton and then to Alleghaney Mountain, where we were strongly fortified, but were fighting superior forces. After the battle of Allaghaney Mountains we rested a few days and were transferred to Winchester in the "Valley" and joined Stonewall Jackson's Corps and fought under him until his death.
Hearing that Banks had crossed Harper's Ferry, we went to meet him, finding him between Harper's Ferry and Winchester. We drove our "commissary" as we called him back across the river and we retired to Winchester. Gen. Jackson's headquarters were at Port Republic and the Federals got possession of a bridge which cut him off from his army. His quick wit saved him for he quickly ordered the Federals to "Move that piece of artillery over here," pointing to a place, and while they were thus engaged he shot across the bridge. He ordered our regiment to take the bridge and we passed Jackson on a hill sighting the artillery and cheering the boys, saying, "give it to them boys." After a day or two we were ordered to the Seven Days' Fight Before Richmond.
During the Richmond fight our regiment was reserved but we were under fire. There was an old Irishman in the company named Pat Fitzgerald and he kept walking around and was told to sit down or he would get shot. Just then a ball struck him and he jumped and said, "Oh, faith and be jabbers, I'm shot." After the battle of Seven Days we rested a few days and fought the battle of Culpepper Court House, after which we went back to the valley. At the battle of Winchester our regiment was on a hill lying down for protection and I saw Gen. Jackson ride up behind the artillery and sat some time on his horse as though the shells and canister did not fill the air, then rode off and soon came back again and we were ordered to charge and we had to climb a stone fence and wait for the left of the army to come up. The Louisiana Zouaves were next to us and I have never seen a prettier picture than they made in their new suits and perfect stepping as they came down the hill. I had a brother, Isaac, who belonged to the Zouaves and was wounded in this battle, dying in a Yankee hospital. We raised the "Rebel Yell" and charged them behind a stone fence. They stood it till we were within a hundred yards and then they ran towards Harper's Ferry and we did not overtake them.
At the battle of Kern's Farm we double quicked across a field to a rock fence which the Federals had nearly reached but we beat them about fifty yards and our first volley seemed to take off half their ranks.
At Chancellorsville we lost our beloved Jackson. Few men have been loved and trusted by their soldiers as he was. We did not believe he was dead till the other General came to take his place. After this we had the battles of the Wilderness, Second Battle of Winchester and Spottsylvania Court House.
Thank God those troublesome times are over. We fought a loosing battle, but if we had only had the north to fight, and not the whole world, I believe history would read differently. The preponderance of numbers must prevail."
Notes: