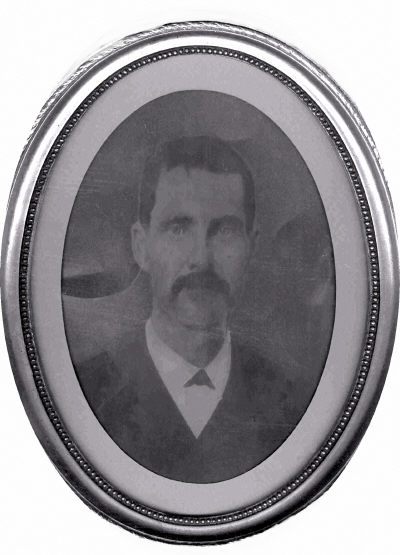 Thomas Jefferson Steele Tin Type Photo
Early 1870s
Thomas Jefferson Steele, born October 18, 1857 in Bienville Parish, Louisana, married on August 28, 1879 in Anderson County, TX to Elizabeth "Bettie"CAMPBELL GUNTER He died on March 08, 1941 in Navarro County, TX.
I believe he is an uncle to Augusta Indiana Steele Beauchamp. He would only be related by marriage to the Beauchamp family through his niece. On the 1880 census the Steele family and Beauchamp family were separated by one other family. This would be before William Henry Beauchamp and Augusta Indiana Steele were married.
Notes:
---
Thomas Jefferson Steele
Oct. 18, 1858 - Mar. 8, 1941

Elizabeth Campbell Gunter Steele
Dec 13, 1855 - Feb. 10, 1942

Thomas Jefferson Steele and Elizabeth Campbell Gunter were married on August 28, 1879 in Brushy Creek, Anderson County, Texas.

Thomas Jefferson Steele was born October 18, 1858 in Bienville Parrish, Louisiana. His father was Romulus Augustus Steele and his mother was Martha E. (Mitchell) Steele. His sisters and brothers by Romulus and his first wife Martha were Jane Alabama, Augustus Indiana, William Monroe, Mary Ann (Mollie), Sarah (Sallie) Minerva, Willie Pinkney and David.

Elizabeth Campbell (Gunter) Steele was born December 13, 1855 in Cannon County, Tennessee. Her father was Campbell Gunter and her mother was Sarah Blackburn (Evans) Gunter. Elizabeth (Betty) Gunter was an only child.

Thomas and Betty lived in Anderson County, Texas from 1879 until a few years before 1885 when they lived at the Anderson Ranch just west of Winkler, Navarro County, Texas.

From about 1885 until about 1918 or 1919 they acquired several tracts of land and lived in several different homes that they built in the Midway area of Navarro County. They lived in Corsicana for approximately six years until 1925 when they moved to Eustace in Van Zandt County and stayed with their son, Bob, and his family for about two years. In the fall of 1926 Tom and Betty moved back to Midway and stayed with his brother, William Monroe, and his family on the farm that was adjacent to and south of the farm that Tom and Betty bought about 1927. This was the farm where they lived out the rest of their lives. That farm was and is adjacent to and south of Midway Cemetery where they are buried. All of Thomas Jefferson's brothers and sisters of the Romulus and Martha marriage are also buried at the Midway Cemetery.

Thomas Jefferson and Betty Steele had (7) children.

Martha (Mattie) b) 7/4/1880 d) 10/6/1885
Campbell Augustus b) 10/22/1882 d) 6/6/1950
William Robert b) 5/2/1885 d) 9/7/1941
Jim Elrod b) 10/14/1887 d) 1/23/1958
White Gregg b) 8/18/1890 d) 1/17/1961
Ethel Elizabeth b) 11/18/1891 d) 12/3/1979
Winnie Belle b) 2/19/1897 d) 10/22/1978


Thomas Jefferson Steele and his brother, William Monroe, were charter members of the Winkler Masonic Lodge #826. The minutes of the first meeting were recorded in January 1899.

Elizabeth (Betty) Steele was a member of the Richland Chapter of the Eastern Star.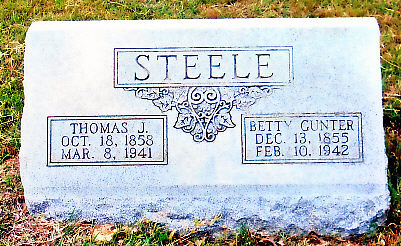 Midway Cemetery, Navarro Co., TX
Submitted by Harry Steele
Notes: