BIOGRAPHY
Andrew George Weems was born August 9, 1840, in Lawrence Co. AL. His parents were George M. C. Weems and Nancy Norwood Weems. He married Mary Jane Wasson, daughter of Samuel Davidson Wasson and Carolyn R. Simpson
Wasson.
They had three children: Maggie Dave Weems Joyner, Lula Caroline Weems Henderson, and George Walter Weems.
Andrew served in Company K, 4th AL Cav., Roddy's brigade, under General Forrest, having volunteered in November, 1861. He was in battles at Molton and Salma, AL; Sulfur Springs, Shiloh and Franklin, Murfreesboro, Ft. Donaldson and Ft. Henry, TN.; Missionary Ridge and Dalton, and Atlanta, GA. He was wounded at Shiloh in 1862 and was hospitalized at Tuscumbia, AL and Paris, TN, having been shot in the left hand. He was promoted to 3rd Sergeant. He surrendered, April 5, 1865 at Pond Springs, AL and was paroled at the end of the war.
They moved to Texas in 1892, settling at Leland in Navarro County. In 1896, they moved to Chatfield where "Andy" managed the R. H. Witherspoon General Mercantile Store. In 1910, they moved to Corsicana to live with their son and daughter-in-law. Andy opened a small neighborhood grocery store, next to their home. He served as County Treasurer of Navarro Co. in 1917 and 1918. He was a member of the C. M. Winkler Camp No. 147, United Confederate Veterans, in Corsicana, Texas.
He died September 9, 1931, at age 91, and is buried in the Old Chatfield Cemetery, in Navarro Co., Texas.
Notes:
A Biography of the Andrew George Weems Family, by Nancy Weems, can be found in the Navarro County History, Volume II, pg 213.
Son of George M. C. Weems & Nancy (Norwood) Weems
---
OBITUARY

FUNERAL SERVICE AT CHATFIELD FOR ANDREW G WEEMS

Andrew George Weems, aged 91 years, Confederate veteran, native of Alabama, but pioneer resident of Navarro county, died at the home of his son, G. W. Weems, 750 West Ninth avenue, Wednesday afternoon at 2:35 o'clock following a lingering illness and the funeral was held Thursday afternoon at 3 o'clock from the Chatfield Methodist church with burial in the Chatfield cemetery. The funeral services were conducted by Rev. R. A. Crosby, pastor of the Eleventh Avenue Methodist church, and Rev. C. E. McStravik, pastor of the United Presbyterian church.
Mr. Weems was well-known in Corsicana and Navarro county. He was born Aug 9, 1840.
Surviving are one son, G. W. Weems, two daughters, Mrs. T. H. Joyner and Mrs. Lula Henderson, all of Corsicana; and a number of grandchildren and other relatives.
Active pallbearers were his seven grandsons, Earl Joyner, Hubert Joyner, Clarence Joyner, Robert Joyner, Clyde Henderson, Floyd Henderson and Marshall Weems.
The funeral was directed by the Sutherland Funeral Home.

Notes: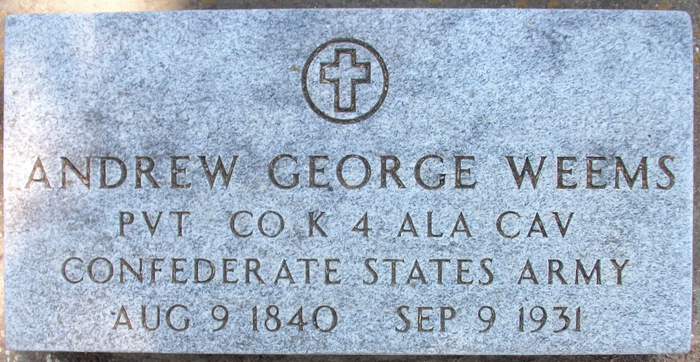 Old Chatfield Cemetery, Chatfield, Navarro County, Texas