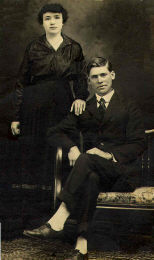 Judson Freeman Williams, son of Rev. James Sampson & Della Caldonia (McAfee) Williams, was born 26 February 1897. He married Delia Agness Dockery on 24 December 1916 in Navarro County Texas. Delia was the daughter of R. Dickson & Sarah Cornelia "Sallie" (Freemon) Dockery. She was born 19 January 1877 in Louisiana. She died 25 August 1943 in Navarro Co., TX of diabetes. Delia is buried in the Hamilton-Beeman Cemetery, Navarro Co., TX. Judson later remarried to Louise Elizabeth Watson. He married a third time to Ruth Elder and moved to California. Judson died 17 October 1976 at the Merritt Hospital in Oakland, Alameda Co., CA. He is buried in the Lone Tree Cemetery overlooking the San Francisco Bay, 24591 Fairview Ave, Haywood, CA.
Children of Judson Freeman Williams & Delia Agness (Dockery) Williams:
| | | | |
| --- | --- | --- | --- |
| Name | Born | Died | Spouse |
| Katharine Cornelia Williams | 30 June 1918 | 22 Dec 2001 | William Arthur Giles |
| Rosalia Trillimae "Rosie" Williams | 12 June 1922 | 15 July 1987 | Columbus Russell Giles, II [obituary] |
| Della Odera Williams | 6 June 1924 | 15 Sept 1988 | Worsham Pryor |
| Fay Geneva Williams | 20 Jan 1931 | | Rockey Fallaw |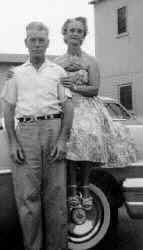 Judson Freeman&
Ruth (Elder) Williams
NOTES:
JUDSON FREEMAN WILLIAMS
Navarro Co. Birth Index; Judson Freeman Williams; James Sampson Williams & Della Caldonia McAfee. 2/26/1897

TXBI probated: Judson Freeman Williams Navaro Feb 26, 1897; 873870
Old Date Birth Certificate4 No. 30 #587
County: Navarro, TX; City or Precinct No: 5-Blooming Grove Precinct; Full Name: Judson Freeman Williams; Male, Legitimate, Feby 26, 1897; Father: James Sampson Williams, Residence at time of Birth: Emmett, Texas; White, 28yrs old; Born Little Rock, Arkansas, farmer & preacher; Mother: Della C. McAfee, Residence at Birth: Emmett, Texas, White; 22 yrs old; born: White County, AR; Housewife; 2 children born to this mother, 2 children born to this mother and still living; Certified this child born 8a.m....Della C. Williams, Corsicana

Calif. Death Extract
Spouse Initial: R; Sex: Male; SSN: 453-10-0158; Co Code: 01 (Alameda Co.); Date of Death: 10-17-1976; Registrar No. 6264; State No. 137129

Death Certificate: #76-137129; 6264; State of California
Name: Judson Freeman Williams, Date of Death: October 17, 1976, at 5:30 p.m.
Sex: Male; Race: Caucasian, Birthplace: Texas; Date of Birth: Feb 26, 1897; Age 79
Father: James Sampson Williams - Texas, Mother: Della McAfee - Texas; Citizen: USA
SSN: 453-10-0158; Married; Name of Surviving Spouse: Ruth Elder; Last Occupation: Farmer Labor;
Place of Death: Merritt Hospital, Hawthorne Ave & Webster, Oakland, Alameda Co., length at residence 20 yrs, Usual Residence 1084 Hazel Ave., In City: YES, Name of informant: Ruth Williams 1084 Hazel Ave, Hayward, Calif.
Burial on 10/19/76 Lone Tree Cemetery, Hay., Funeral Director: Chapel of the Valley; Cause of Death: Infeactory of Myacardeum, Acute, Infeaulaberal <almost illeagible cause of death>

Judson F. Williams taught singing school in Navarro County, played piano,
and wrote gospel songs. One of his songs, "Praising the King of Glory" was
published by his great-uncle, J.E. THomas, who owned Quartet Publishing Co.
of Fort Worth, Texas. After Delia died, he would travel from Texas to Calfornia
and back sometimes picking cotten in Arizona. He would often hitch-hike, but
stopped that after he was assaulted and robbed. After that, he would take the
bus. (Information from Eric Giles)
---
DELIA AGNES (DOCKERY) WILLIAMS
FUNERAL SERVICES FOR MRS. DELIA WILLIAMS TUESDAY AFTERNOON
Funeral services for Mrs. Delia Williams, aged 47 years, who died at the family residence at Angus Monday morning following a several years illness, were held Tuesday afternoon at 3 o'clock from the McCammon Funeral Chapel. Burial was in the Hamilton cemetery. The rites were conducted by Rev. Jack Goff, pastor of the North Side Baptist church.
Surviving are her husband, Judson F. Williams, Angus; four daughters, Mrs. Bill Giles, Malakoff; Mrs. Russell Giles, Corsicana; Mrs. Odera Pryor, Paducah, and Mrs. C. R. Anderson, Mobile, Ala.; seven grandchildren, two brothers, Leland Dockery, Angus, and N. P. Dockery, Farmer community, and other relatives.
Pallbearers were Elton Skinner, Calvin Watson, I.C. Pool, Spurgeon WIlliams, Dewey Osteen and Jack Russell.
Notes:
TXDI: J .F. Williams, Mrs; Navarro Co. ;March 10, 1947; 13351
---
JUDSON WILLIAMS' VISIT CORSICANA
Mr. and Mrs. W. C. Watson had has their guests last week Mrs. Watson's cousin, Judson Williams and Mrs. Williams of Alameda, Calif. During their stay they were visited in the Watson home by a number of friends and relatives.
Attending the reunion were Mrs. Clara Wright and daughter, Madell; Mrs. Sue Webb; Mr and Mrs. Leland Dockery; Henry Williams; Nettie Skinner; Mrs. Beulah Cox of Arlington and Mr. and Mrs. Giles of Athens.
Before the couple's return to California they visited with his brother, Harvey Williams and brother-in-law, Claude Pool.
They spend several days in Odessa with their two daughters and families, Mr. and Mrs. Worsham Pryor and Mrs. Rosa Giles.
Notes: