1/7/2004 INSIDE NAVARRO COUNTY: Two businesses a pecan tradition in Powell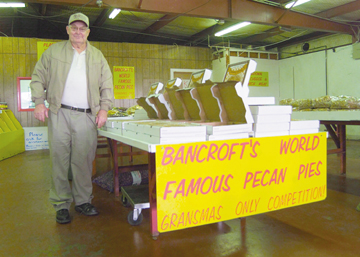 Royce Bancroft, owner of Bancroft Pecan House, stands next to some of his world famous pecan pies. Daily Sun photo/SCOTT HONEA
By DEANNA PAWLOWSKI/Daily Sun Staff
Bancroft Pecan House has been owned and operated by Royce Bancroft for 31 years this March. Located at 100 Brookshire St. in Powell, they offer a variety of homemade goodies.
In addition to selling pecans, they also make fudge, peanut brittle, pecan brittle, cashew brittle, cookies, pecan pralines, peanut butter, and peanut patties.
"Our peanut patties are softer than store bought," Bancroft said. "We also sell pecan pies. I worked on the recipe for about four months, and everyone says they're the best."
Bancroft has a three-inch pecan pie, and their popular 10-inch pie. They've expanded their cooking room three times to allow room for more baking. They also prepare breakfast sandwiches, which are available from 6 to 10 a.m. every day. Whether your preference is sausage, bacon, ham, cheese and egg on your biscuits, Bancroft is the place to stop and get them quick, and they are made fresh daily.
"We have the best hamburgers in town, because nobody else makes them," Royce said. "We buy the best meat money can buy, and make two different sizes of hamburgers."
Bancroft carries the original, old-time Dr Pepper made with pure cane sugar in Dublin, Texas. They also sell gasoline, usually cheaper than anyone else, he said.
"I am an independent, so I can sell any brand of quality gas -- that's how we can sell it cheaper, usually," Bancroft said.
The gift shop offers dolls, some furniture, collectibles, angels, western decor, and plenty of chicken, rooster and apple items. Pull a rocking chair by the wooden stove which heats the store and relax a spell. Bancroft has been selling the wooden rockers for 30 years, and has them on special now for $29.95 each, while supplies last. Call Royce at (903) 345-2641 for more information.
In 2000, son Dennis Bancroft bought the cracking and shelling business. Green Tree Pecan is housed right next door to Bancroft Pecan House. It buys pecans, sells pecans wholesale and also does mail order shipping.
"We do a million to a million and a half pounds a year," Dennis said. "Most of our business is wholesale, and we ship all over the world -- a lot to Europe, and even Iraq."
In the off-season, Green Tree Pecan sells plants, shrubs and trees. It shells pecans for other growers in the state, as well as Mexico, New Mexico, Oklahoma and Louisiana.
"We have a niche," Dennis said. "If you have 20,000 pounds of pecans you want to shell, there aren't many places to go to do that -- or if you just have a couple of pounds."
Bancroft Pecan House and Green Tree Pecan -- 30 years of pecan tradition in Powell.
Dennis Bancroft is owner of Green Tree Pecan Company in Powell. Daily Sun photo/SCOTT HONEA
Deanna Pawlowski may be contacted via e-mail at [email protected]
Reprinted with permission of the Corsicana Daily Sun
www.corsicanadailysun.com || Articles Index

All rights to this story reserved. Copyright Corsicana Daily Sun and Community Newspaper Holdings, Inc,. Content may not be archived, retransmitted, saved in a database, or used for any commercial purpose without the express written permission of the Corsicana Daily Sun and CNHI.