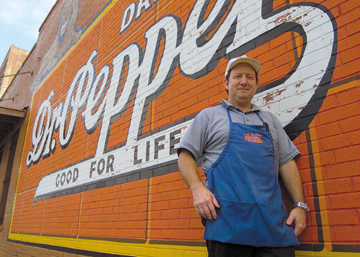 Dee Hawkinson has been owner of 'Dee's Place' on Beaton Street
since 1989. Daily Sun photo/SCOTT HONEA
1/5/2004 Simple Celebrity: Hawkinson's claim to fame his shop, experience
By DEANNA PAWLOWSKI/Daily Sun Staff
Dee's Place has achieved celebrity, of sorts.
Segments have been done on the shop by Leeza Gibbons with PM Magazine, Jeff Crilley of Fox 4 News, Doug Fox with Channel 8, and Channel 11, with their "Tank of Gas" series. Bill Clinton and Al Gore stopped by, and Phil Gramm and his wife ate lunch at the counter. Two Hollywood talent scouts stopped in, along with various ones from Las Colinas. Dee's Place was an alternate site for the filming of a Bonnie and Clyde movie, it is registered with the Texas Film Commission in Austin, and it was the filming site for a documentary on capital punishment by a Swiss film crew.
But what about Dee himself?
Dee Hawkinson was raised in Akron, Colo. He arrived in Corsicana in 1975, when he went to work for Regal Tool and Rubber as a lead man over the injection line.
"Everyone called me Colorado," Dee said.
After a year and a half, Dee did a career change, and went to work at Lewis Shoes downtown.
"I was not suited for selling shoes," Dee said. "You see everything in that business."
While working at Lewis Shoes, Dee would often eat lunch at Hashop's. Will Hashop noticed the antsy young man, who would eat his lunch, and hurry back to work.
"Will thought since I was always in a hurry, I would be a good employee, so he contacted my father-in-law while I was in Colorado on vacation," Dee said. "I went to work at Hashop's when I returned to Corsicana. I started in 1977, thinking it would tide me over until I found a real job. I even gave a month's notice one time -- but never left."
Dee assumed 25 percent ownership of Hashop's in 1981. When Will Hashop retired in 1989, Dee bought the rest of the soda fountain, and opened as Dee's Place in January 1990.
Before coming to Texas, Dee had worked as a finish carpenter. He decided to build his family a house in the Corbet area, and drew up the plans himself. He also did all the framing, wiring, plumbing, air conditioning work, built the cabinets -- the only things he did not do were the carpet, concrete and laying the bricks.
"It took me four years to build, and I paid for it as I went," Dee said. "It was 3,000 square feet. I got to live in it for six months, then my wife and I divorced, and she sold the house."
Dee is father to Tina, 24, and Shawn, who is 20 and a student at Navarro College. Dee married Jennifer Nevius in 1988, and they are parents to son, Lane, 11 years old. The family resides in the Eureka area.
Unbeknownst to some, Dee has been operating an eBay business in the back of the shop, selling antiques belonging to area dealers.
"About eight years ago, Bill Young told me about selling some old bottles on eBay," Dee said. "I got on eBay to see about buying some memorabilia for the store, and I kept telling the antique dealers around here they ought to be selling on the Internet during slow times."
One dealer suggested Dee provide that service, because they personally didn't know much about computers.
"It's a good business, but like everything else, has slowed with the economy," he said. "The dealers have to stand behind their merchandise 100 percent. That is the only way to build a good reputation on the Internet."
Dee is a self-taught computer whiz.
"I got into computers when my brother sent me one from Colorado for the kids," Dee said. "I got on it and messed it up. I got a friend to get it fixed, then messed it up again. I fixed it myself that time."
Dee also taught himself to fix radios, televisions, jukeboxes and pinball machines. He is the owner of a 1965 model Cross Town pinball machine, which sits proudly in the front of the shop.
"I fixed it, then a few retired guys and I split off into teams, and started having competitions in the evenings," Dee said. "Unfortunately, some have passed away since we started. We don't play so much anymore."
Dee still has slips of cash register tape, some from 1995, with high scores, the date, and the man's name, which he has saved from years past.
Dee is also an avid Bible scholar. He began studying the Bible in earnest after his divorce, and is now a Sunday School teacher in an adult class at Westhill Church of Christ.
"I also do some preaching," he said. "Ferman Carpenter taught me how to put a lesson together. He preaches on a point system, and when he's through, you can remember what the points were."
Of his years in the food service industry, Dee is introspective.
"It is a hard business," he said. "I get here at 4 a.m., and don't leave until 6 p.m. We're open every day except Sunday. That's my simple life."
----------
Deanna Pawlowski may be contacted via e-mail at [email protected]
Reprinted with permission of the Corsicana Daily Sun
www.corsicanadailysun.com || Articles Index
All rights to this story reserved. Copyright Corsicana Daily Sun and Community Newspaper Holdings, Inc,. Content may not be archived, retransmitted, saved in a database, or used for any commercial purpose without the express written permission of the Corsicana Daily Sun and CNHI.
---
NOTES:
Mar 2007 Dee sold the store, I hear he moved to Colorado. ... keep in touch Dee !