Alligator Cemetery Not for Alligators
By Frank X. Tolbert
A SIGN ON State Highway 309 in southeastern Navarro County guides you to "Alligator Cemetery, 1/4 mile." The sign also confuses some folks, who think that this is a burial grounds for alligators.
Actually, this is just a pretty cemetery in a grove of trees and with a few stands of palmettos on the site of the vanished City of Alligator, Texas, later called Long Prairie. The Alligator Cemetery is east of Round Prairie and Rural Shade.
When I stopped at the Alligator Cemetery there was a new Pontiac parked at the iron gate. And off through the great oak trees and the green palmettos and the autumn flowers I saw a lady in a sunbonnet, among the old flat middle 19th century gravestones and shiny new monuments, chopping weeds with a hoe.
THE LADY WAS Mrs. S. H. (Lucy Ida Inmon) Phillips, aged 75, of Round Prairie, and she said that her husband, who is 89, was off in a nearby field on their farm running a tractor. "There's an Alligator reunion and cemetery working every Fourth of July," she said. And as she chopped away with the hoe, she added: "Only you can't keep a cemetery nice by just working it on the Fourth of July."
The City of Alligator (later Long Prairie) was named simply because it is on Alligator Creek, a tributary of Richland Creek, where there were a lot of alligators in the olden days and a few still make guest appearances.
Round Prairie and Long Prairie were so titled because of the contrast of their open terrain with the forests along the creeks.
(From a Dallas Newspaper about 1957 - Alligator Cemetery is about 1/2 mile from the home place of Jasper James Inman. Many Navarro Co. Inmons lay at rest here.)
---
9/1/2004 Cemetery will be honored Saturday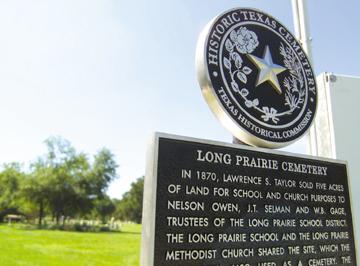 A Historic Texas Cemetery marker at Long Prairie Cemetery south of
Kerens will officially be unveiled this Saturday at 11 a.m.
Daily Sun photo/SCOTT HONEA




From Staff Reports

In 1870 the parents of a child named Sallie K. Burt carried her to be buried in the grounds shared by the Long Prairie Methodist Church and the Long Prairie Schools. Hers was the first grave there. Others followed. Local farmers and merchants, wives and mothers, grandparents and all too many children and babies were buried in the cemetery on the banks of Alligator Creek. Veterans of the tragic War between the States, the short Spanish American War, and the War to End All Wars were interred there. Each year the markers for those who fought in World War II increase in the rows of the cemetery. A record of the last 134 years in a rural community is written there. Early settlers called the place Alligator Cemetery. Later the name was changed to Long Prairie Cemetery.

Those buried in the Long Prairie Cemetery will be honored in a special ceremony this Saturday. The Texas State Historical Commission has issued a Historical Cemetery Marker to mark the location of Long Prairie Cemetery. The dedication ceremony will be held on the cemetery grounds at SE CR 3230 in Kerens starting at 11 a.m. Speakers will include Tom Perryman as Master of Ceremonies, historian William Young and Judge John Jackson. A barbecue will be served after the ceremony. All descendants and friends of those people buried in the cemetery are invited to attend.

The cemetery is located on road SE CR 3230 which opens to the west off Farm Market Road 309 south of Kerens. The intersection is marked by a Long Prairie Cemetery sign and a North Shore Estate sign. A cemetery sign is planned for over the metal gate to the cemetery grounds
See Also: