Airport Museum
Opened in 1929, the Airport Museum, located at C. David Campbell Field, the Corsicana Municipal Airport, contains items associated with flight, including aircraft engines, military uniforms, WWII trainers, and many other military items. During WWII the field served as a primary training facility for U.S. Army Air Corps Pilots. Among those who received their training there was Bob Gebel, who is credited with shooting down eleven enemy aircraft.
409 South 9th Street
Corsicana, Texas 75110
903-872-0440
Fax 903-872-0441
This collection was started in 1984. It contains mostly Western Electric, Bell System, Bell Labs and America Telephone and Telegraph items. Western Electric was the manufacturing and supply unit of the old Bell Telephone System. At this time the collection has approximately 8,000 sq feet of display area. It is considered the largest privately owned collection in the world (International Communication Museum Society, Edmonton, Alberta Canada).
The only one larger is in Europe and is State supported.
This collection has a bit of everything from telephones to central office equipment, insulators, test sets, switches, phone directories, tools, teletypes, signs, advertisements, military items, and a lot of paper items. Several of the items date back to the 1880's. Some of the most unusual items made by Western Electric on display are; a nickelodeon, table and floor lamps, sewing machines, malt mixer, home diathermy machine, stethoscope, ceiling and desk fans, vibrator, projector, record player, and speaker.
This is most definitely a one of a kind collection. Plus it's free.
Hours:
Open on Derrick Day, any other time please call to make an appointment. Groups always welcome.
Navarro County Oil Museum
Created by H. R. Stroube, includes pieces of equipment and photo collection. The equipment is now housed at the Pioneer Village and the photos are at the city annex.
Robert S. Reading Arrowhead
and Indian Artifact Collection
Navarro College
3200 W 7th Ave
Corsicana, 75110
(903) 874-6501
1 (800) - NAVARRO
Days/Hours Open: Monday-Thursday: 8am - 8pm; Friday: 8am-5pm; Sunday: 5pm-8pm.
Admission Charges: Donations are accepted.
Robert S. Reading Arrowhead and Indian Artifact Collection contains Native American Artifacts and offers guided tours, self-guided tours, school tours, lectures and classroom presentations. The museum was originally used as a library and now has accessible facilities to disabled visitors.
The Samuels' Tolkien The Lord of the Ring Collection (over 40 wood carvings of the characters) are on display in the college library.
Feb 19, 2008
Pearce Civil War Documents Collection
A Collection of Civil War Documents, Manuscripts,
Letters, and Diaries
View Brochure
old brochure, Ill try to update this shortly
Navarro College
3200 W 7th Avenue
Corsicana, TX 75110
(903) 874-6501
1 (800) - NAVARRO
Monday-Thursday
8am-8pm; Friday: 8am-5pm
http://www.pearcecollections.us
Charles S. Pearce Jr. purchased the first document in 1991 as a gift for his wife, Peggy. This gift sparked an ongoing interest and curiosity that led to the creation of this extraordinary assemblage of Civil War Documents. When the Pearces decided in 1996 that their personal collection needed a home where it could be viewed and researched, The Pearce Collection became available to the public at Navarro College.
This collection is best known for such outstanding features as: the presence of great names, the exciting content in every item, and its balanced account of the great conflict.
The Pearce Collection includes over 400 documents, manuscripts, and diaries and continues to grow with the generosity and involvement of Charles and Peggy Pearce.
On April 9, 1997, Charles and Peggy Pearce received The Texas Library Association Benefactor Award. This prestigious award is given by the friends and trustees of The Texas Library Association in recognition of benevolent support encouraging the growth and development of Texas Libraries.
Pioneer Village
912 W Park Avenue
Corsicana, 75110
(903) 654-4846
Days/Hours Open: Monday-Saturday: 9am-5pm; Sunday: 1-5pm. Closed on New Years, Easter, Mother's Day and Christmas.
Admission Charges: $2.00 - Adults & Senior Citizens, $1.00 - Students, $0.50 - Under 12, Free - Under 6.
Pioneer Village Navarro County Historical Society is classified as a historic house and contains historical exhibits and local and pioneer history exhibits. The museum offers memberships, guided tours, self-guided tours, school tours, and school/museum cooperative curriculum. Museum programs and facilities are partially accessible to disabled visitors.
Pelham Museum
Information on the Pelham Museum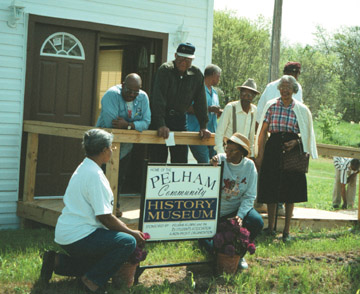 War Museum
Days/Hours Open: daily except Monday
The Cook Center is an arts, science and technology facility that is designed to enlighten people on the wonders of space, as well as how history, science and math affect or everyday lives. Located on the Navarro College campus in Corsicana, Texas, one of its goals is to educate people on how technology has changed or society.
Includes: Planetarium, Big Screen Adventures, Observatory, Laser Shows, Exhibits. Call for show times and prices.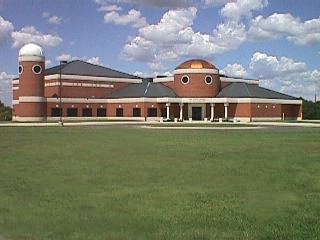 Cook Center - Photo by Dale McCary
Link to Dale's: Photos From Home