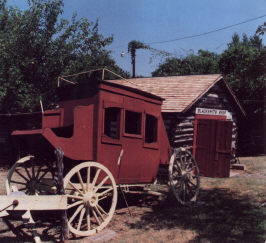 In 1956 the Navarro County Historical Society was organized by the combined efforts of Alva Taylor of Corsicana and Joe Daniel of Kerens. Two years later, in 1958, Frontier Home . . . later to become Pioneer Village of today . . . was conceived and effected to concentrate the County's surviving historic structures, replete with the heirlooms, artifacts, and family treasures handed down from the early settlers, as a permanent monument and living display of the area's colorful past.
Located at the famed "Watering Hole" where early-day arrivals circled their wagons for defense against the Indians, the site is today a City Park on land named for former Texas Governor Beauford H. Jester of Corsicana. The cluster of pioneer buildings, some as much as as 142 years old, has been reconstructed from historically verified materials removed from the earliest settlements in the County. Pioneer Village Office and Archives Building blend with the early period architecture and is itself furnished with 100-plus year old antique tables, desks, lamps, etc. from the era.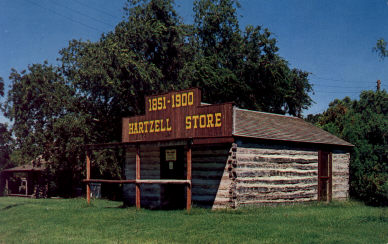 The Archives, available to the public for research, houses valuable data for tracing family histories and for documenting eligibility for genealogical societies such as the Sons/Daughters of the Republic of Texas, Sons of Confederate Veterans and/or United Daughters of the Confederacy, and the Texas Pioneers Association. Aside from collections of photographs, manuscripts, and early newspaper files, the office also has available, Volumes 1-6 of Navarro County History, the annual publication of the Navarro County Historical Society "The Scroll," historical booklets and pamphlets, and historical tapes and films.
Pioneer Village, Navarro County Historical Society is classified as a historic house and contains historical exhibits and local pioneer history exhibits. The museum offers memberships, guided tours, self-guided tours, school tours, and school/museum cooperative curriculum. Museum programs and facilities are partially accessible to disabled visitors. Group tours are available by calling (903) 654-4846 for an appointment.
Only outright gifts are accepted by the Society and must come under a historical category. All Historical Marker applications and programs for Navarro County are handled at the Pioneer Village Office.
The Pioneer Village is open on Weekdays and Saturday from 9:00 a.m. - 5:00 p.m.; on Sundays from 1:00 p.m. - 5:00 p.m. and closed on holidays. Admission fee is $3.00 for Adults, $1.00 for All students thru college, and Free for children 3 and under. Souvenirs, hats, shirts, post cards, books and more are available for sale in the Pioneer Village office.
Closed on New Years, Easter, Mother's Day and Christmas.
Bobbie Young
Director of Pioneer Village;
Executive Secretary
Navarro County Historical Society
(903) 654-4846
Tour the Pioneer Village
Additional Pioneer Village Information:
Additional Links: