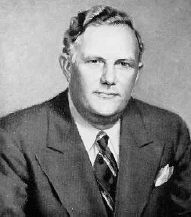 Beauford Halbert Jester was born on January 12, 1893 in Corsicana, Navarro County, Texas, to George Taylor Jester (23 August 1847 - 19 July 1922) and Francis P. "Fannie" (nee Gordon) [Photo] (1861 - 3 October 1953) Jester. His father had served two terms as Lieutenant Governor of Texas (1894-98) under Governor Charles A. Culberson. Beauford was the great grandson of Hampton McKinney (1796-1857), who built the first house in Corsicana on what is now the courthouse square. The family was not wealthy and as a boy, Beauford delivered milk to earn extra money. The family home was located at the intersection of Seventh Avenue and Fifteenth Street, where a service station, Corsicana Cable TV, and Radio Station KAND are now located. Beauford attended public school in Corsicana [Corsicana High School Class of 1911] and later attended the University of Texas at Austin, TX where he earned his A. B. degree in 1916. While at the University, he participated in the Curtain Club, manager four years in the Glee Club, soccer football team, the Texan staff, athletic editor, Press Club, and the Cactus staff. In 1917, Beauford attended Harvard Law School but joined the Army when the United States declared war on Germany during World War I. He attended the First Officers' Training Corp., at Leon Springs. As a captain of Company D, 357th Infantry, in the 90th Division he took part in several battles including St. Mihiel and Argonne, two of the bloodiest battles of the war. After the war, he spent six months on occupation duty in Germany. Afterwards he continued his education at the University of Texas where he was awarded his LLB in 1920 and was admitted to the Texas bar in June 1920.
Beauford married Mabel Buchanan, born April 10, 1901 in Texarkana on June 15, 1921 at the First Baptist Church in Texarkana. They had three children, Barbara, who married Maj. Howard Burris, Joan, who married Thomas E. Berry of Houston, TX, and Beauford, Jr. Who was killed in a traffic accident on 18 October 1958 while attending college in Arkansas. Beauford was a member of a number of fraternal, business, and community organizations in both Corsicana and Austin. He was a Rotarian, a Mason, a Shriner and a leader in the First Methodist Church. He also served as commander of the Corsicana Post of the American Legion, Department of Texas. He was past president of the First Officers Training Camp and the 90th Division Association, and a member of the Veterans of Foreign Wars.

Beauford practiced law in Corsicana from 1929 to 1946 with a longtime friend and fellow graduate of the University of Texas, Ballard W. George, in the Jester Building above what is now Harris and Jacobs. The firm later became Davis, Jester and George. He also managed the
land, cattle, and cotton holdings of the family ranch and was president of the Navarro County Bar Association from 1925 to 1938 and a regent of the University of Texas from 1925 to 1935. He was the youngest person ever to chair the UT Board of Regents and held this position from 1933 to 1935. During his tenure he promoted a UT building program that resulted in the acquisition of construction funds for a general building plan developed in 1933. The tower of the Main Building, Hogg Auditorium, the Texas Union, and Gregory Gymnasium, as well as the expansion of the University of Texas Medical Branch in Galveston were products of the plan Jester supported. He was also general chairman of the committee that built the present Memorial Stadium. In 1968 Jester Center, an $18 million classroom and residence complex, was named for him. Beauford also was director of the state bar in 1940 - 41. In 1942, he was appointed to the railroad commission and two years later he ran unopposed for a second term.

Jester, a democrat, ran for Governor in 1946 in perhaps the most vicious and ridiculous Gubernatorial races in Texas history against Lieut. Gov. John Lee Smith, former Railroad Commissioner Jerry Sadler, Atty. General Grover Sellers, and Homer P. Rainey, the deposed president of the University of Texas. It is reported that Governor Coke R. Stevenson secretly favored him and he delayed announcing his plans not to run in an effort to bluff other candidates out of the race. In the first primary Jester had 443,804 votes and Homer P. Rainey, 291, 282, Grover Sellers had 162,431, Jerry Sadler 103,120, and John Lee Smith 102,941. In a runoff campaign against Rainey, Jester won by almost two to one.

Jester took office on Jan 21, 1947 as the thirty-sixth governor of Texas. He easily won reelection in 1948 and began his second term on Jan 18, 1949. As governor, he presided over the longest legislative session in the Texas' history to that time. A week after the legislature adjourned in the summer, Governor Jester died on July 11, 1949 aboard a Pullman railroad car while traveling to Galveston for a speaking engagement. A porter in Houston, who attempted to wake him, discovered that he had died during the night, apparently of a heart attack. He was the first governor of Texas to die while in office. Governor Jester was interred at the Oakwood Cemetery in Corsicana next to his son Beauford Jester Jr.
Accomplishments: Jester was known as a states'-rights governor, opposing federal civil rights legislation and the integration of the University of Texas. Sweeping reform and modernization of public education took place during Jester's term in the Gilmer-Akin Laws. Jester also supported the passage of a right-to-work law that abolished union shops in Texas.